Foreigner fights fright alongside pandemic
Share - WeChat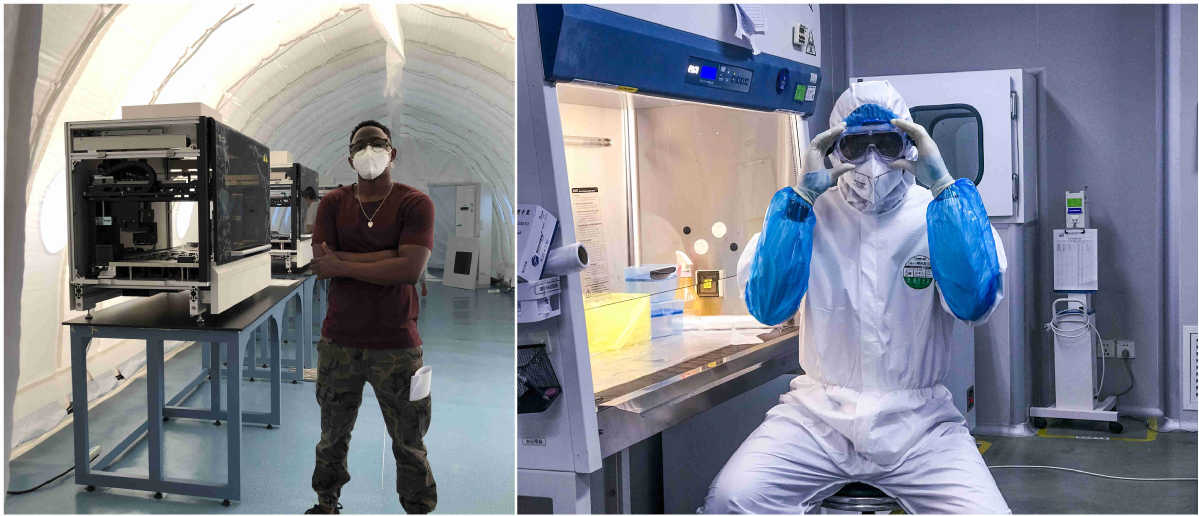 Angolan scientist pushes fear of virus aside to help both China and his country battle COVID-19
The coronavirus has certainly stirred fear among people around the world. However, some people have conquered this fear and have found their value after confronting the virus on the front line.
Valdemar Rodrigues Augusto Tchipenhe, a 24-year-old man from Angola, is one of them. As a field application scientist at BGI, a Chinese genomics sequencing company, he began working at the Huo-Yan (Fire Eye) Laboratory in February last year, carrying out mass testing with automated equipment at the company in Shenzhen, Guangdong province.
Given the difficult situation in China, he inevitably felt frightened while fighting the epidemic.
"Every time I went into the lab, I was scared because the protection measures there could not eliminate the possibility of infection," he said.
Nevertheless, he chose to stay and help China. "It is my second home."
From 2015 to 2019, he studied at Zhejiang Normal University and received his bachelor's degree in biotechnology. He was recruited by BGI after he graduated.
Tchipenhe was one of the first people from Angola to win a scholarship from the Chinese government to study biotechnology.
"I wanted to make a difference," he said, and he got his wish when he decided to help China control the virus as he wished.
Moreover, he and his colleagues spent more than seven months building Huo-Yan labs in Gabon, Togo and Angola to combat the disease last year.
"When he told me about the Africa project, I won't lie, it was a shock at first, since we had just started dating when that happened," said his girlfriend Graziele Ramos da Silva, a Brazilian dance teacher.
"But I could see the importance of the project, how excited Valdemar was to be part of it and to be able to help his people, so I had no doubts that I would support and wait for him, no matter how hard it would be."
As stories of Tchipenhe's work in Gabon were released in the media, the ambassador of Angola to China reached out to him and gave his phone number to Silvia Paula Valentim Lutucuta, Angola's health minister.
To Tchipenhe's surprise, he received a call from Lutucuta. At the time, Tchipenhe was in an airport where the cellphone signal was weak, so he had to hang up. "It was like a dream," he said."It was crazy."
Later, Lutucuta texted him, expressing the desire to have a talk with him. "The only way we can actually prevent the contamination is by giving it attention," he suggested to the minister in a later call.
A short time later, Angola started the lab project with BGI. Tchipenhe said he felt nervous about taking on such a task at his relatively young age. "Wherever I am now, my ultimate goal is that one day I could go back to my country and help its development," he said.
He never thought his dream would suddenly come true, and despite his anxiety, he was eager to get to work.
"We have to compete with time in fighting the virus," he said.
Besides his involvement with building labs, installing devices and training local technicians, Tchipenhe had to shoulder extra responsibilities, such as serving as a translator for his colleagues and as a liaison between BGI and the Ministry of Health in Angola.
It took three days to build the lab and a week to teach the local technicians how to conduct experiments.
"He was professional in the building of the lab in Angola and capable of communicating flexibly between various departments. And, he was able to complete the work beyond the original goal under high pressure, which impressed me most," said Shi Qirong, the team leader of Huo-Yan Laboratory in West Africa.
The lab can test up to 6,000 nucleic acid samples and 6,000 antibody samples per day.
"With the help of my colleagues, I was able to do an amazing job,"Tchipenhe added. "I am proud of myself."
His country has expressed pride in him as well.
In September, Angolan President Joao Manuel Goncalves Lourenco awarded him the Certificate of National Youth Honor. Tchipenhe was also honored as one of the 100 most influential people among Portuguese-speaking countries around the world and one of the top Angolan Young People under 35 Years Old last year.
Through his experience, Tchipenhe has a deep understanding of the German proverb: Fear makes the wolf appear bigger than he is.
He admitted he was afraid when making difficult decisions during the fight against the virus, when his mother wanted him to avoid the danger. Still, she persuaded him to press on. "I want to thank my mother for her support," he said. "She is such a strong and amazing person."
Tchipenhe has one brother and two sisters and is the eldest child.
His father, a doctor, inspired him to study biology. He died when Tchipenhe was just 11 years old. His mother, a primary school science teacher, continues to support his endeavors.
Tchipenhe has been away from home for three years. During his time building the lab in Angola, he was afraid of infecting his family and chose not to meet them.
When he isn't working, he enjoys quite a few hobbies, including hiking, roller-skating and, his favorite, singing.
In fact, as a fluent Mandarin speaker, he can even sing difficult Chinese folk songs.
For him, the future has unlimited possibilities. "There are a lot of things in my mind that I want to do to help my country develop," he said.
Da Silva said: "In my opinion, though it may seem like all the work he did was a great accomplishment, I am sure that this is simply the beginning, and that he will make even bigger accomplishments in both in his career and his personal growth."