Go-to book on Chinese apps clicks with Japanese
Share - WeChat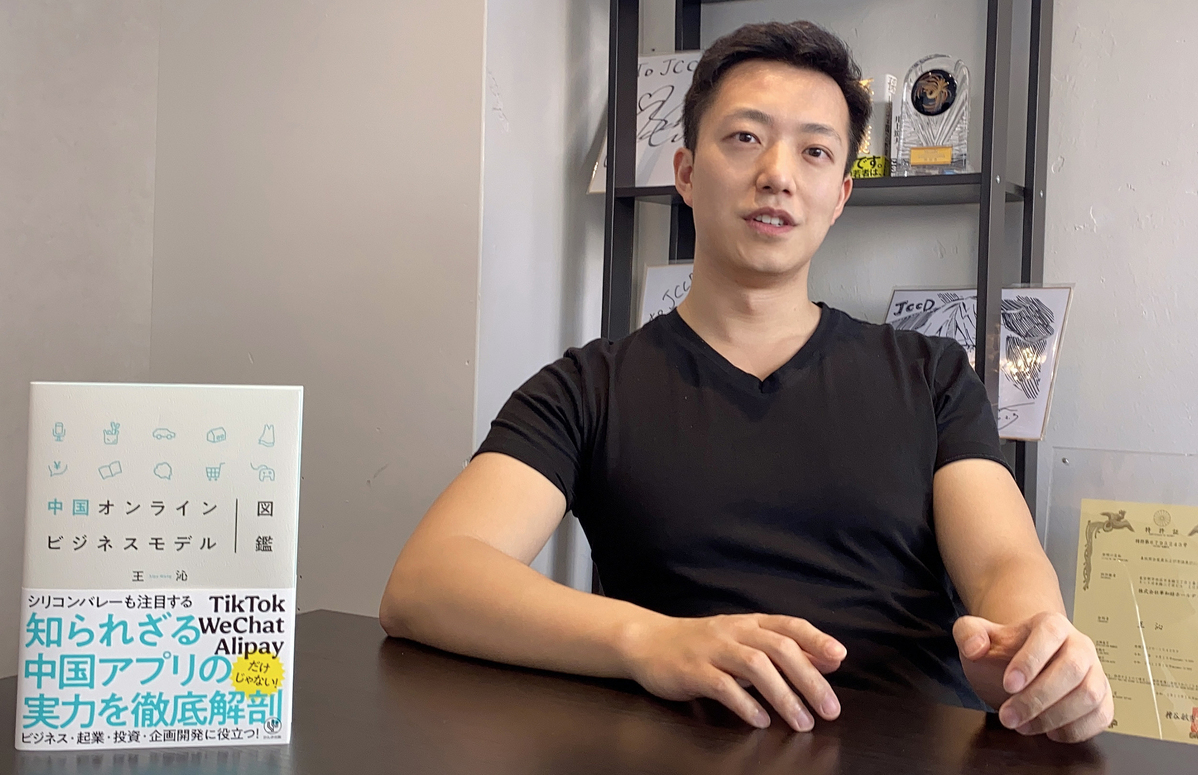 Wang Qin can usually be found alone at 5 pm Tokyo time in his office at Akihabara, the center of Japan's comic culture. His colleagues have clocked out and headed for the gym or home.
Wang though is too busy to relax. He's got a business to develop.
Born in 1989, Wang moved to Tokyo at the age of 21. Like many overseas Chinese students in Japan, he chose to study there because it's nearby and has a culture which is similar to China's. More importantly, Japan is a good place to start a business.
"I started my first business as an advertising sales agent," Wang said. "I sold that business after enrolling in Keio University, and started my second career in the comic and game industry about five years ago."
A book he recently wrote and compiled with colleagues-Illustrations of China's Online Business Model-has taken Japan by storm. It soon ranked No 1 on amazon.jp after its release on March 3.
"Years ago, when I was working for Recruit, a Japanese company similar to Alibaba, many of my friends and clients asked me about the status of e-commerce and internet companies in China. I thought, why not write a book?"
With a team of 20, it took two years to compile and edit the book, which detailed 60 different apps produced and run by Chinese companies.
"It was actually very difficult to choose which apps to use in the book. We looked through the App Store and asked around. And we considered the apps we use ourselves. We ended up listing about 100," Wang said.
"We tried to present the apps objectively, so the book mainly consists of data and illustrations."
Within two years, several of the apps went out of business. Sixty Chinese apps were eventually chosen for the book. They were categorized into nine groupings: social networking service and information, life, shopping and online payment, sharing and secondhand trade, entertainment, health and beauty, finance and insurance, travel, and business.
Each app takes up six pages at most. For example, Toutiao's first page gives the history of the app and lists total users and monthly active users. The second page outlines the business model and sources of income. The third page explains the growth of the app and how it met market needs. The fourth page uses screen shots to illustrate how to operate the app.
Readers' interests
About half of the apps in the book were not known to Wang before the project.
"There is one kids' app, which I didn't know before. I was surprised at the careful design and engagement of this app with users."
The publisher said Japanese are interested mostly in online payment apps and health and beauty apps-such as Keep-since they are spending more time at home because of the coronavirus pandemic, Wang said.
"I didn't expect this book to be a top seller. When we decided to write it, we were expecting to get readers who were interested in investing in the Chinese market, IT engineers who would use it as a tool, and business leaders who want to know more about China."
The popularity of the book among Japanese readers convinced Wang people are recognizing the quality of Chinese apps, and popular attitudes toward China are becoming more positive.
"My publisher said this book is a systematic introduction of Chinese apps that fills a market vacuum."
Publishers from China and Southeast Asian countries who are interested in the book are also approaching Wang.
Apps with the highest number of users in Japan mainly originated in the United States and Europe-including Facebook, Instagram and Twitter. Why is it that Japan has so few original apps? Wang wondered.
"I guess it is because of the Japanese way of doing things. They will make very detailed plans before starting, and they have low tolerance for failure. It is quite different from China, where we try out new ideas and make amendments and improvements."
Dramatic changes have taken place in Japanese lifestyles as a result of the pandemic.
"I see great value in more collaboration between China and Japan and hope to be part of that drive," Wang said.