Blind boxes packing thrills for amateur archaeologists
Share - WeChat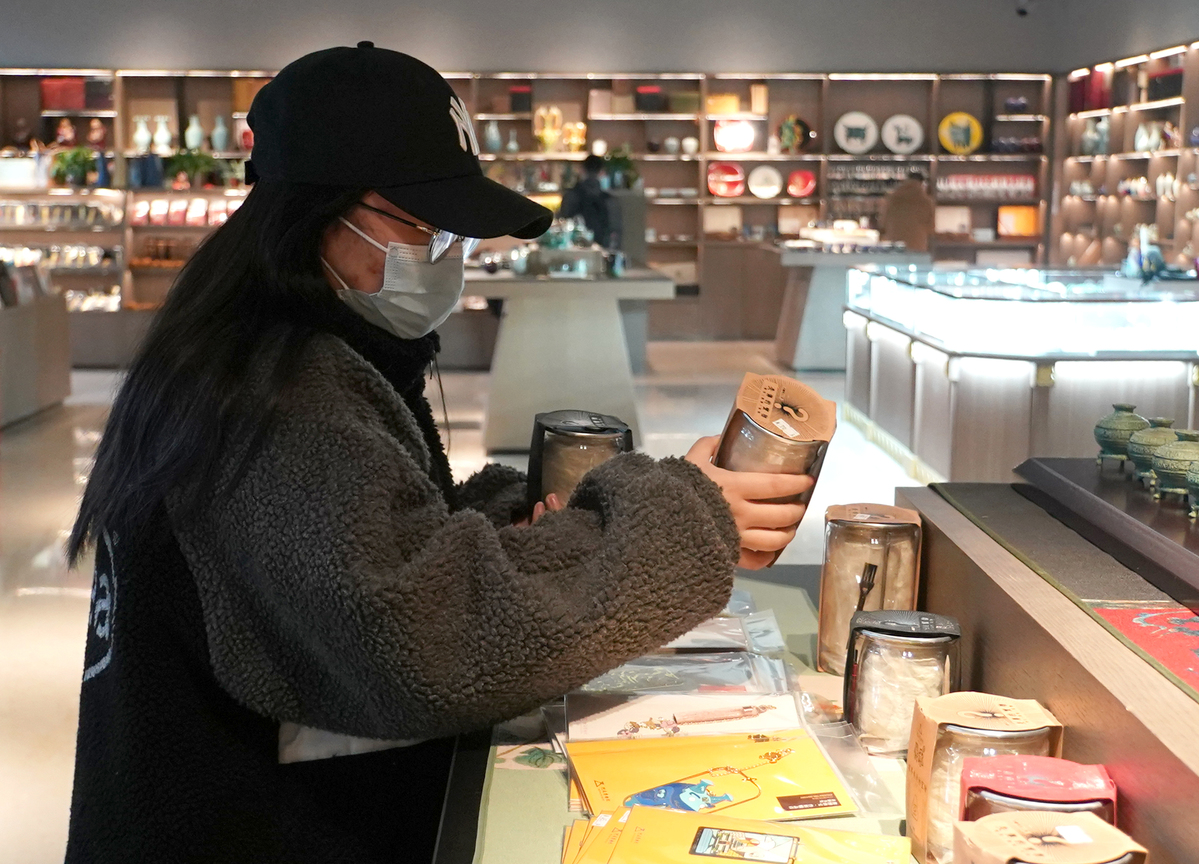 Earth-covered museum souvenirs carry charms of expectation and nostalgia
Type "archaeology blind box" into Sina Weibo, China's biggest social media platform, and videos and pictures of "lucky digs" pop up, along with some less lucky examples.
Blind boxes are becoming increasingly popular online, with internet users sharing their experiences of opening them.
A blind box from the Henan Museum in Zhengzhou gives users instructions on how to play, along with a small shovel and a clod of earth.
If you sprinkle water on the earth and then shovel it, you might find bronze ware, pottery, jade or oracle bones-all replicas of ancient archaeological artifacts excavated in Henan.
You might also come up empty, with nothing but dirt.
"My arms feel sore after digging for more than an hour," one Weibo user said in a post. The more skilled "archaeologists", however, only need about 30 minutes to test their luck.
The boxes, designed and produced by the museum, can be purchased both offline and on the museum's web store. More than 120,000 were sold between December and February, said Song Hua, director of the museum's cultural and creative department.
They sell for 40 to 90 yuan ($6 to $14). More than 100 types of objects can be found, including 12 zodiac bronze stamps, bronze mirrors and arrows, but the most sought after prizes are silver or golden cats.
"Blind boxes have been produced since September 2019. But we didn't open the online shop until April last year," Song said. "The sales volume has soared since December. In our online shop, they sold out in seconds. We had to ask the factory to produce more."
In 2016, the Ministry of Culture and Tourism, together with other departments, encouraged museums to develop cultural and creative products based on their collections and resources. The goal was not only to meet increasing public demand but also to enhance the influence of museums.
"When we design a blind box, we want people to experience the excavation process of archaeologists. That is why some of the boxes are empty," Song said.
That is the charm of a blind box: It's unknown and full of expectation.
"I lost my patience with the brush and earth, and washed the bronze badge with water. I am not a qualified archaeologist," another Weibo user posted woefully.
Henan province is home to four of China's eight ancient capitals: Luoyang, Kaifeng, Anyang and Zhengzhou.
"When we design a blind box, it is filled with earth from Beimang Mountain in Luoyang, where many emperors and famous figures in Chinese history were buried," Song said. "We hope the products will also give people a sense of nostalgia."
Other museums are coming up with their own ideas. Known for its exquisite bronze ware and pottery collection, the Shaanxi History Museum in Xi'an, for instance, came up with bronze ware blind boxes that could contain one of eight mythical creatures.
"The product is a carrier, and we use it to let the museum walk into people's everyday lives, to break the barrier of space and time," said Li Boya, deputy director of its cultural industry department.
Museums are teaming up with universities to dig up more elements for product designers and developing their own intellectual property. Meanwhile, the products are becoming more diversified.
"We are now working on a series of products for consumers to experience the work of restoring cultural relics," Song said.
"The ultimate goal is not profit for the museum but societal influence. We want people to know what archaeology is, what museum people do. We also want them to show respect for history and traditional culture."
Shan Juan in Xi'an and Shi Baoyin in Zhengzhou contributed to this story.