Martyrs' graveyards welcome new tourists
Share - WeChat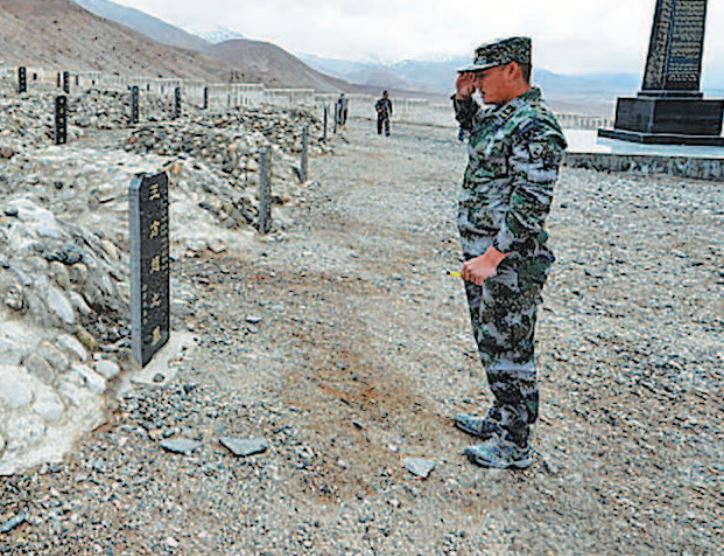 People gathered in tribute to the fallen ahead of Tomb Sweeping Day
It was a rainy day, but the martyrs' cemetery in Yanjin county, Xinxiang, Henan province, was full of tourists.
There were locals and also visitors from other cities, some of them from Lhasa, capital of the Tibet autonomous region, more than 3,000 kilometers away.
Xiao Siyuan, a 24-year-old soldier with the People's Liberation Army who was killed during the Sino-Indian border clash in June, rests permanently in the cemetery.
According to the PLA Daily, Xiao's job was to video the process of the PLA persuading foreign troops to leave the area. However, when his comrades were attacked by a large force, Xiao rushed forward and tried to protect them from stones and clubs with his own body.
The foreign troops were defeated and fled as PLA reinforcements arrived, but Xiao and three comrades-Wang Zhuoran, Chen Xiangrong and Chen Hongjun-died. Their regimental commander, Qi Fabao, was left unconscious with a bad head wound.
Xiao's remains were sent to his hometown and buried in the martyrs' cemetery on June 30.
In Luohe, a city in Henan, Wang's grave in the municipal martyrs' cemetery is visited every day.
However, his parents have not told his 74-year-old grandmother about his death, so she still expects him to come home.
The youngest of the four, Chen Xiangrong, was 19 when he died. He is buried in his hometown of Pingnan county, Southeast China's Fujian province.
Chen Hongjun was buried in the martyrs' cemetery in Lanzhou, capital of Gansu province. Recently, the graveyards were full of visitors who had come to pay tribute every day.
As Qingming Festival, or the Tomb Sweeping Day-a traditional time for people to visit ancestors' graves to pay their respects-approached, martyrs' cemeteries nationwide witnessed an influx of tourists paying tribute to those who died for the country.