Natural fashion is the style in NZ show
Share - WeChat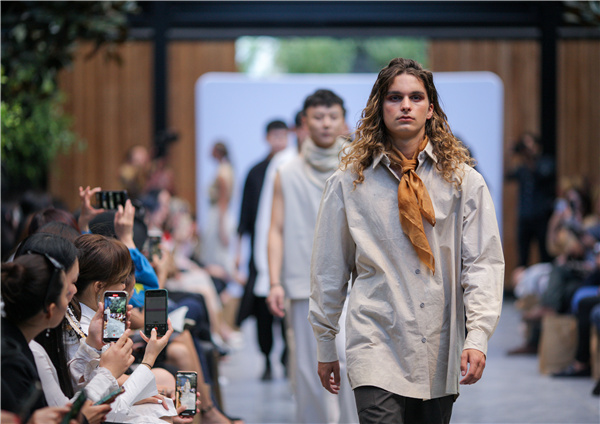 A group of young designers, many of whom are of Chinese origin and studying arts and design in New Zealand, presented a Mi-Lohas Fashion Show 2021 on March 23 in Auckland, New Zealand.
Lohas stands for lifestyles of health and sustainability, aiming to promote and advocate the theme of "sustainable fashion".
According to the organizer, as the concept developed under the impact of the COVID-19 pandemic, it means caring for people and finding a way to live in a sustainable way. By achieving the goal, only sustainable materials, recyclable fabrics and natural dyes free of any harmful substances could be used by the designers for the eye-catching show.
The New Zealand Herald reported that figures released by Bazaar magazine that around 241,000 metric tons of carbon dioxide (enough to power Times Square for 58 years) is emitted during four weeks of international fashion shows during the fashion month, with the New York Fashion Week alone accounting for 37 percent of carbon emission.
Show director Gloria Zhang says the like-minded designers shared the concept that the ecological and environmental problems caused by the fashion industry were serious and the young designers were ambitious to transform the industry with their own sustainable ways.
"We selected like-minded designers, all fresh graduates or current students majoring in fashion design, and gave them the freedom to come up with designs to their own understanding of sustainability," Zhang says.
Designer Angie Li, who used mud, pomegranate, madder root and logwood to dye her design range, says, "The production of this series is full of fun, because I would say that the most important part of my work is experimentation. In the end, I found that I can completely use sustainable materials to build all products without making sacrifices (concessions) on quality, design or performance. This plan symbolizes a new era."