Traditional Han clothing makes a splash
Share - WeChat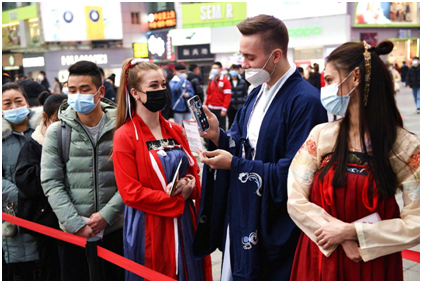 A deputy to the National People's Congress, China's top legislature, suggested designating a special date for hanfu, a type of traditional Chinese clothing, to reflect the nationwide resurgence of interest in the ancient clothing of China's Han ethnic group.
Cheng Xinxiang, a promoter of intangible cultural heritage from Hunan province, said institutions and social groups are limited in their efforts to promote the traditional clothing, and those have lacked public recognition and support.
Cheng advised in a motion submitted to the national legislature to set the third day of March by the lunar calendar as Hanfu Day, as that day also marks the birthday of the Yellow Emperor, or Huangdi, the legendary first ancestor of the Chinese nation.
The proposal aroused heated discussion online and gained support from hanfu-loving netizens.
In recent days, several foreign couples dressed in traditional attire attended a touring exhibition of Hunan cuisine held in Changsha, Hunan province. They learned how to cook Hunan specialties, and enjoyed the food. They attracted much attention from tourists.