After overcoming challenging year, China sets its eye on innovation
Share - WeChat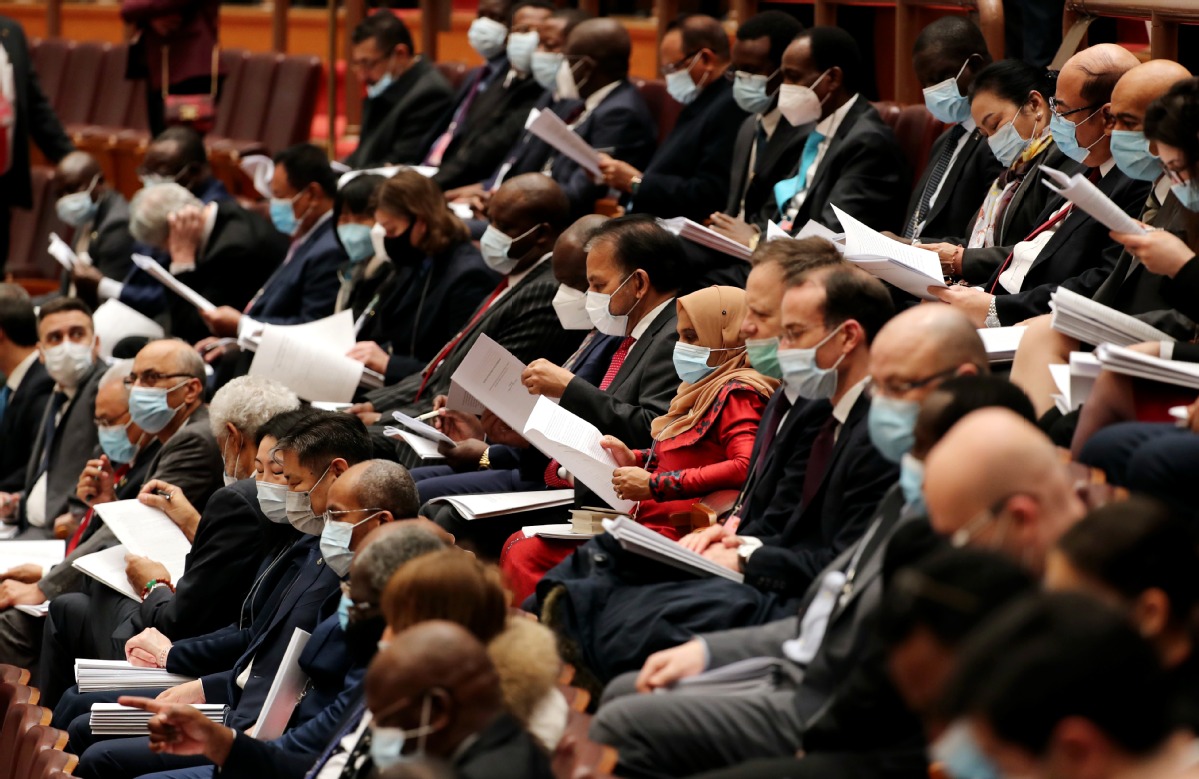 I always look forward to Premier Li Keqiang's Government Work Report because it provides a detailed snapshot of what China has achieved in the past year and projects where China, under the leadership of President Xi Jinping, Premier Li and the Communist Party of China, is headed. Although this has been no ordinary year, yet China performed admirably.The year 2020 was the polar opposite of normal, especially given that initially coronavirus cases were reported in Wuhan, but later testing established that coronavirus cases were seen months earlier in Europe.
While every government report is densely packed with information, this year's report is especially important because of the unique confluence of events. First, it follows China's successful battle against, and recovery from, COVID-19. Second, it's been a year of remarkable milestones. Third, it marks the end of China's 13th Five Year Plan (2016-2020) and the beginning of the 14th Five Year Plan (2021-2025).
Premier Li at the beginning of his nearly hour-long remarks said what, in my opinion, was the biggest understatement of his tenure: "Last year was an extraordinary year in the history of the People's Republic of China." Indeed, it was and as I fully believe he correctly prophesized that China's achievements "will be remembered in history". These include taming the coronavirus, achieving the goal of completely eliminating extreme poverty, while at the same time entering the ranks of global innovation leadership.
Here in Austria, under repeated lockdowns from one year ago, I look with profound admiration and even jealousy of the near-normalness of China. Even when merely going outside to grocery shop in Vienna, we always worry about contracting the virus, especially one of its more potent mutations. Austria, and most of Europe, is many months, cases and deaths away from achieving the return to normalcy that China has had. For example, using worldometers.info data, Austria with a population of 9,000,000 is 36th in the world in number of cases: more than 475,000 and still rising fast. China, by comparison, with more than 150 times the Austrian population is 86th globally with less than 90,000 cases, sporadically rising in small drips and drabs, overwhelmingly from imported cases.
In terms of enhancing Chinese society, eliminating poverty, especially in the countryside, had been China's continuous seemingly impossible dream. That was until now. During the 13th Five-Year Plan, 55,750,000 people were lifted out of poverty. In fact, more than 10,000,000 people on average were lifted out of poverty each year since the 18th CPC National Congress in 2012; during that time 98,990,000 escaped from extreme poverty and all of the remaining 832 impoverished counties and 128,000 villages have thrown off the poverty's debilitating yoke. But as President Xi said recently "shaking off poverty is not the finish line, but the starting point of a new life and new endeavor." And so Premier Li told us that "the period covered by the 14th Five-Year Plan will be the first five years in which we embark on a new journey to build China into a modern socialist country in all respects." This includes both urban and rural rejuvenation.
The parts of Premier Li's report that resonated with me the most were when he talked about how much progress has been made in the area of technological advancement during the past five years, and how much more is planned for the future, starting with the blueprint of the 14th Five-Year Plan. To me, in the 21st century, whichever country advances most in this area is poised to be the master of a universe that will extend far beyond our good earth. As the Premier said: "Much was accomplished toward making China a country of innovators, with major advances in manned spaceflight, lunar exploration, deep-sea engineering, supercomputing, quantum information, and other areas." The work, however, will continue and grow.
Premier Li's views have been corroborated by the UN's World Intellectual Property Organization. Its most recent report released last week said that China leads the world in patent filings for the second year in a row and with increased velocity compared against number two the US. Moreover, WIPO's recent "World Property indicators 2020" shows that China has established itself as a top-level global innovator, leading all other countries in the three types of intellectual property filings: patents, trademarks and industrial designs for the first time. China also has developed 17 of the top global science and technology innovation clusters with Shenzhen-Hong Kong-Guangzhou and Beijing in second and fourth rankings, respectively.
But just as China won't rest from further improvements in people's lives after the elimination of extreme poverty, neither will it dally in technical innovation after already becoming a tier-one global leader. As Premier Li reported, since development holds the key for addressing all the issues China faces, it must invest accordingly in the 14th Five-Year Plan and so will increase R&D spending by more than 7 percent annually, a greater percentage than during its predecessor.
As the rest of the world is still devoting its prime energy to fighting-off COVID-19, China maintains its vigilance, but has set its sights on 2025, 2035, 2049 and beyond.
The author is a senior fellow at Beijing-based Center for China and Globalization.
The opinions expressed here are those of the writer and do not necessarily represent the views of China Daily and China Daily website.
Most Viewed in 24 Hours
China Views