Wang Yi speaks on China's foreign policy and external relations
Share - WeChat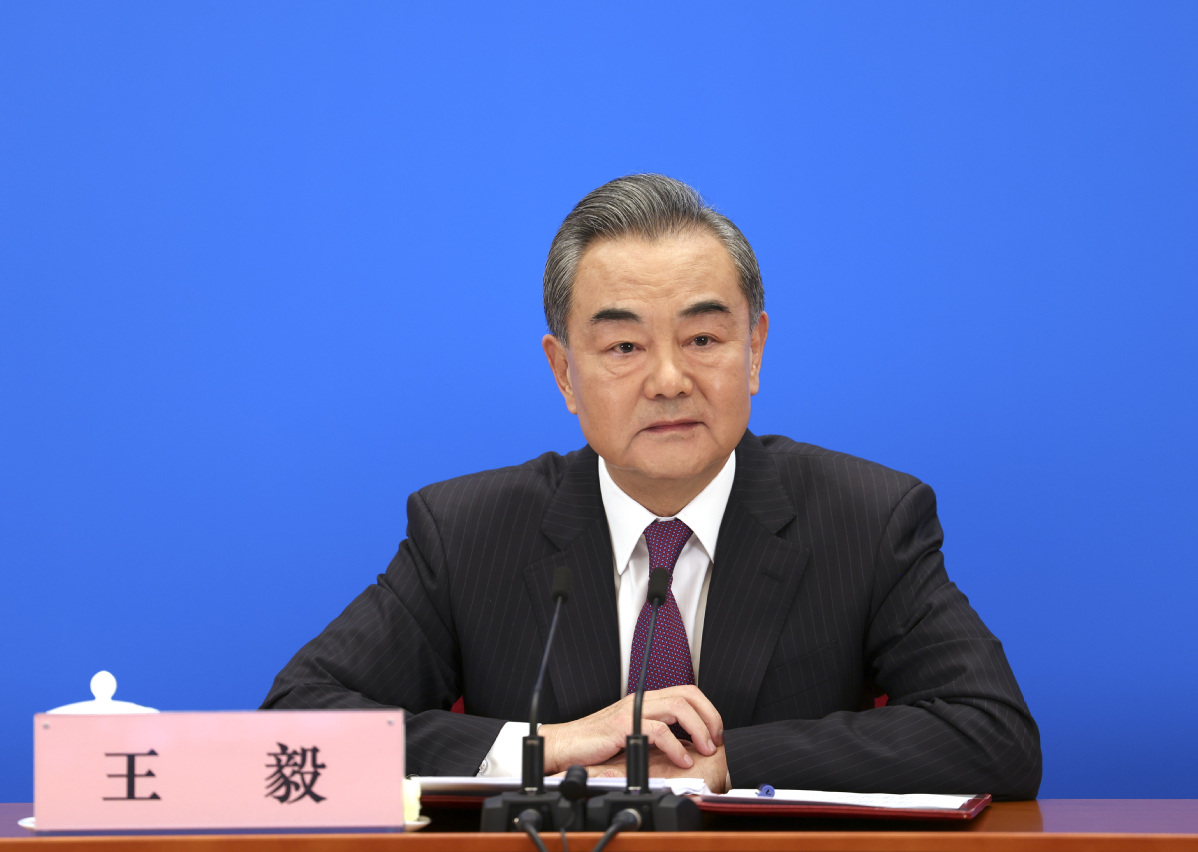 State Councilor and Foreign Minister Wang Yi answers questions about the country's foreign policy and external relations at a press conference on Sunday during the fourth session of the 13th National People's Congress, China's top legislature.
The press conference, which begins at 3 pm, is virtual at the Great Hall of the People in Beijing, in line with COVID-19 containment measures.
Here are some highlights:
On 'head-of-State diplomacy'
The biggest highlight in China's foreign relations has been "head-of-State diplomacy", Wang Yi said.
Through innovative "cloud diplomacy", President Xi Jinping has championed solidarity in the world's fight against COVID-19, and pointed the way forward for the international community to jointly fight the virus, Wang said. (Read more)
On China-Russia relations
In the face of the once-in-a-century pandemic, China and Russia have stood shoulder to shoulder and worked closely to combat "both the coronavirus and the political virus," Wang said.
China and Russia should be each other's strategic support, development opportunity, and global partner. This is both an experience gained from history and an imperative under the current circumstances, Wang said. (Read more)
On CPC leadership
Facts have proved that the leadership of the Communist Party of China is the biggest political advantage of Chinese diplomacy and that leadership will offer fundamental support for China's diplomatic agenda to keep securing more victories, Wang Yi said.
Wang said that China's diplomacy is a people-oriented diplomacy led by the CPC, and the Party set the direction for China's diplomatic agenda.
The original inspiration and mission of the CPC - to seek happiness for the Chinese people and rejuvenation for the Chinese nation — determines the responsibility of China's diplomacy, he said. (Read more)
On China-Africa relations
Helping African countries contain the COVID-19 pandemic and bring their economies back on track is the top priority of the China-Africa cooperation, State Councilor and Foreign Minister Wang Yi said.
China will always support developing countries, Wang Yi said.
China has started to provide COVID-19 vaccines to 35 African countries and the African Union Commission, Wang Yi said. (Read more)
On 'patriots administering Hong Kong'
Any country in the world will take allegiance to the motherland as a basic political ethic that must be observed by public officials or those who run for public posts, and so does Hong Kong, he said.
Hong Kong is a special administrative region of China. One cannot talk about loving Hong Kong without loving its motherland, he said, adding that love for the country and for Hong Kong is completely consistent.
Hong Kong enjoyed no democracy during colonial rule. Since its return to the motherland 24 years ago, no one is more concerned about Hong Kong's democratic development and wishes Hong Kong to remain prosperous and stable than the central government, he said. (Read more)