Teacher crusades to end cramped classrooms
Share - WeChat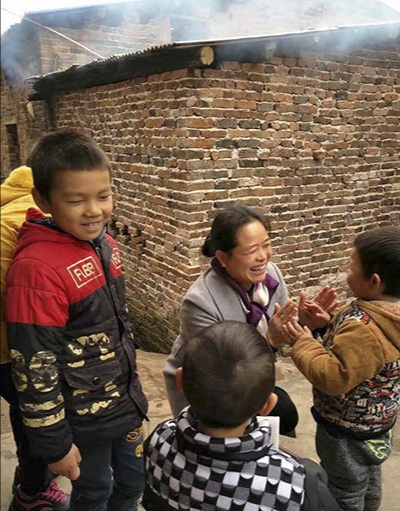 Eight years ago, when teacher Pan Xiaohong saw an overcrowded classroom in Lanshan, a mountainous county in Hunan province, she told herself the situation must change. More than 100 students were crammed into a single classroom, which only had the capacity to cater for about 45 pupils.
"It was commonplace that many children sat close to each other in a classroom in our area, because supporting construction (of infrastructure), such as schools, had dropped behind local urbanization and the population increase at that time," Pan said. "But I was still shocked by the situation in the Mingde Primary School."
Also a deputy to the Hunan People's Congress, the top provincial legislature, she was greatly concerned about the poor learning environment, especially when she was informed that students hardly went to the bathroom during class breaks due to the cramped conditions.
"As a teacher, providing children with a comfortable environment to study in is my lifelong pursuit," she said. "As a provincial lawmaker, helping residents solve their problems by rule of law is my major responsibility."
Pan's proactive approach to change has seen her visit primary and middle schools to conduct surveys and solicit opinions, often at weekends or after work. Although she sometimes has to spend a few hours riding by car on a rough mountain road, she never complains or gives up, because "I carry the hopes of residents", she said.
She also gives out her e-mail address and phone number, so residents can contact her directly about their difficulties and education demands.
During her research trips across the county, she found the number of students in a typical classroom was 80-100, compared with the recommended capacity of 45.
Pan submitted a report to the provincial people's congress in late January 2013, suggesting the county improve the students' environment by revising regulations and pushing government departments to accelerate construction of educational facilities.
Knowing the problem would not be eradicated in a short time, she campaigned tirelessly for the changes and kept a close watch on measures taken by the provincial legislature and educational authorities.
She also discussed the schools' problems with legislators and officials whenever she had a chance. "I knew it could be solved more quickly when it aroused greater attention and got more support," she said.
In 2017, thanks to her efforts, students in the county were reallocated to new classrooms with no more than 45 pupils in a classroom and other upgraded school facilities.
Pan is happy when she sees children moving around freely in a classroom at recess time, but she says there is still a long way to go.
"For example, more classes need more teachers, but now the number of teachers in our area is insufficient," she said. "Attracting more people to teach in the county and ensure the teaching quality are what I am most concerned with, and I've begun research into the issue."
Pan said she will again take up the issues with local government because "helping people meet their demands for better lives is what every deputy should do".