'Comfort women' articles anger
Share - WeChat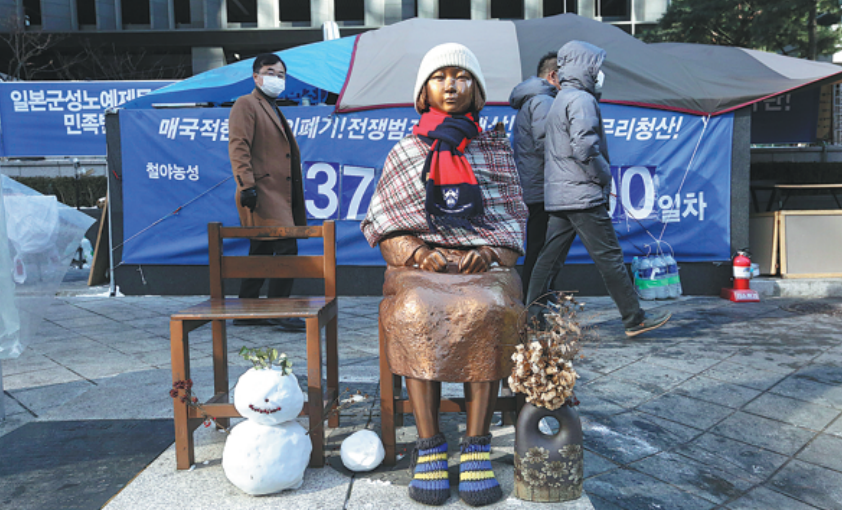 Thousands of economists, historians and rights advocates have joined a group of Harvard Law School students to protest a professor of the school, whose recent articles deny the wartime "comfort women" system set up by the Japanese Imperial Army.
Mark Ramseyer, Mitsubishi Professor of Japanese Legal Studies at Harvard University, claimed that "comfort women" voluntarily contracted themselves into sex servitude during World War II in his article "Contracting for Sex in the Pacific War".
The article was published online in December by the International Review of Law and Economics, an academic journal. It will appear in the March issue of the journal.
Ramseyer also expressed the same view in an op-ed published on Jan 12 in Japan Forward, an English-language website of Sankei Shimbun, a Japanese nationalist, conservative newspaper.
In response to Ramseyer's articles, a group of students at Harvard Law School wrote in an open letter, "The author is using economics — more specifically game theory and law and economics — as a cover to legitimize horrific atrocities."
They also call on the community of economists and the public to "condemn the article and also call for its retraction".
The letter has garnered nearly 2,900 signatures so far, including more than 1,600 economists from US, China, South Korea, Australia and other countries.
Al Roth and Paul Milgrom, economics professors at Stanford University, said in a statement, that the article is "distressing in so many ways" and they "can't help being reminded of Holocaust denial".
"The soundness of an historical account should be judged based on a review of the evidence, which can never be overruled by some simple game theory model. The appeal Professor Ramseyer makes to game theory provides no support for his claims," said the two professors.
What is most controversial about Ramseyer's article is a passage about a 10-year old Japanese girl named Osaki. "When Osaki turned ten, a recruiter stopped by and offered her 300 yen upfront if she would agree to go abroad. The recruiter did not try to trick her; even at age 10, she knew what the job entailed," says the article.
The passage of Osaki is "a blatant endorsement of child sex trafficking", said Pinelopi Goldberg, a professor of economics at Yale University, in a statement. She said "the issue here is not just about fact versus fiction or academic freedom. It is about justifying acts (i.e., child rape and human trafficking) that are not only morally repugnant, but also strictly illegal in civilized society".
Ramseyer declined China Daily's request for comment, saying he's not "doing interviews".
Amid the growing protest from academics, the International Review of Law and Economics has issued an "expression of concern" to inform readers of the concerns raised to Ramseyer's article and said investigation into the article's historical evidence is underway.
The article also has drawn backlash from Chinese and Korean communities in the US. Several rallies have been organized across the country to denounce the Harvard professor.
On Monday, dozens of representatives from Korean American and Chinese American groups gathered around the "comfort women" statues in St Mary's Park in San Francisco to protest Ramseyer. The activists also are calling for the boycott of Mitsubishi products. An online petition to boycott received more than 1,000 signatures within 12 hours.
"What Professor Ramseyer said was a lie. But this lie has very dangerous implications. It legitimizes sex trafficking and sexual violence against women. It feeds into the misogynistic notion that women join in on rapes by implied or explicit consent," said Julie Tang, co-chair of the Comfort Women Justice Coalition, at the rally. "We cannot allow this kind of voodoo theories about the 'comfort women' victims to spread. We must debunk it."
"It is really a shame, a real travesty that a law professor at one of the world's most prestigious institutions, Harvard Law School, could author an article that is factually inaccurate, at odds with overwhelming historical evidence, and worse off, an article that perpetuates sexual violence, sexism, an attack on women and promotes a rape culture that blames the rape victim," said Lillian Sing, co-chair of the Comfort Women Justice Coalition.