Global vaccination still a long way ahead
Share - WeChat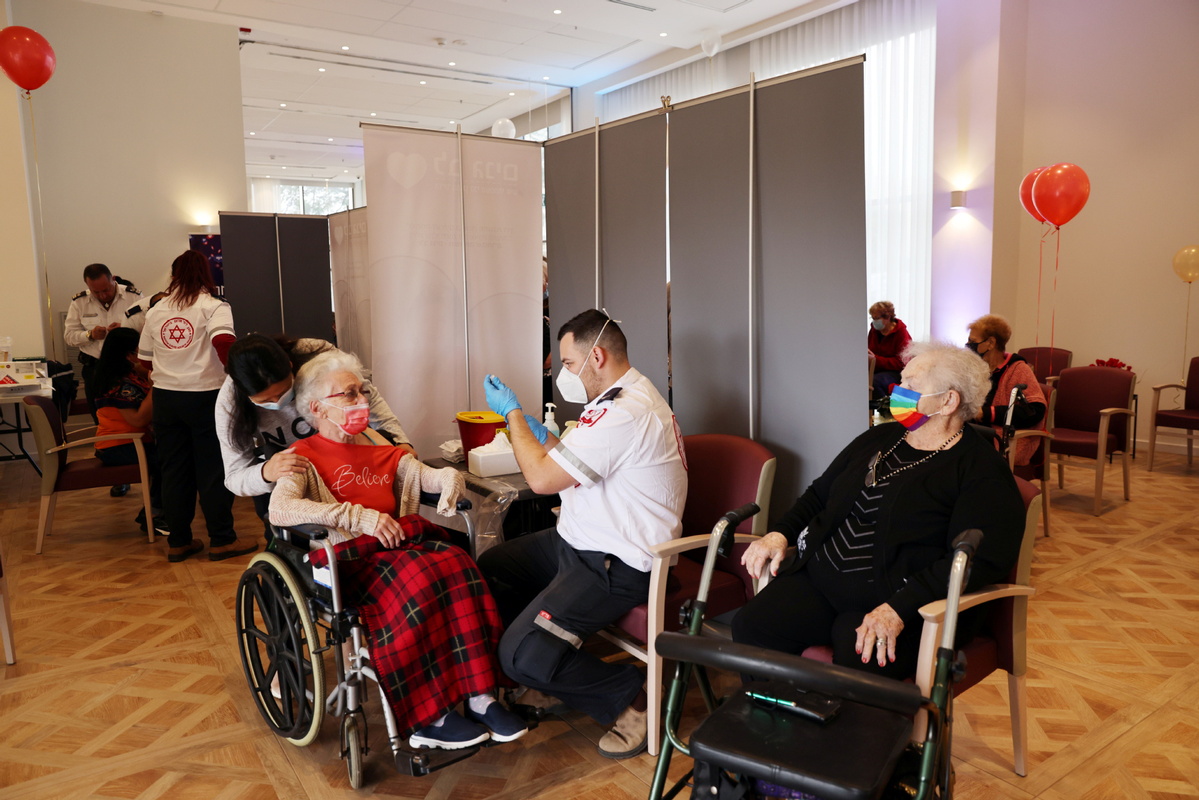 Recent estimates suggest that 70 to 90 percent of the world's population will have to be inoculated before there will be herd immunity.
However, according to a Bloomberg report, it will take 4.6 years to cover 75 percent of the world's population with a two-dose vaccine.
The time needed to vaccinate three-quarters of the world's population should decrease as the pace of vaccinations gains speed and more vaccine candidates are approved.
At least 108 countries and territories have administered more than 239 million doses of a COVID-19 vaccine. There are already 10 different vaccines approved for use in various countries around the world.
Early reports show that COVID-19 cases in Israel, which has been the quickest to start vaccinating its citizens since December last year, have fallen significantly among those who were vaccinated.
The vaccine rollout strategy varies from country to country. Some have favored vaccinating as many people as possible in the fastest possible time, while others have tried to prioritize vaccinating specific vulnerable groups.
In a blog post on the East Asia Forum website, Jeremy Youde, dean of the liberal arts college at the University of Minnesota Duluth, wrote that while many states in the Global North will likely achieve widespread vaccination later this year, middle and low-income countries may not receive significant vaccine access until 2024.
Leaders at the World Health Organization have emphasized the need for international cooperation in vaccination campaigns, noting that a pandemic requires global effort to end it.
WHO Director-General Tedros Adhanom Ghebreyesus said more than 210 million doses of COVID-19 vaccinations have been administered to date, but 80 percent of them were in just 10 countries, meaning world vaccination against COVID-19 is still a long way off.
Most Asian countries have not started vaccinating their populations, largely due to limited vaccine manufacturing capabilities, logistical challenges and regulatory delays. In contrast to strong initial responses to COVID-19 by many Asian countries, the slow rollout of vaccination programs threatens to undermine early successes.
The United Nations said more than 100 countries have yet to administer a single dose of the vaccine.
The 55-member African Union has been using its political weight to push for the immunization of 60 percent of the continent's 1.3 billion people over the next three years.
South Africa, which has been battling a new variant of COVID-19, is steadily rolling out the Johnson &Johnson vaccines to 500,000 healthcare workers, after the AstraZeneca jab proved less effective against the new strain there.
South African President Cyril Ramaphosa, who is also chair of the African Union, has called on rich countries to donate 5 percent of their vaccines to needy countries, particularly in Africa.
Some countries and organizations such as China, Russia, Portugal and the COVAX initiative have offered to supply vaccines to Africa.
Russia has offered to supply 300 million doses of its Sputnik V vaccine to the African Union scheme, along with a financing package.
The West African country of Senegal started vaccinating its population against COVID-19 last week, with 200,000 doses purchased from China's Sinopharm. Zimbabwe and Equatorial Guinea will also receive small batches of Sinopharm vaccine donations.
Last week, the Ivory Coast became the second country in the world following Ghana to receive a shipment of COVID-19 vaccines from COVAX.
Over the next few weeks, UNICEF will ship more than 14.5 million auto-disable syringes to more than 30 countries as part of COVAX.
"It is critical to have adequate supplies of syringes already in place in every country before the vaccine arrives so that the vaccine can be administered safely. This would allow immunization to start immediately and help turn the tide on this terrible virus," said UNICEF Executive Director Henrietta Fore.
UNICEF will supply up to 1 billion syringes and 10 million safety boxes to various countries this year to ensure they are ready for COVID-19 vaccinations. It also aims to make 2 billion COVID-19 doses available for delivery this year.