Development district reveals raft of new high-tech projects
Share - WeChat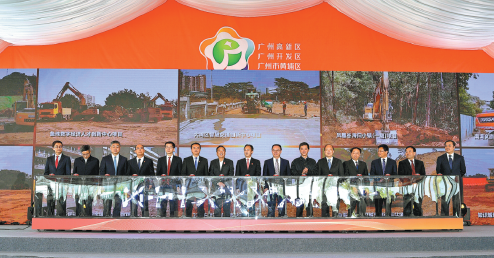 Guangzhou Development District in South China's Guangdong province displayed 103 new projects, covering biopharmaceuticals, vaccine development and production, integrated circuits, the cultural industry and hydrogen fuel cell vehicles, on Sunday, demonstrating its determination to foster new economic growth drivers and high-quality development.
Thirty-one of the new projects were signed, while the other 72 started construction at the event on Sunday. The projects have a total planned investment of 113.9 billion yuan ($17.63 billion), and are estimated to generate an annual operating income of 241.6 billion yuan, according to the local government.
China-Singapore Guangzhou Knowledge City, located in Guangzhou Development District, has lured an array of quality biopharmaceutical companies, among which is BeiGene.
BeiGene has begun the construction of a new facility in the district, which will be used to produce the company's independently developed anti-cancer drugs and multiple biological drugs.
Together with its previous projects in the district, including a production base and a research and development center, BeiGene will further improve its industrial chain and industrialization capability in Guangzhou Development District, according to Wang Xiaodong, founder of the company.
China-Singapore Guangzhou Knowledge City in the district has also gathered a sizeable number of world-leading biological equipment and pharmaceutical companies, including Cytiva and Lonza, and innovative Chinese companies in the field.
With the importance of vaccines self-evident in the context of the worldwide spread of COVID-19, Guangzhou Development District has launched the construction of an international demonstration base for innovation in vaccine R&D and development.
The demonstration base will focus on the introduction of internationally advanced innovative projects, including nucleic acid vaccines, recombination vaccines and neutralizing antibodies, to create a high-standard industrial environment for vaccine innovation enterprises.
With a planned area covering 33,000 square meters, the demonstration base is expected to be completed in the first half of 2021.
Besides the vaccine R&D and development base, a string of detection and diagnosis companies have settled in the district, including Creative Biosciences (Guangzhou), Daan Gene and Burning Rock Biotech.
Statistics show that Guangzhou Development District has gathered nearly 1,000 biopharmaceutical companies, of which 240 are categorized as high-tech and 15 publicly listed, with an industrial scale exceeding 70 billion yuan.
During the 14th Five-Year Plan (2021-25), the district will strengthen the integrated development among medicine, medical equipment, medical treatment and medical science, and accelerate the development of segmented industries such as biopharmaceuticals, gene testing, stem cells and regenerative medicine, aiming to forge a world-class innovative biopharmaceutical industrial cluster, according to local government.
As a core area for developing new-generation information technologies in Guangzhou, the capital of Guangdong province, Guangzhou Development District is committed to developing industries including integrated circuits, displays and 5G.
An array of new-generation information technology projects were revealed at the event on Sunday, among which is a project by Ferrotec, an international semiconductor material production and repair company.
Ferrotec will establish a plant in the district for regenerating and repairing semiconductors and thin-film transistors.
The project is expected to facilitate the cleaning and repair of integrated circuit equipment for companies in the Guangdong-Hong Kong-Macao Greater Bay Area and help them cut costs.
China Broadcasting Network Corp, which has just the fourth 5G license in the country, will set up its South China branch in Guangzhou Development District, to build a 5G radio and television network covering Guangzhou.
Guangzhou Shiyuan Electronic Technology, or CVTE, will invest 2 billion yuan in the district to establish a manufacturing base. Focusing on the production of intelligent control boards and interactive intelligent machines, the plant will have an estimated annual output value of 5 billion yuan.
Joining hands with Nanfang Media Group and Yuexiu Property, Guangzhou Development District also launched a new cultural project, which started construction on Sunday.
With a total investment of 6.9 billion yuan, the project will focus on digital culture, international media cooperation, science and technology financial investment, esports development and urban governance, to forge a new landmark of the smart culture industry in the Bay Area.
A cooperative cultural project between the district and Beijing's Haidian district was signed at the event.
Focused on producing movies, animations, online games and digital cultural products, the project will introduce at least 50 cultural companies, and aims to develop a culture industry cluster valued at around 10 billion yuan.
As a national demonstration area for the comprehensive utilization of new energy and a provincial demonstration area for the commercial operation of hydrogen fuel cell vehicles, Guangzhou Development District revealed 500 hydrogen fuel cell dump trucks at the event on Sunday.
The trucks are developed and produced in the district, and can be fully fueled in eight to 15 minutes, and run up to 400 kilometers on one fueling.
It is estimated that putting the 500 hydrogen fuel cell dump trucks into operation will help reduce carbon emissions by 35,000 metric tons per year, and nitrogen oxides and other pollutants by 768 tons annually.
The hydrogen fuel cell dump trucks will play an important role in energy saving, reducing emissions, preventing dust and environmental protection, local officials said.
As of now, the district has introduced more than 20 hydrogen energy industry projects and established an industrial chain covering the sectors of hydrogen fuel cell catalysts, hydrogen fueling equipment, vehicle manufacturing, inspection and pilot application.
According to the local government, the hydrogen energy industry is expected to generate an output value exceeding 20 billion yuan by 2025.