Online broom sales help sweep away poverty
Share - WeChat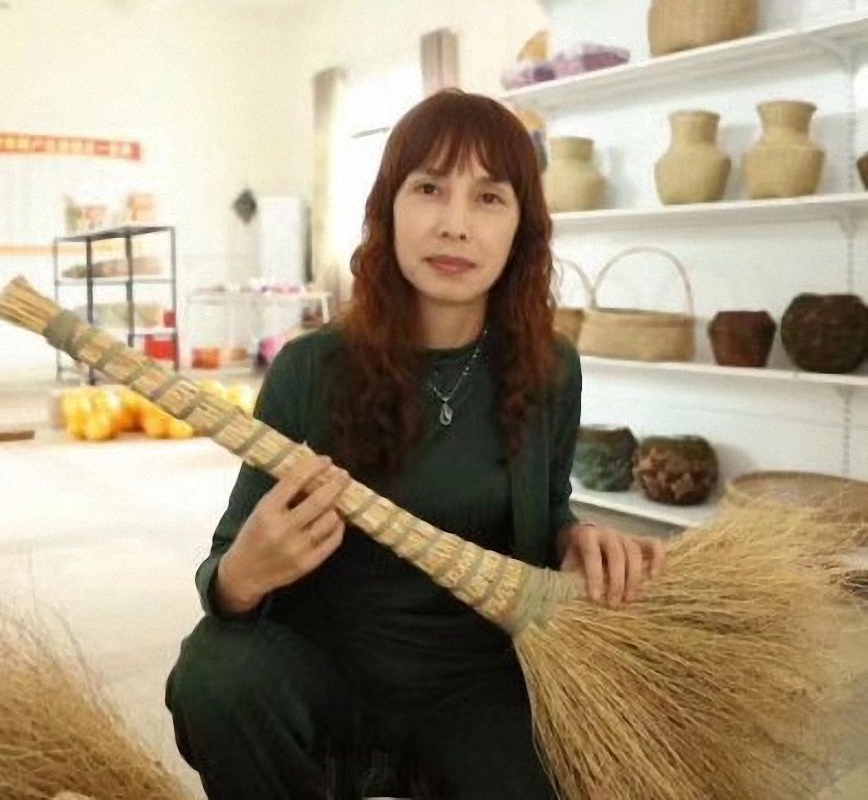 Gao Jiaxuan's later years were hardly being kind to him. He was diagnosed with asthma, and that stopped him from undertaking heavy physical work.
In many villages such as Gao's, which is in Jiangyong county, Hunan province, most people are elderly and the ways they can earn money are severely limited. However, Gao, now 67, is nothing if not inventive.
He came up with a way of ensuring that while his body was not overtaxed, he and his wife would have at least enough money to put food on the table: together they would make and sell brooms.
They live in Hexing village, Xiaopu township, and for about five years they did exactly that, giving them income of between 2,000 yuan and 3,000 yuan ($310 to $460) a year. But that cash lifeline all but dried up when Gao became sick and permanently lost his hearing in his 60s. He could continue to make brooms, but selling them was another thing, and soon enough dozens of them stood in a corner of his house gathering dust.
Then, in 2017, he received a visit from a woman named Ge Xiaomei.
"The thing is that Gao was really good at what he did-making brooms that are very durable and delicate," she said. "But because he had no sales channels he couldn't make any money."
Ge proposed helping him. "I didn't exactly know the broom market, but I wanted to give it a go," she said.
Instead of peddling the brooms at farmers' markets, she would sell them on the internet, and in doing so she introduced a very personal dimension to her sales pitch: She shot videos of Gao, who recounted his story, told how his brooms were made and something about life in villages like his.
Eventually the videos were circulating on social media, and orders were pouring in from all around China.
By now well aware of e-commerce's potential to change lives, Ge decided to piggyback on the broom business to help more villagers, and they soon honored her by nicknaming her Saobajie-the Broom Lady.
Three years before Ge met Gao, in 2014, when she was 40, she and her husband had opened an online store that sold local specialties. In 2017 she joined Social Participation in Poverty Alleviation and Development of China, a government online platform aimed at helping to eradicate poverty, and collected information about poor people.
After Ge set up the broom-selling business she started commissioning people to make handcrafted brooms, and by paying them immediately she ensured that many more would jump on the bandwagon.
To satisfy diverse needs, Ge customized products and services, for example meeting the demand of Zhanjiang Airport in Guangdong province by producing smaller brooms suitable for use on aircraft.
Ge managed to open markets, with major buyers now including factories and waste treatment plants.
"Our brooms used to sell for as low as 8 yuan," Gao said. "With Ge they're more than double the price. My wife and I now make 10,000 brooms a year, relying on about 1.4 hectares of broom straw, Kochia scoparia. Together, we now make more than 100,000 yuan a year."
In 2018, all the registered impoverished households in the village were no longer in poverty and the following year a broom factory was established. It now employs 20 elderly villagers.
Gao Xizeng, the village's Party chief, said that thanks to the broom industry, more than 500 people in the village and surrounding villages have planted more than 120 hectares of broom straw and can make 10 million yuan a year from growing it.
Despite the hard times brought on by the COVID-19 pandemic, the broom factory had a turnover of 5 million yuan last year.