A tale of two states' approaches to pandemic on opposite coasts
Share - WeChat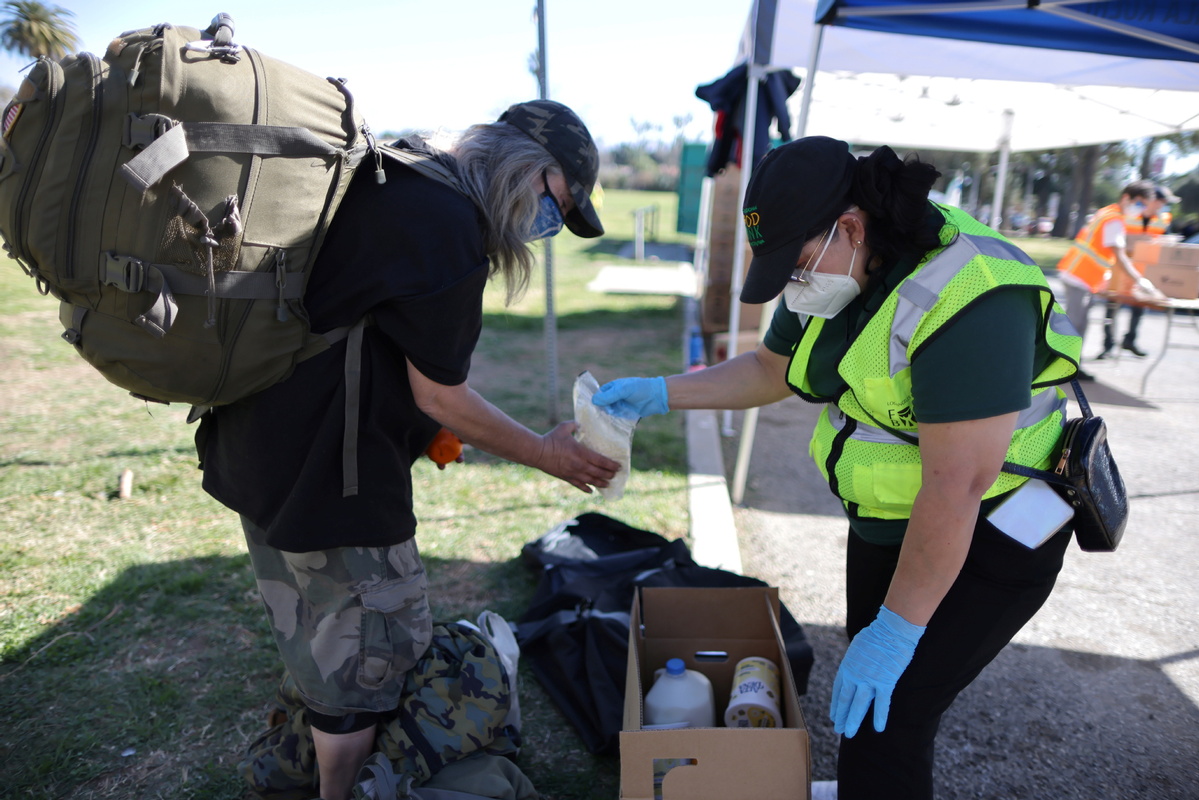 Two of the US' most prominent states — California and Florida — have taken vastly different approaches to addressing the COVID-19 pandemic.
California has imposed stringent lockdowns, while Florida has reveled in being as open as possible. Both approaches have resulted in basically the same outcome, proportional to each state's population.
Because of their states' national stature, the two governors — Democrat Gavin Newsom in California and Republican Ron DeSantis in Florida — are closely watched in the politics of pandemic.
Newsom, 53, is facing a recall election, as a petition to put that question to voters already has exceeded the required 1.5 million signatures, largely over his handling of the pandemic. He also was politically wounded for dining at a fancy Napa Valley restaurant in November while Golden Staters were being told to limit their private gatherings.
DeSantis, 42, would not have to worry about such a scenario in the Sunshine State.
On Wednesday, Newsom announced a $9.5 billion coronavirus relief bill that includes $600 stimulus checks for more than 5.7 million Californians.
"As we continue to fight the pandemic and recover, I'm grateful for the Legislature's partnership to provide urgent relief and support for California families and small businesses where it's needed most," Newsom said in a statement.
Across the country, DeSantis' direct approach to the pandemic has won him support from some in the GOP as a potential 2024 presidential candidate.
Josh Holmes, an adviser to Senate Minority Leader Mitch McConnell, said DeSantis was "having a moment with conservatives".
"It's policy and it's partly stylistic, the way he handles the news media, and his blue-collar appeal," Holmes was quoted by politico.com as saying.
Tampa, Florida, was the site of the Feb 3 NFL Super Bowl, in which the Tampa Bay Buccaneers defeated the Kansas City Chiefs.
DeSantis was spotted at the game at times without a mask.
"How the hell am I going to be able to drink a beer with a mask on? Come on," the governor reportedly said.
On Feb 10, DeSantis bristled when questioned by reporters about the impact of public Super Bowl celebrations on the virus' spread.
"You don't care as much when it's a peaceful protest," he said. "You don't care as much if you're celebrating a Biden election. You only care about if it's people you don't like."
The latest data from the Johns Hopkins University Coronavirus Resource Center show California with more than 3.53 million coronavirus cases, while Florida has around 1.86 million. California had 49,120 COVID-19 deaths as of Sunday; in Florida, the number was 29,813.
California's population (39.5 million in 2019 US Census data) is slightly less than twice Florida's (around 21.5 million).
Los Angeles County, the nation's most populous county, had nearly 19,801 COVID-19 deaths as of Sunday, the highest number of any US county. LA County also had the highest number of confirmed coronavirus cases, more than 1.18 million.
Miami-Dade County in South Florida had 5,280 COVID-19 deaths as of Sunday, seventh highest among US counties, and more than 401,000 confirmed cases, fourth most in the US.
Florida has fully vaccinated about 7 percent of its population, while in California, it was 5 percent as of Sunday. California does better on test positivity, with 7.34 percent positive, and Florida at 8.69 percent. Both states saw a downtrend in new cases last week.
As the vaccines make their way around the country, the question eventually will be if the lockdowns were beneficial.
One thing that is ascertainable, though, is the economic and emotional devastation wrought by the disruption of the US economy, which in 2020 saw its largest contraction since 1946.
From shuttered restaurants and stores and their laid-off workers, to restrictions on funerals, weddings and sporting events, to a rise in suicide and drug abuse, to the impact on the emotional and social development of tens of millions of children who cannot attend school in person, the lockdowns have exacted an exorbitant price.
The pandemic restrictions will reach the one-year mark next month. As more people are vaccinated, it's likely that Americans will have a lot of pent-up wanderlust as spring approaches.
And if certain states keep their restrictions, Florida looks poised to count more tourist dollars than that other splendid vacationland, the one on the West Coast.