Infighting opens divide in Republican Party
Share - WeChat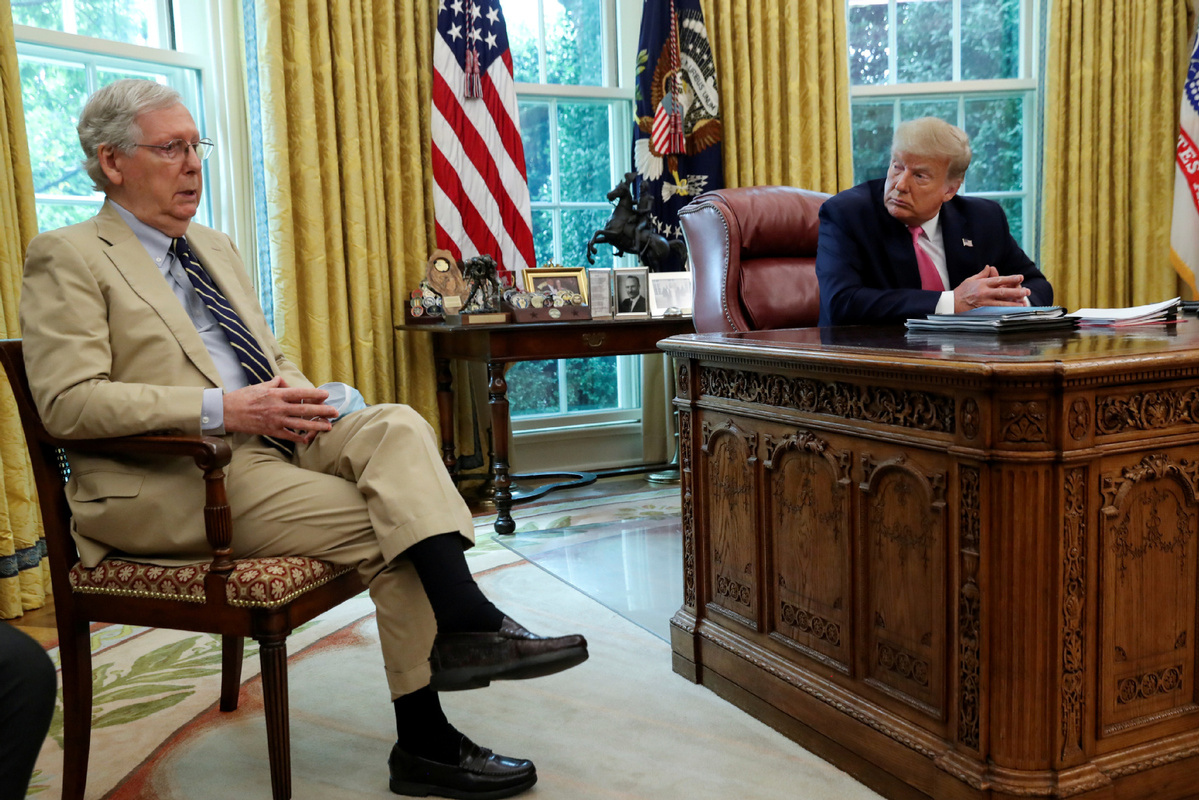 Republicans fight Democrats while Democrats battle each other.
That's the way it has been in American politics for decades, but now the party of Lincoln is the party of Donald Trump and infighting among Republicans is showing widening fissures in the party with some violating Ronald Reagan's so-called Eleventh Commandment: "Thou shalt not speak ill of any fellow Republican."
Chief among them are two "formers": the former president and former Senate Majority Leader Mitch McConnell.
"Mitch is a dour, sullen, and unsmiling political hack,'' said Trump after McConnell voted to acquit him at his second impeachment trial on Feb 6 but then blamed Trump for the Jan 6 riot at the Capitol.
"There's no question, none, that President Trump is practically and morally responsible for provoking the events of the day. No question about it," said McConnell in a speech on the floor of the Senate, where he is now the GOP minority leader. He didn't stop there. In a Feb 15 op-ed article in The Wall Street Journal, McConnell wrote:
"His supporters stormed the Capitol because of the unhinged falsehoods he shouted into the world's largest megaphone. His behavior during and after the chaos was also unconscionable, from attacking Vice-President Mike Pence during the riot to praising the criminals after it ended.''
Now state GOP parties — along with Trump — are retaliating against the 10 Republicans in the House who voted to impeach the ex-president and the seven in the Senate who voted to convict him of inciting the attack on the Capitol.
They are using votes of censure or vows of putting up alternative candidates in primaries against them. State party leaders have defended the punitive moves, which, though largely symbolic, display a groundswell of outrage from grassroots conservatives.
"Censures from the state parties are just a reflection of where the party is at," one former Trump adviser who wasn't named told The Hill website. "When these senators voted against Trump, they knew exactly what the fallout would be, so you're definitely going to see this civil war playing out."
The vote by Senator Bill Cassidy of Louisiana to convict Trump was one of the biggest surprises of the impeachment trial. Cassidy won re-election in November 2020 by running close to Trump and featuring him prominently in his ads. But hours after his vote to convict, the executive committee of the state GOP voted unanimously to censure him.
Said Dave Ball, a Republican county leader in Pennsylvania, about Senator Pat Toomey's vote to convict Trump: "We did not send him there to vote his conscience. We did not send him there to do the right thing or whatever he said he was doing. We sent him there to represent us, and we feel very strongly that he did not represent us."
Alaska Senator Lisa Murkowski is the only GOP senator facing re-election in 2022 who voted to convict Trump, whose allies say a primary challenge for Murkowski is all but assured.
Trump will seek to return to the political spotlight in an address to a major meeting of conservatives, a source familiar with his plans said on Saturday. Trump plans to speak to the Conservative Political Action Conference (CPAC) in Orlando, Florida, on Feb 28, the last day of their meeting, the source told Reuters on condition of anonymity.
"He'll be talking about the future of the Republican Party and the conservative movement. Also look for the 45th president to take on President Biden's disastrous amnesty and border policies," the source said.
Former vice-president Mike Pence has declined a CPAC invitation, politico.com reported.
Many of the 10 Republican House members who voted to impeach Trump last month have been rebuked by local party organizations. Michigan Representative Peter Meijer, who voted for impeachment, has been called a "traitor" who "betrayed" the GOP base. State parties have censured representatives Liz Cheney of Wyoming and Tom Rice of South Carolina. The former president's allies in the House tried to strip Cheney of her leadership post and have already begun campaigning against her.
Not all the state GOP parties are taking punitive measures. In Utah, where Republican Senator Mitt Romney voted to convict and Republican Senator Mike Lee voted to acquit, the state GOP released a statement praising its senators for voting their conscience and expressing their independence.
"The differences between our own Utah Republicans showcase a diversity of thought, in contrast to the danger of a party fixated on unanimity of thought," the state party said. "There is power in our differences as a political party."
As for Trump, he has floated the possibility of a 2024 bid for the White House and after he avoided conviction in his second impeachment trial, he declared the "movement to Make America Great Again has only just begun''.
But some in the GOP, mostly moderates, are now publicly questioning what influence and role he should have and where the party is going.
A Quinnipiac University national poll released on Feb 15 showed by a 75 percent to 21 percent margin, Republicans would like Trump to play a prominent role in the Republican Party. However, overall, Americans say 60-34 percent that they don't want Trump to do so.
A majority of Americans, 55-43 percent, say Trump shouldn't be allowed to hold elected office in the future, while Republicans say 87-11 percent that he should be allowed.