Eye of the collector: Curating 30 years of transformation
Share - WeChat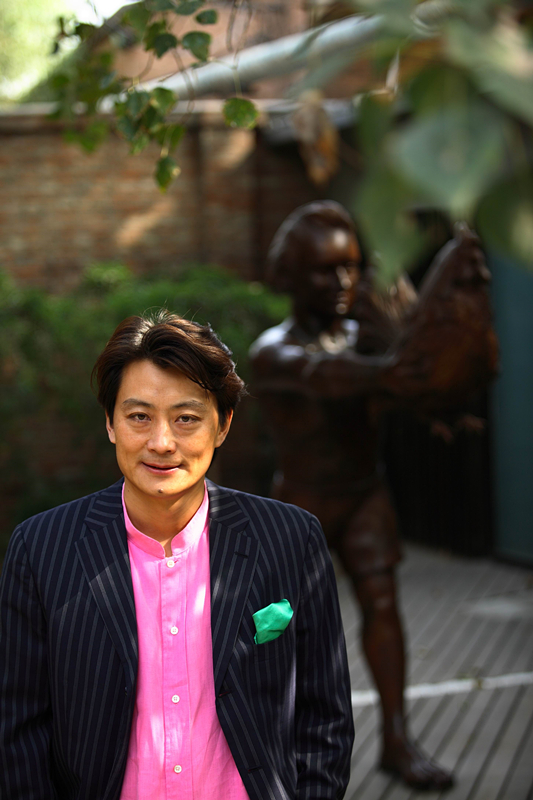 I remember those sun-filled afternoons at Xin Dong Cheng's courtyard home in the late 1990s. Every weekend he had an artist salon where we would gather sipping champagne amidst leafy bamboo gardens, meeting China's up coming creators as they displayed their work. Many were from other provinces, with studio-in-residence at Xin Dong Cheng's home, which had become a gallery.
His courtyard was tucked into a tiny narrow side alleyway branching from Dong Tangzi Hutong in the old Manchurian section of Beijing's eastern district. From ambassadors to collectors, rockers and dreamers, artists and writers, everyone seemed to gather there every weekend to rejoice in the creativity that seemed to spawn endlessly from the complexities of China's economic and social transition that was in the backdrop of everything and always on everyone's mind.
Xin Dong Cheng's was educated in Paris where he specialized in art history and curating (he spent several years at Gallery de France, one of the first to introduce chinese contemporary art in Europe). Bringing his knowledge and sharp critique skills back to Beijing he applied a European sophistication of taste and appreciation to China's upcoming often hippie or alternative artists, in turn giving them guidance and direction personally shaping the careers of each as they blossomed on the international scene. In many respects Xin Dong Cheng's was China's ultimate curator and in many more ways the driving force behind these artists coming of age, earning international reputation and in turn financial success that changed the very face of China's art world forever.
Imagine some of those paintings that hung in his home gallery in a hutong as experimental pieces would later auction for millions of dollars. I should have bought a bunch then when I could afford it. Xin Dong Cheng's had not only the foresight and insight, but, the resolve to collect then building his own private collection that he is now graciously donating to museums across China to share the magic of these artists and their creativeness with generations to follow.
Fast-forwarding to those heady years in the run-up to Beijing's 2008 Olympics and Xin Dong Cheng had relocated his gallery now the largest in Beijing's hip 798 Art District. Soon he opened a second gallery and combined arguably now had the largest private art gallery complex in China at that point in time, moreover unquestionably taking is seat as the kingmaker of China's modern art scene.
More fine French champagne flowed adding Cuban cigars as Xin Dong Cheng brought Cuban artists, then Russian, Middle Eastern and other parts of the world together in his Beijing gallery becoming a nexus of the global community essentially doing the UN mission's job in integrating cultural exchange and understanding. In the years that followed every one of these countries would soon set up their own gallery to showcase their countries artists at 798. Once again Xin Dong Cheng was well ahead of his time.
China's modern art movement began with a cluster of young alternative artists in the early 1980s who called themselves the "Stars." Art students gathered in the ruins of historic Yuan Ming Yuan living in ad hoc housing creating China's first hippie atmosphere art commune. When authorities re-claimed the ruins of Yuan Ming Yuan as a public park, the artists moved to Song Zhuang Village then on the outskirts of Beijing and the virtual artist colony blossomed. Soon studios and galleries moved into the 798 factory complex which transformed from a heavy industrial state-owned enterprise icon into a multi-faceted cultural center. The more alternative artists then shifted to Cao Changdi where they continued using forgone high vaulted factory and farm houses as sunlit studios.
These years of social and psychological transition are all expressed in the overpowering exhibit "A Snapshot of Globalization" of Xin Dong Cheng's personal contemporary art collection spanning some three decades of China's reform and opening. The exhibition is showcasing at Qinghua University Art Museum through March 2021, making it one of the longest showing exhibitions of its kind at China's apex fine art museum.
Walking through "A Snapshot of Globalization" one wintery afternoon, I was struck by the sheer juxtapositions presented through the art. A once closed traditional society moving from planned economics to market from agriculture to industry and now high tech within the span of just three decades is expressed in the power, convolution and sometimes stark extravagance of colors and objects that form the exhibition.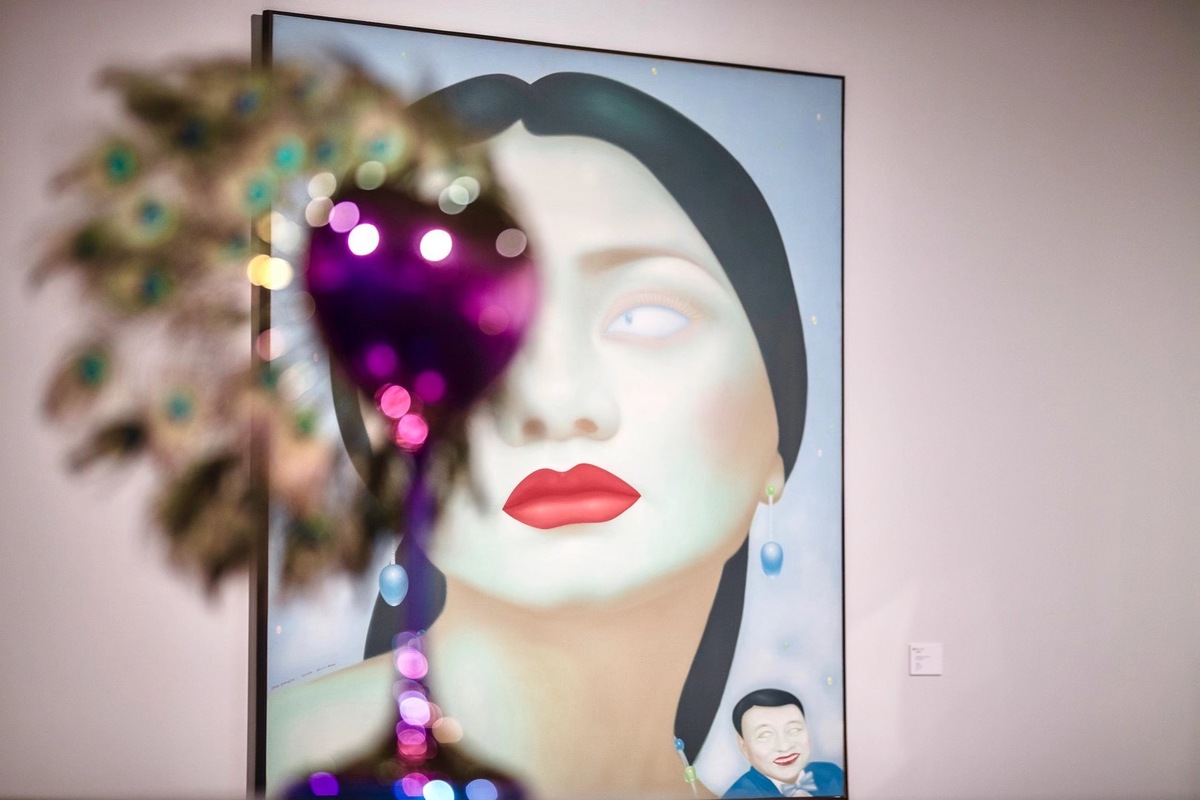 Thirty years of dynamic change presented in "A Snapshot of Globalization" is not just a snapshot of China's contemporary art scene but rather offers sharp insight into the history of China's reforms and opening during which massive transformations occurred in all aspects of society within a historically unprecedentedly compact period of time.
This vicissitude of the past decades have witnessed changes in attitudes, views and roles of the artistic community resulting from interplay of internal and external factors, cultural exchanges and social realities constituent in the context of artistic creation, ideas and materials.
In many ways China's modern artists have been vanguards, pace setters, iconoclastic social commentators and critics. The massive influx of contemporary western art that has also come into China at this time has not been hard to digest. It has brought in calmness and criticism into a spontaneous mechanism where it prudently filters everything it produces. Critics, journalists, artistic museums have all been filters. So have collectors. This is where Xin Dong Cheng's collection says it all.
As one of the curated tablets of the exhibition explains so clearly, "Our living space is being rapidly transformed by industrialization, urbanization and information technology, while we still cling to the traditional idyll the beauty of mechanics is so tempting that it keeps dragging us away while the objective reality of space is devoid by symbolism of it, artists create spectacles and landscapes of the times."

"Human condition eternally extravagant but spiritually empty," another curated explanation offers insight into the social dilemma arising from such a set of contrasting changes within such a short period of time, adding "humans are watching their hearts slowly distorted by unbearable likeness mirrored by artists as mental conditions of the times."
Su Dan, Deputy Director of Tsinghua University Fine Arts Museum personally curated this exhibition underscoring the importance of Xin Dong Cheng's personal collection as a consummate expression of China's contemporary art scene. Su Dan has summed up the essence of Xin Dong Cheng's curated collections and more importantly contribution to the formation of China modern art scene today as it projects into the future. Su Dan expressed, "Culturally the history of reform and opening up is the history of the grudual integration of contemporary Chinese culture into the global stage." Yes, China's art scene, like the nation itself, has come of age.
Collectors are more than just curators with insight into the future value of the art that they curate. They are all visionaries looking globally establishing a narrative for the transition of their times so that others in the future can understand the foundations that their world has been built upon
.
Every society in the course of its own awakening and enlightenment has had great curators and patrons of the arts. The Medicis family of Florentine's Renaissance, the Guggenheim family's patronage during America's creative bursts as industrialization transformed another agricultural society.
Without question Xin Dong Cheng's legacy articulates this historic period of China's reform and opening as expressed by the iconoclastic convolution of expressive movements arising through the kinetics of transition, that he has curated, collected and left for generations following us to understand the factors that will have shaped their world.
Laurence Brahm is a US documentary filmmaker living in China.
The opinions expressed here are those of the writer and do not necessarily represent the views of China Daily and China Daily website.
If you have a specific expertise and would like to contribute to China Daily, please contact us at opinion@chinadaily.com.cn, and comment@chinadaily.com.cn.
Most Viewed in 24 Hours
China Views