Chinese kids' rendezvous with coding
Share - WeChat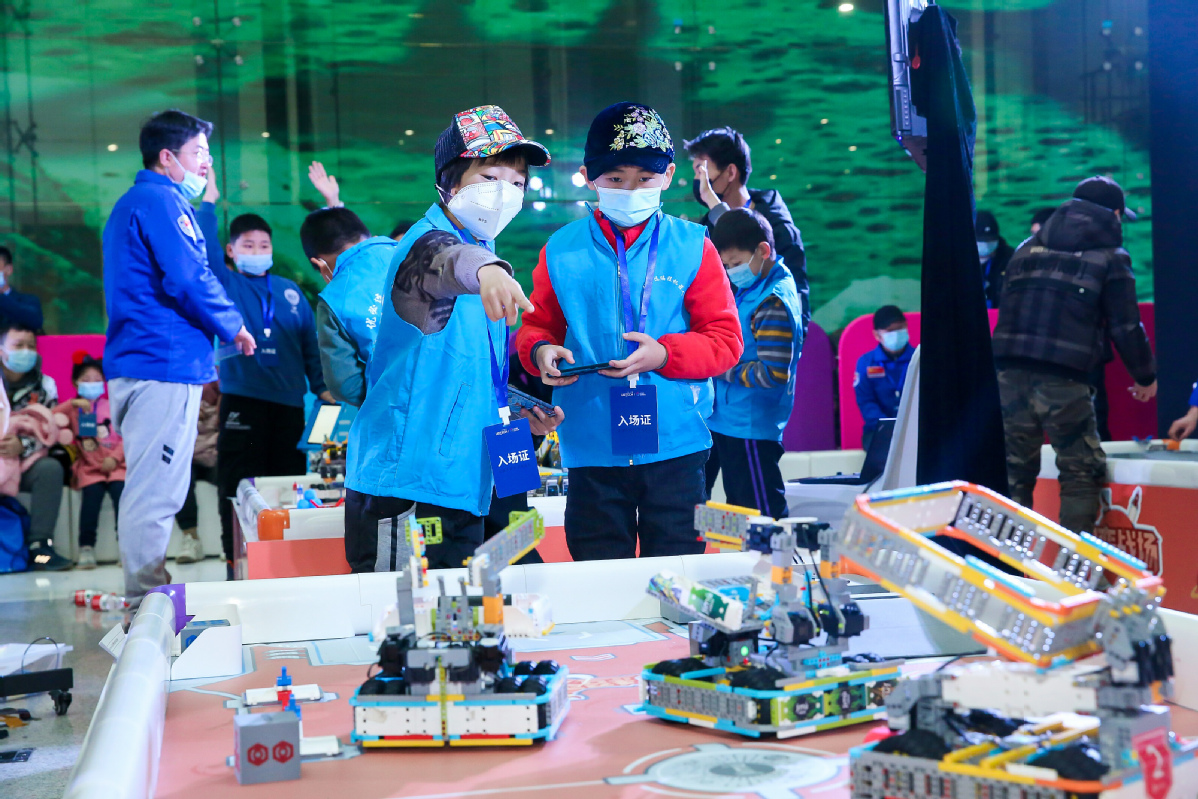 BEIJING - Vita, a primary school student from Shanghai, has garnered some 220,000 subscribers on a popular Chinese video-sharing platform.
The nine-year-old creates education videos on computer programming and has posted dozens of videos on the platform, with his video series receiving over 4 million views in China, home to the largest online community in the world.
Vita is one of a generation that is not unfamiliar with artificial intelligence (AI). In an era of exponential technological growth, programming is deemed a survival skill akin to English speaking.
PROGRAMMING BEFORE CHOPSTICKS
Vita started learning programming at the age of five when he could not even use chopsticks at the dinner table with ease. At the age of six, even before graduating from kindergarten, he had designed a countdown app with the help of his father. He can now code simple games on his own.
Vita studies coding in school and is often helped by his father at home in his pursuit of programming knowledge.
Some elementary schools in first-tier cities and coastal provinces, such as Beijing and Jiangsu, offer information technology courses.
Guantong Education has been providing AI learning facilities to more than 1,000 schools around Jiangsu Province. Many parents, however, see the class hours and extent of the curriculum as limited, said the company's manager Liu Chang. Therefore, parents choose to buy online programming courses for their children, or even send them to after-school classes and early education institutions, Liu added.
Besides, a range of programming apps for children is also available on smartphone app stores. The online lecturers guide children to drag and drop graphic modules on tablets to design animation effects.
The graphic modules can help children intuitively experience the operation mode of a computer, said Du Zide, secretary-general of the China Computer Federation.
The age of kids learning computer programming in China ranges from 3 to 19. According to a report by Analysys, an internet data analysis service provider, the transaction scale of the children's programming market reached 24.8 billion yuan (about 3.83 billion U.S. dollars) in 2018 and 25.7 billion yuan in 2019.
AI IMPLICATIONS AMONG CHILDREN
A total of 91.7 percent of Chinese primary and middle school students showed a willingness to learn about artificial intelligence, according to an AI popularization education report released by the China Association of Children's Science Instructors in 2018.
In 2017, the State Council of China issued a development plan for the new generation of AI, pledging to gradually promote programming education, offer AI-related courses at middle and elementary schools, and encourage the development and promotion of programming-related teaching softwares and games.
Programming and computing systems are largely contributing to the modernized world. Rice cookers, speakers, and even traffic lights have all become smart with the help of AI in today's China. The development of AI technology has changed the new generation's perception of the smart world.
Vita used to be curious about the parking lot system, said his father Zhou Ziheng. "Whenever I pay the parking fee using a mini-program on my phone, Vita would be intrigued by how the license plate recognition system recognizes the plate and the car park barrier lifts."
Actually, the process is realized by a neural network algorithm, explained Zhou, adding that he believes a smarter world would influence his son's learning process. "The study of programming can help children know the operation logic of the devices and better understand how the society works in a brand new way."
China is not the only country with a growing AI generation. In Britain, computer programming is a compulsory course for children above five years old. France has included programming as an elective course in primary education.
"We expect the programming to improve children's abilities in abstract thinking, information sorting, communication and spatial thinking, rather than cultivating them into professional programmers," said Zhou Cenyao, a mother of two in Beijing.
PROCEED WITH PRUDENCE
Some believe that the popularization of programming in China is deeply rooted in peer pressure and conformity of parents that come along.
"It cannot stem from parents' anxiety about their children's growth," said Zhao Yu, an information technology teacher at an elementary school in Beijing.
Some middle and primary schools have included programming ability in children's assessment standards.
"During the compulsory education and pre-school period, AI or programming should be introduced to cultivate children's interests," said Zhao. In middle schools, teachers should guide students to pay attention to the ethical issue brought about by AI development.
AI is a complicated subject and contains multidisciplinary knowledge including mathematics, physics, computing, linguistics, behavioral science, cognitive science and information science.
Tomorrow Advancing Life, an education and technology enterprise in China, suggests parents introduce AI-related courses to children after they are 7 years old.
If children do not have enough prior knowledge, their confidence and interest to study information technology further would be lost, said Zhao. "There are other ways to improve children's logical thinking before the third grade at elementary school. Board games, tangram and jigsaw puzzles could be good choices."
For primary and secondary school students as well as preschool children, mathematics, reading, writing and aesthetics are still vital, said Du Zide, adding that abilities in these areas are fundamental for cognizing the world and expression.