Key to the future
Share - WeChat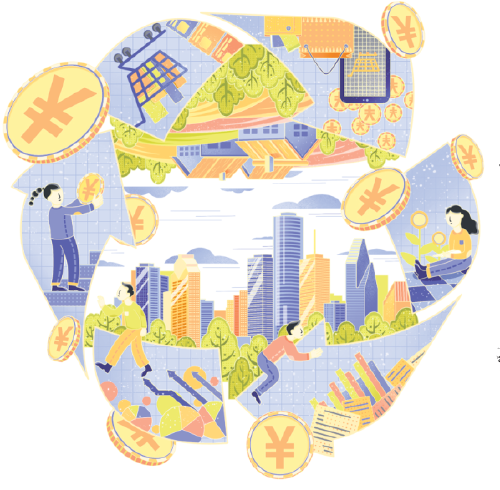 Expanding domestic demand and accumulating human capital are crucial to the new development paradigm
Domestic demand is the driving force behind the new development paradigm, and people are the major source of domestic demand. In 2019, China's total population exceeded 1.4 billion, with the working-age population accounting for more than 70 percent. By the end of 2019, China had formed at least 21 megacities in the main economic urban regions, which contributed nearly 32 percent to the national economy that year and absorbed nearly 22 percent of the total internal migrants.
At present, China still has a large rural transfer population. In 2019, the total number of rural migrant workers was about 291 million, and the number of rural migrant workers leaving their place of household registration was nearly 174 million, among which migrant workers as permanent urban residents accounted for nearly 77.5 percent. Guiding a reasonable population mobility and steady urbanization can effectively raise income levels and promote the integration of regional factor markets. Hence, in the future, domestic demand potential generated by urbanization will continue to be unleashed.
China is now in a post-industrialization development stage and the service sector is growing rapidly. Since 2010, China's demographic dividend has been dwindling, with its economic growth relying more on human capital and technological progress. New technological applications, such as industrial robots and artificial intelligence, have been incorporated into traditional manufacturing, which demands more skilled workers.
Expanding domestic demand and accumulating human capital are crucial to the new development paradigm. To this end, whether the surplus rural labor can get urban residency permits and enjoy related benefits will have a major impact on the domestic cycle. Residency permit thresholds have all been lifted except for some megacities, but there is still a significant increase in rural migrant workers, which means that they have not been effectively urbanized, instead moving periodically between inflow and outflow areas. This is first attributable to the fact that the household registration system has yet to incentivize migrant workers to settle down in cities because they are still weighing the benefits associated with rural land reforms against urban residency. Moreover, there is a mismatch between supply and demand, since low-skilled rural laborers cannot meet the demand of urban industrial development.
The continuous population outflow has created a divergence in regional development. A net population outflow could result in a shortage of regional labor, which confines these regions to the low end of the value chain and deprives them of the opportunity for regional economic transformation, which is largely responsible for the hollowed-out and aged villages. Under such circumstances, these villages have no choice but to choose small-scale breeding or crop farming, which are of little added value and limited growth potential. Some of these areas that have experienced noticeable net population outflows reinforcing the negative market size effect, depressing local purchasing power.
It is also urgent to improve population policies with the aging of the population gathering pace. In 2019, people aged 65 and above in China surpassed 176 million, accounting for about 12.6 percent of the country's total population. Aging not only reduces the supply of labor and labor participation rate, but also adds to the burden on pension funds and undermines the labor market. In terms of fertility desire, the sizable middle-income group consists mainly of wage earners who are not very keen on having children, which necessitates more inclusive and supportive population policies.
Consequently, it is necessary for China to optimize population growth and address the demographic issues to expedite the formation of the new development pattern.
First, it has to move faster to improve the institutional design for domestic demand expansion. In accordance with women's fertility desire, paid maternity leave should be made more flexible and home-or community-based childcare services might be offered in community health centers staffed with prenatal care and childcare providers to reduce child-bearing and pre-schooling costs. A national strategy needs to be implemented to respond to the aging population by further developing the health and elderly care industries and increasing the reimbursement rate for childcare and old-age care in insurance plans. Additionally, it is also appropriate to improve the institutional design for redistribution by boosting labor income as a percentage of primary distribution, further raising the personal income tax threshold and gradually expanding the middle-income group.
Second, mutual integration and accessibility of urban and rural factors should be promoted during the process of urbanization. There are nearly 300 million migrant workers in China. Ensuring employment, schooling and welfare for them and their families will unleash huge potential demand. Hence, there are significant benefits to further relocate manufacturing to the central and western regions in China, and gradually enable migrants to find jobs in their hometowns that pay equally well. While ensuring basic farmland and ecological functions, rural industrial modernization can be improve by integrating rural industries into the urban industrial division of labor, establishing a mechanism linking compensated transfer of rural land with urban settlement, and ensuring that migrant workers have access to premium educational resources and medical care in cities, so that they will be more willing to settle down in cities.
Third, the talent supply structure should be optimized. Human capital is key to tailoring labor supply to the new development pattern. Solid independence in science and technology requires well-grounded and tech-savvy talent to come up with original innovations. To this end, it is urgent for China to improve the education quality of the talent cultivation system, develop vocational education together with higher education, and step up vocational training for rural migrants in cities to upskill them so that they can meet the needs of urban industrial development.
Deng Zhongliang is an assistant researcher with the Institute of Population and Labor Economics at the Chinese Academy of Social Sciences. Zhang Juwei is director of the Institute of Population and Labor Economics at the Chinese Academy of Social Sciences. The authors contributed this article to China Watch, a think tank powered by China Daily. The views do not necessarily reflect those of China Daily.
Most Viewed in 24 Hours
China Views