Recycling to nowhere
Share - WeChat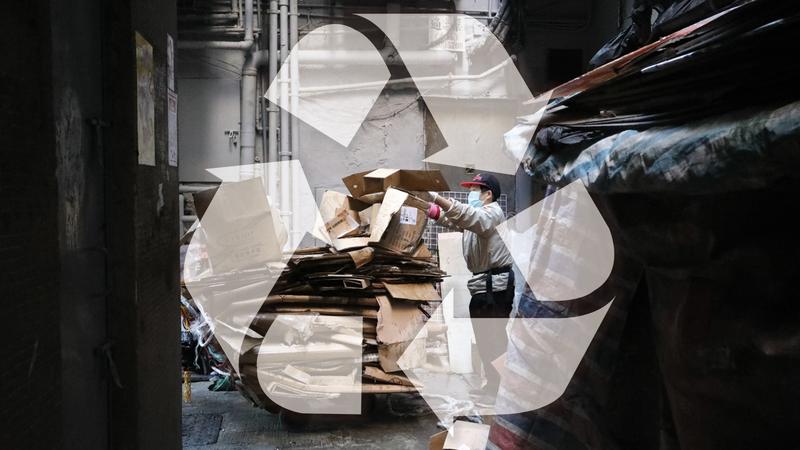 Hong Kong's paper recycling business is in dire straits as many economies stop importing solid waste. But the SAR government has moved to revive an industry that once flourished. Gu Mengyan reports from Hong Kong.
Hong Kong's once-thriving paper recycling business may soon end up where it all started as garbage heaps - not on the streets but in landfills - if help isn't forthcoming.
When the Chinese mainland started to tighten curbs on solid waste imports in 2017, Hong Kong's recycling business was thrown into a quandary as Hong Kong exporters cut waste paper prices down by more than a half, and some even stopped collections.
While the volume of scrap paper - the second largest constituent of municipal solid waste - dumped into the city's landfills had risen to 2,704 metric tons per day in 2019, its recycling rate hit a record low of 35 percent, down from 41 percent the year before.
The causes of the slide are import controls by overseas economies, as well as a continuous decline in international prices of waste paper, the Environmental Protection Department concluded in its report published in late December.
Over the past 15 years, almost all of Hong Kong's paper recyclables were shipped out of the city. The mainland took in 91 percent of the city's exported waste paper in 2017, according to a 2019 Legislative Council study.
The mainland's total ban on imports of solid waste from Jan 1 this year is seen as the last in a series of steps that started in 2017 to end the "dumping, stacking and disposal of waste products from overseas on Chinese territory".
Southeast Asian countries, such as Indonesia and Malaysia, which could be alternative importers, have also been tightening import controls on waste paper, as waste started to head for their shores on the heels of the Chinese mainland ban.