Shanghai's noodle shops
Share - WeChat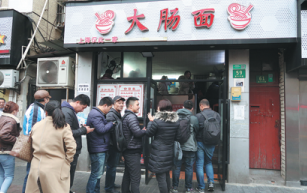 Da Chang Mian
People either love or hate pork intestines-there's never a middle ground.
For those among the latter who enjoy having it with noodles, the Da Chang Mian (Large Intestine Noodles) noodle house on 59 Fuxing Middle Road is considered an institution in Shanghai that has been in business for over 30 years.
Open from 10 am to 8 pm, the noodle shop is always packed. The place typically has a line, which could contain dozens of customers during peak hours.
A regular bowl of noodles with about 20 pieces of chopped large intestines costs 33 yuan ($5).
The noodles can be served dry or in a brown broth. The pork intestine is chewy yet tender, fatty yet tasty. The slurping sounds coming from the dimly lit eatery add to the unique dining experience. It is normal to see as many as 20 people sharing six tables.
"I cannot count how many bowls we make every day," says the owner, who's also the chef. "There is no secret to this dish's popularity. If there is, I would have to say that it's just the heart and soul we put into creating it."
Most Popular