Gamestop stops the show: Is the free market really that free?
Share - WeChat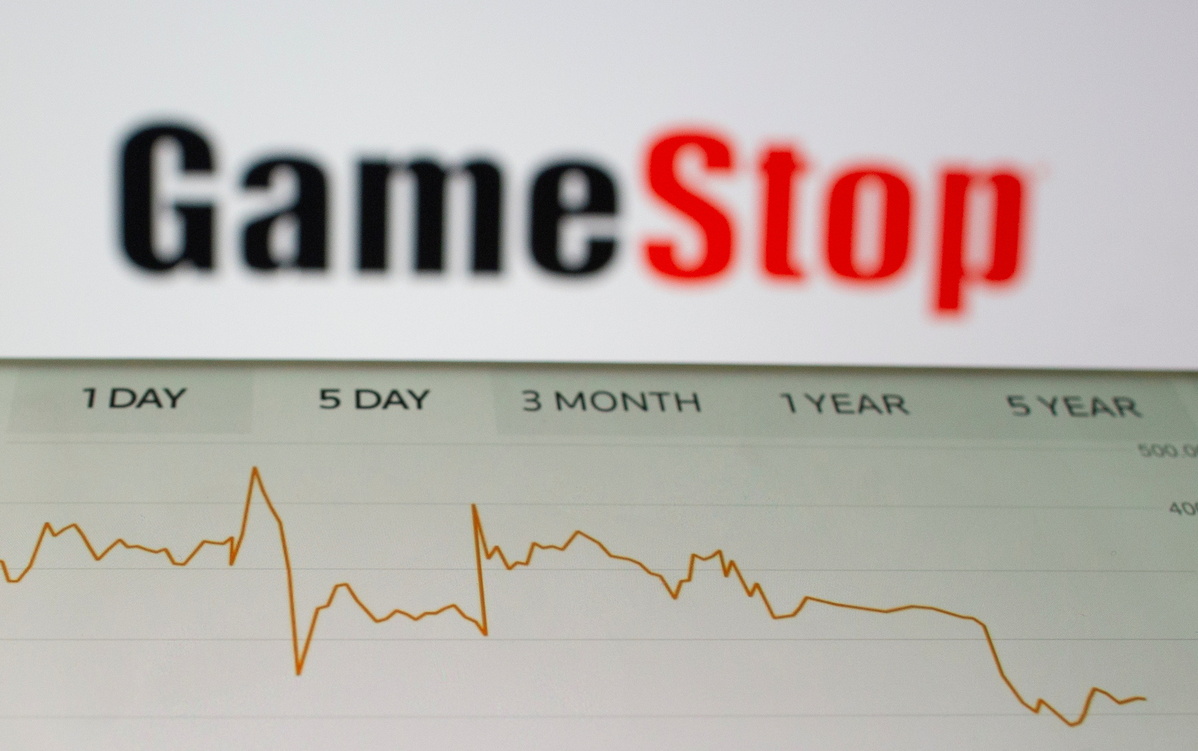 What could Occupy Wall Street, QAnon, antifa, and GameStop have in common?
Everything.
Now let's try to explain how the avatars of video hero underdogs who through their millennial independent stock market traders outmaneuvered Wall Street's biggest and most powerful investment houses and hedge funds, leaving those big boys choking on losses of $20 billion!
Try betting against Wall Street and see what happens? Short of the Big Short, it has never happened. That is until last week. CNBC and Bloomberg commentators are still sifting through the carnage, trying to make sense of it all.
So would you like me to read the tea leaves of this thing? It all begins with a fairy tale right out of a video game shop.
Once upon a time, not so long ago, a chain of stores selling video games and plastic effigies of fantasy game heroes called GameStop was trading under a measly $10. This dragged on for over three years with no hope of the stock going anywhere except probably bottoming out. Come on, who would go into a walk-in retail shop and buy video games and their plastic icon collectibles in the digital age when everything is online and even a coffee can be delivered to your door through an app within just minutes. The retail shop was destined to the graveyard of Main Street America. Who actually goes to a shop anymore anyways?
Then guess what happened? Last week GameStop stock shot up like a rocket ship to $348. Hey those things only happen in fantasy video games, right?
Some people made a lot of money. Some did not. Those who did not are pretty angry. Especially, given that they are the Wall Street elite who believed that they are titans if not gods, the only ones who can call the shots. The fact that a bunch of millennial traders gone rogue could outsmart and out bet them, is as unthinkable as Occupy Wall Street paralyzing America in 2012 and QAnon taking over the Capital Building and fighting with antifa in the streets of America in 2021. Welcome to the new normal.
The GameStop swap began when Citron Research, a 20-year old research house providing hedge funds with market insider tips of when to short the market, offered insight that GameStop should bottom up, now is time to sell off and kill the company. But that was not what happened.
A group of some 3 millionregistered users convened in a platform called Wallstreetbets, to exchange information and ideas concerning market opportunities and risks. Many are young individual traders not associated with any big investment bank or hedge fund. Chatting on Wallstreetbets was in the open on the forum Reddit. When Citron put the emperors' thumbs down on GameStop, the Wallstreetbets consensus was a decision to bet against Wall Street. Millennial investors bought aggressively into GameStop stocks, which were being heavily shorted by Wall Street hedge funds, in turn pushing the price upwards sharply. This forced the hedge funds to liquidate their long positions in other stocks to cover their short positions in GameStop in response to liquidity shortage. This force Wall Street's three major stock indexes to come humpty dumpty tumbling down by 600 points on last Wednesday and another 600-plus points on Friday.
Institutional investors are really bad losers you know. Soon trading on GameStop was halted on Robinhood, the key trading site that Wallstreetbets members used. Imagine allowing traders to sell but forbidding them to buy GameStop. What's really going on and who is behind it?
Now isn't that outright interference into our beloved free market? That's the point. Wallstreetbets was taking the façade off of Wall Street. Maybe the free market is not so free.
Now let's walk through the logic of this thing and make some sense out of it.
GameStop is a retail shop which means this is not the business you want to be in during the COVID-19 period when people are avoiding things like crowding in a video game shops and even conferences are being consumed by Zoom. All the hedge fund money is going into institutional so-called high-tech companies, yes those social media monopolies funded through quantitative easing that are consuming clicks and eyeballs at a time when everyone is at home. Main Street traditional family businesses are a thing of the past. Everything is about keeping people at home, glued to their screens, clicking away to hit those valuations that allow Wall Street to manipulate prices and cash in big.
Everyone loves the arbitrage that volatility gives us. That is how those super rich 1 percent with asset values of over $100 million were able to each enrich themselves by 57 percent growth in personal wealth in 2020, a year that witnessed more unemployment and unprecedented food lines in America since the Great Depression. Wall Street is divorced if not decoupled from Main Street. Regardless of QAnon or antifa, who might seem to be at odds, both represent disenfranchised Main Street foreclosures, intent on taking back the streets one way or another. This is not about Trump or Biden. It is about Wall Street, the Federal Reserve, the political elite in Washington and their puppet media and tech platforms.
Like most Wall Street plays, insider trading, which is technically illegal, is the main name of the game. Garbage stocks are constantly being re-packaged and then institutional investors such as hedge funds will spike the stock and then sell short when individual investors pile in. This is the Wall Street game. Big mouth anchors on CNBC and CNN will sing praises to these stocks and fan market sentiment or give justification to the inside or should we more politely say pre-informed trading. This is precisely what Wallstreetbets was seeking to expose.
So why did they do it? A revolution usually involves an entanglement of emotions put into action. Let's break it down.
When capital markets crashed in 2008, the Federal Reserve bought back its own debt and then issued currency against that debt flooding the market with liquidity, revitalizing the big Wall Street financial institutions and their managements who immediately gave themselves super bonuses and went back into speculating on internet stocks. The listing of likes such as Facebook, Amazon, Twitter all occurred during this time. Everyone made oozy vast profits on sheer speculation.
At that time many of the millennial independent traders on Wallstreetbets, were adolescents who watched their parents laid off, homes foreclosed, and opportunity denied to them by this coterie of interests playing the insider game. Learning how to trade, they decided to reverse the game.
Many growing up on the video icons represented by GameStop also had some sentimental feeling about not wanting this company to go down. They were fed up watching real businesses and communities go down the drain as the Fed borrows against its debt throwing the entire nation into hyper debt cycle to assure the aggrandizement of a political and financial elite. Yes the millennial generation is calling for re-empowering communities. That means reinvigorating local businesses including stores like GameStop.
Moreover, if you throw as much money as the Fed and Wall Street threw at any of these companies like Facebook or Amazon, how can you not become big and eventually a monopoly? Please somebody use common sense and think! You have to be an idiot not to become No 1 when all the money in the capital market is just offered on a platinum platter for you to grow you business and wipe out all the others who are denied the frenzy liquidity feed.
So why not stop the game with GameStop. Maybe it could become the next Amazon, who knows? If the Fed and Wall Street won't do it, maybe the people can? This is about the power of mass movements, and that was once the motto of Occupy Wall Street before it was gagged.
The final line drawn in the sand for Wallstreetbets was the Citron report.
Being traders themselves, they know the Wall Street game. These kids decided rather than having whispered hedge fund meetings in claustrophobic clubs or Hampton happy clubs to fix bets and then tell the media what to blab-blab, they would just do it all in the open online on Reddit and flaunt the system to its face.
In a world of zero interest rates with quantitative easing, these young traders have just had enough!
Now the moment of sublime victory oozed out when somebody secretly intervened and stopped the buying of GameStop on key trading platforms like Robinhood. Yes you could sell but not buy. Hey isn't this supposed to be a free market? What's wrong? Well this is what these millennia traders were really exposing. How could you stop customers from buying into the GameStop just because it does not follow the market logic dictated by insider hedge fund research institutions, and the talking heads of CNBC, Bloomberg and CNN? They are just guiding the market for the elite or justifying their trading with prescribed narratives. So now the $3 trillion question: Do we really have a free market or a manipulated one?
How could the titans of Wall Street lose? Self-proclaimed gods don't lose? Because they are gods, right? Sorry, the masses out there are now nonbelievers.
It's a revolution!
And the whole thing began with a video game shop.
Laurence Brahm is a US documentary filmmaker living in China.
The opinions expressed here are those of the writer and do not necessarily represent the views of China Daily and China Daily website.
If you have a specific expertise and would like to contribute to China Daily, please contact us at opinion@chinadaily.com.cn , and comment@chinadaily.com.cn.
Most Viewed in 24 Hours
China Views