Groups laud Biden's order against racism
Share - WeChat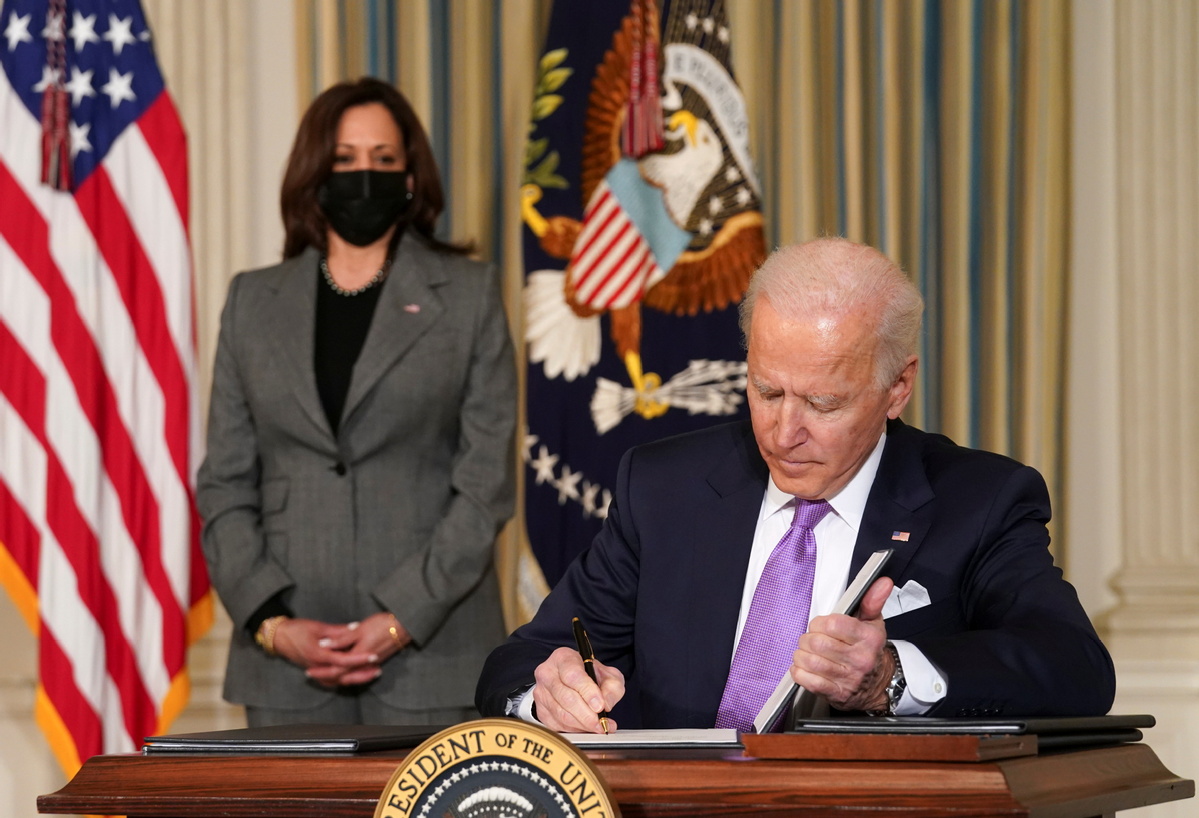 US President Joe Biden on Tuesday signed an executive order to address the rising racism against Asian Americans during the COVID-19 pandemic. The move has been welcomed by advocacy groups as "a promising step".
The executive order, one of four addressing racial equity, directs the Department of Health and Human Services and the COVID-19 health equity task force to issue guidance on cultural competency, language access and sensitivity.
It also directs the Department of Justice to engage with the Asian American and Pacific Islander (AAPI) community on issues related to hate crimes, hate incidents and harassment.
"The federal government must recognize that it has played a role in furthering these xenophobic sentiments through the actions of political leaders, including references to the COVID-19 pandemic by the geographic location of its origin," reads the executive order.
"Such statements have stoked unfounded fears and perpetuated stigma about Asian Americans and Pacific Islanders and have contributed to increasing rates of bullying, harassment, and hate crimes against AAPI persons," it reads.
The executive order "sends a powerful message to the AAPI community that the Biden administration is committed to addressing racial injustice", said Cynthia Choi, co-executive director of Chinese for Affirmative Action. "Specifically, the executive order disavowing discrimination against the AAPI community is a promising step in recognizing the harm done to the AAPI community," she said.
Since the start of the pandemic, Asian Americans have experienced a wave of racist attacks and harassment. More than 2,800 people reported incidents of racism and discrimination targeting Asian Americans across the US between March 19 and Dec 31, 2020, according to Stop AAPI Hate, a coalition aimed at addressing pandemic-related racism.
Former president Donald Trump and his Republican allies are accused of purposely calling COVID-19 the "China virus" in an effort to blame China for the pandemic.
According to STOP AAPI's research, there are at least 46 racial attacks where Trump is actively invoked, and Trump is "the greatest spreader" among politicians of anti-Asian American rhetoric related to the pandemic, as his racist or stigmatizing tweets have by far the greatest reach and were retweeted over 1.2 million times in the first eight months of last year.
"Calling the coronavirus 'China virus' is racist, hurtful, fake information, unscientific, and without basis. Yet it inflamed racist attacks and harassment against Chinese Americans throughout the US," said Lillian Sing, a retired judge in San Francisco.
Her grandson Logan was a victim. The 18-year-old high school senior was born and raised in Pennsylvania and had never experienced discrimination until three weeks ago in a soccer game, said Sing. The incident happened when he was in the restroom, one player said to the other players, "Let's get out ... a Chinese who spreads coronavirus."
Logan's story isn't an isolated one. A study by the STOP AAPI Hate Youth Campaign found 1 in 4 young Asian Americans experienced a form of anti-Asian hatred.
"Asian Americans are suffering from more racial attacks and harassments than ever before. In scientific, business, political, academic and government circles, Chinese Americans are being subject to the greatest scrutiny," said Sing.
"Unfortunately, yesterday President Biden announced that he was retaining Christopher Wray as the FBI director," she said. "His characterization of China as posing a 'whole of society' threat to the US implies that all individuals of Chinese descent are to be distrusted.
"Hopefully, Christopher Wray will also abide by President Biden's executive order to demonstrate cultural competency, language access, and sensitivity towards AAPI," she added.
While welcoming Biden's executive order, STOP AAPI Hate urged the president to reverse other "xenophobic" executive orders and policies by the Trump administration, including the ban on Chinese students and researchers and policies targeting the use of WeChat.