UK opens new sites to accelerate vaccination
Share - WeChat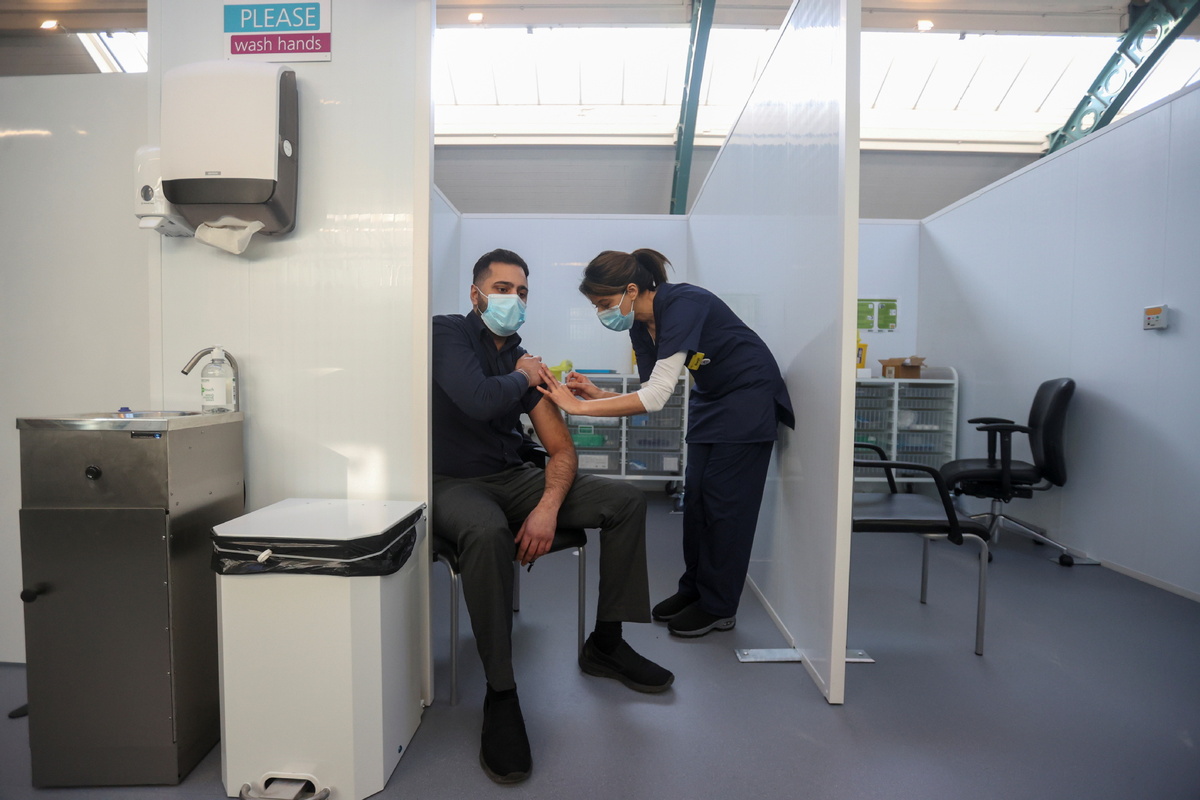 Nation's prime minister seeks support for lockdown amid pressure from lawmakers
The United Kingdom continued to focus on its novel coronavirus vaccination campaign on Monday by opening 32 large sites where people in priority groups can get a jab.
The sites - in locations that include a museum, a soccer stadium, a racecourse, and a furniture superstore - will ensure thousands more are inoculated each day against the virus, but the ramping-up of the campaign failed to diffuse growing tension within the ruling Conservative Party about the continued closure of schools.
With recent record numbers of people dying from COVID-19, and with new transmissions and hospitalizations at all-time highs, Prime Minister Boris Johnson would have been looking for strong support from his party for the lockdown he imposed on Jan 5, instead of criticism.
But Robert Halfon, a Conservative Party lawmaker and chairman of the House of Commons education select committee, called on Johnson to come up with a "route map" setting out when students can return to class and tweeted that he will try to ask an urgent question on the issue in Parliament.
Halfon said on the BBC's Breakfast program: "There are enormous pressures on parents at the moment; some of them are giving up their jobs or working part-time, they are losing income because they have to stay at home to look after their children, they need to know what is going on."
His comments were echoed on Radio 4's Today program by Anne Longfield, England's children's commissioner, who is responsible for promoting and protecting children's rights.
She said: "Children are more withdrawn, they are really suffering in terms of isolation, their confidence levels are falling, and, for some, there are serious issues."
But Therese Coffey, the UK's work and pensions secretary, called on people to remain patient, saying on the BBC's Breakfast program that teachers and school support workers would likely need to be vaccinated before schools could reopen. So far, they are not on the priority list.
Johnson has said schools will not reopen until mid-February at the earliest, which is the time by which the UK hopes to have vaccinated its most-vulnerable 15 million people.
So far, the campaign has reached more than 6.3 million, with a record 491,970 vaccinated on Saturday.
Sky News said on Monday that, in addition to calls for school workers to be added to the list of people being prioritized for jabs, trade unions want transport workers fast-tracked.
Mick Cash, general secretary of the Rail, Maritime and Transport union, said: "A more infectious and now it seems more deadly variant of the COVID-19 virus, plus an increase in passenger numbers is a lethal cocktail threatening rail workers, with deaths and illness doubling since November."
The government will consider those calls in the coming days, as it will a proposal for all travelers entering the UK to be compelled to undergo quarantine at their own expense, at specially purposed hotels.
Sky News said the idea, which will be discussed on Tuesday, already has the support of Chancellor of the Exchequer Rishi Sunak, Home Secretary Priti Patel, and Health Secretary Matt Hancock.
With the vaccination program gathering steam, senior politicians are being urged to turn their attention toward the country's emergence from the lockdown.
Former prime minister Gordon Brown warned that it could become a "failed state" if the government does not take the opportunity to bring in massive reforms.
Brown, who led a Labour Party government between 2007 and 2010, wrote in a column in the Daily Telegraph that the pandemic has exposed "tensions" between the central government and both the regions and nations of the United Kingdom.
The Centre for Cities, an independent think tank, has issued a similar warning, saying the economic impact of the pandemic will make it harder than ever for Johnson to live up to his election promise of levelling the UK's North-South divide.
The Guardian newspaper reported that the center believes the promised rebalancing of Britain's lopsided economy, in which many corporate headquarters and better-paying jobs are located in the South, is now four times harder to deliver, because the pandemic has created even larger challenges in the North and problems that did not exist before in the South.
Elsewhere in Europe, Germany introduced new curbs at its borders on Sunday, with visitors from around 30 nations that have high infection rates now finding it harder to gain entry to the nation, with measures brought in including mandatory virus tests for visitors.