Beijing tests 17.46 million for virus since Dec 14
Share - WeChat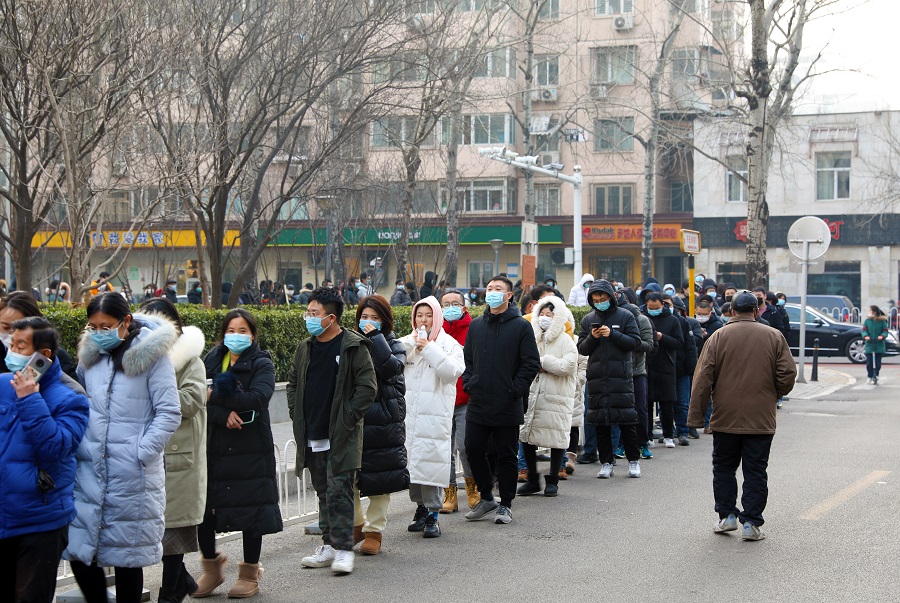 China's capital, Beijing, had given nucleic acid tests to 17.46 million people by Sunday since the city's new round of COVID-19 cluster infections occurred on Dec 14, a senior city government official said at a news conference on Monday.
The data means there has been daily testing of about 415,680 samples during this period. On Saturday, the city collected 1.42 million samples, which was a peak high, said Tian Tao, a testing official with the city's COVID-19 control and prevention work leading group.
Beijing's core areas - Xicheng and Dongcheng districts, have completed mass nucleic acid testing for all residents, which started early Friday.
According to Tian, Dongcheng tested 668,346 people, with results all negative. Xicheng tested about 1.13 million people, with one case positive.
Beijing reported three new local confirmed cases and one asymptomatic case on Sunday, all from the Ronghui residential community in Beijing's Daxing district.
The residential community is now the only high-risk area in the city, where most cases have been found.
Han Xinxing, executive deputy head of the district, said Daxing will start a second round of mass testing for all residents in Daxing on Tuesday.
The third round of testing for all residents in the five locked-down communities on Tiangongyuan Street has started and 22,612 samples have been collected so far, he said.