Mass COVID testing starts in two core Beijing districts after Daxing outbreak
By DU JUAN in Beijing, ZHOU WENTING in Shanghai and ZHOU HUIYING in Harbin | China Daily | Updated: 2021-01-23 06:45





Share - WeChat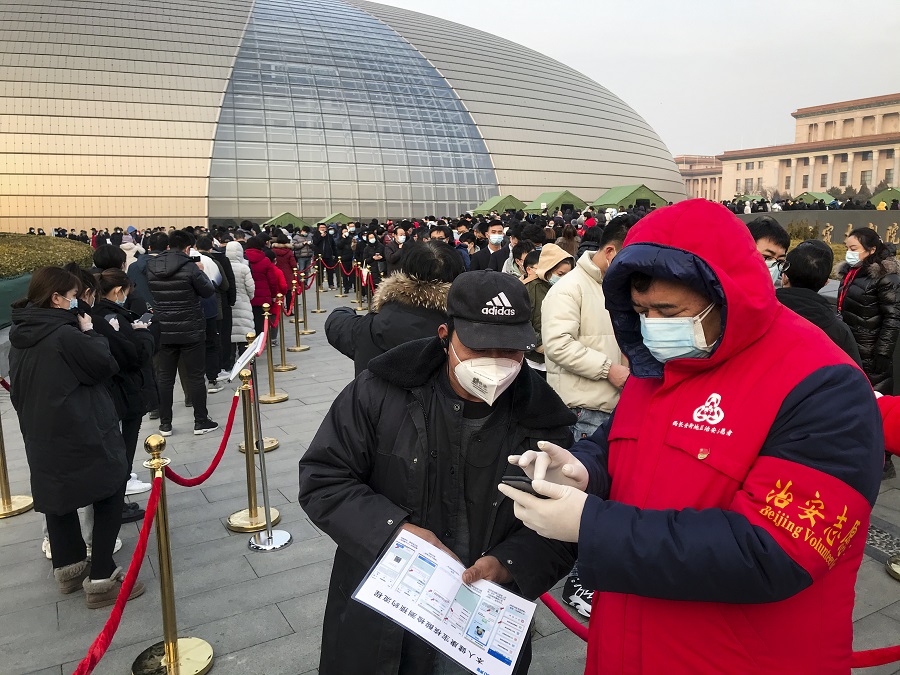 Two districts in Beijing's core area launched universal nucleic acid testing for all residents on Friday, after a string of local COVID-19 cases were reported in the capital.
The mass testing, scheduled to be completed in two days, is available for nearly 2 million people in Xicheng and Dongcheng districts, located in the very center of Beijing, also home to key central government offices and many State-owned enterprises.
Beijing has recorded more than a dozen cases since the first in the current outbreak emerged in suburban Daxing district on Sunday, including three new locally transmitted cases and one asymptomatic infection on Thursday, Liu Xiaofeng, deputy director of the Beijing Center for Disease Control and Prevention, said on Friday.
Most of the patients have been found in Daxing, though some had made trips downtown before they tested positive.
In a swift response, Daxing collected around 1.56 million samples from coronavirus testing between Sunday and 2 pm Thursday, which has basically covered all residents there.
Amid special efforts to strengthen epidemic intervention, particularly in rural areas, the capital had completed testing all people in the urban-rural fringe area by Sunday, covering 1.92 million residents in 396 villages, said Yu Leiqing, deputy head of the rural prevention office under the city's COVID-19 control and prevention work group.
"All results have come back negative," Yu said at a Friday news conference.
To better understand the outbreak's source, the city has started human serum testing for all travelers who have arrived in Beijing from overseas since Dec 10. Two of the recent COVID-19 patients in Daxing have been found to carry the highly contagious coronavirus variant first detected in the United Kingdom.
Elsewhere, Shanghai on Friday designated the Salvo Hotel Shanghai in downtown Huangpu district as a medium-risk area for the virus' spread-the second in the city. That came after six locally transmitted, confirmed cases were reported on Thursday, city officials said.
One person in northern Shanghai's Baoshan district also tested positive, but more checks are needed before an official diagnosis can be made, a senior health official in Shanghai said on Friday.
"This positive nucleic acid test was obtained when the district took the initiative to screen possibly relevant individuals after locally transmitted cases were reported in Shanghai on Thursday," said Wu Jinglei, director of the Shanghai Municipal Health Commission. Wu spoke in response to a public notice from Baoshan district government earlier in the day calling the person's nucleic acid test result suspicious.
"But any diagnosis must be made together with a clinical checkup, other lab tests and epidemiological investigation, according to the country's regulations. It is not considered a suspected COVID-19 case so far," Wu said.