New infections found in Shanghai hospitals
Share - WeChat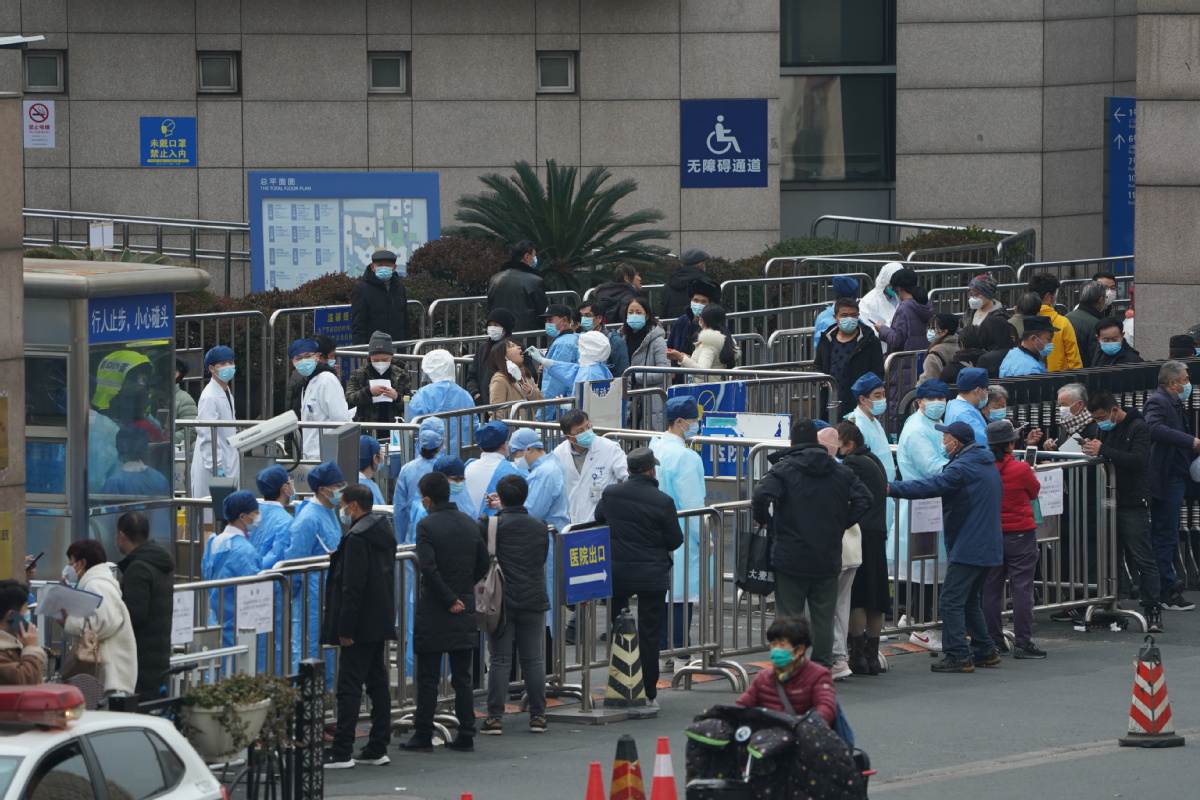 Shanghai residents can still look forward to a calm and safe Spring Festival despite new COVID-19 cases in the city, said an expert leading pandemic control work in the city.
The city, which had registered no locally transmitted COVID-19 cases for nearly two months, reported three new confirmed coronavirus patients on Thursday.
The patients, two of whom work at local hospitals, were discovered during regular nucleic acid tests conducted by the hospitals among their staff as the Shanghai government requires workers in high-risk job positions to regularly undergo nucleic acid tests, the Shanghai Health Commission said at a news conference on Thursday afternoon.
"Such proactive efforts have prevented the further spread of the virus and guaranteed the authority's rapid response," said Zhang Wenhong, head of the city's COVID-19 clinical experts team.
Zhang compared this local outbreak with the previous one that took place in the city's Pudong New Area in November. While the previous patient was a local resident, who went to a fever clinic immediately after having COVID-like symptoms, the latest outbreak was discovered through proactive regular screenings, said Zhang, who is also director of the department of infectious diseases at Huashan Hospital Affiliated with Fudan University.
Such a high awareness among both medical workers and regular residents has made a speedy response possible, which is the key to pandemic control, Zhang said.
"I believe that Shanghai residents will have a pleasant Spring Festival," Zhang said.
One of the three confirmed patients was a 56-year-old logistics worker at the Shanghai Cancer Center Affiliated with Fudan University. The other patient, 53, a neighbor of the worker, works at the west branch of Renji Hospital Affiliated with Shanghai Jiao Tong University Medical School.
The third case, a 48-year-old woman, was a friend of one of them. She was found through tracing the individuals' close contacts.
Seventy-one immediate close contacts of the three patients and 78 other people who were in close contact with the close contacts, have been traced and put under quarantine, said Wu Jinglei, director of the Shanghai Health Commission.
More than 14,400 individuals related to the cases in their workplaces and residential neighborhood have also been screened with nucleic acid tests, which are still ongoing, with no positive results reported so far, Wu added.
"All the negative test results so far showed that people were following good personal hygiene habits, including wearing masks and washing hands," Zhang said.
"These cases reminded the public that the virus has never been away from us and epidemic prevention and control will become a new normal."
The two hospitals that have reported new confirmed cases announced the suspension of their outpatient clinic services starting on Thursday, but hospitalized patients will receive medical treatment under closed-loop management.
The health commission emphasized that all patients who receive chemotherapy and radiotherapy at the Shanghai Cancer Center can continue their treatment at the hospital's Pudong branch.
The Zhaotong Road residential neighborhood in the municipality's downtown Huangpu district where the three confirmed patients live was designated as a medium-risk area on Thursday.
As the neighborhood mostly consists of substandard accommodation with insufficient sanitary facilities, the local government has decided to transfer local residents to designated hotels for quarantine.
All the major medical institutions in the city were required on Thursday to carry out nucleic acid tests for their entire staff, outsourced workers, hospitalized patients and their accompanying relatives. The tests are scheduled to be completed by Friday.