Baby lotions containing harmful hormone recalled
Share - WeChat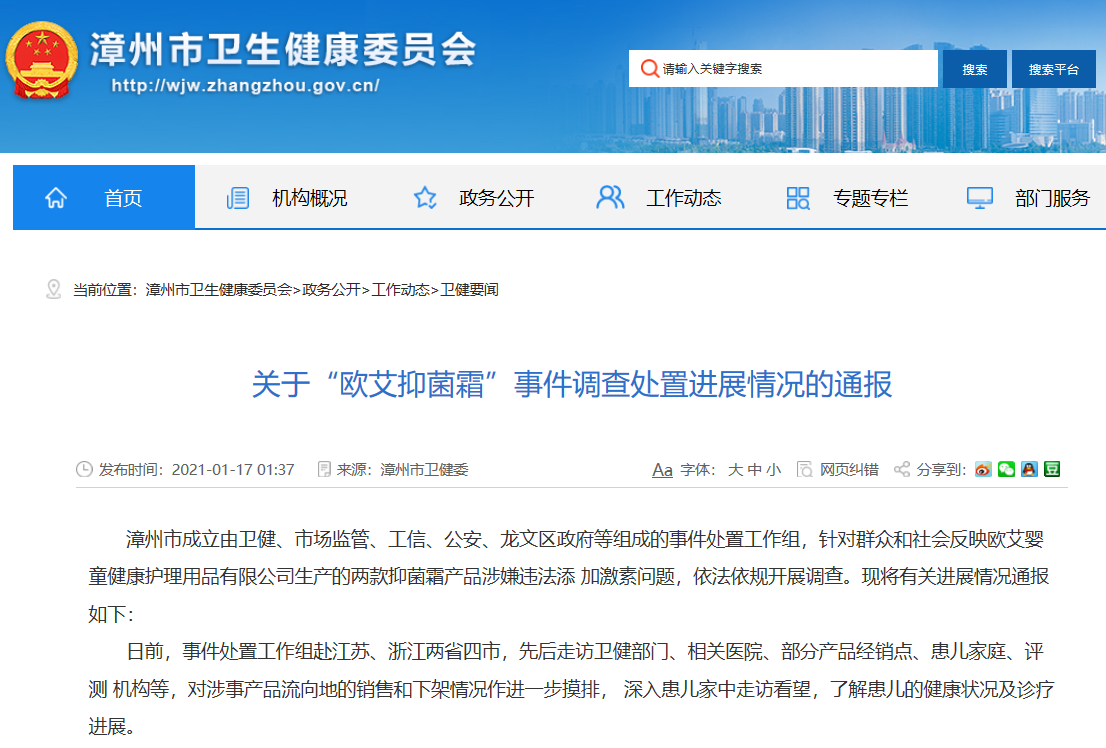 A company in Zhangzhou, Fujian province, violated regulations by producing baby lotions containing a hormone that can harm children, the city's health commission said on Sunday, adding that further investigations are underway.
Preliminary investigations showed that two lotions produced by Ou'ai Infant and Children Health and Care Appliance, which was set up in April 2017, contained the hormone clobetasol propionate. Local public security authorities are investigating the company on suspicion of producing and selling shoddy goods, Zhangzhou's health commission said in a notice posted on its website.
On Jan 7, a Sina Weibo microblogger posted a video of a 5-month-old infant in Nanjing, Jiangsu province, who started to show symptoms of growth retardation and facial swelling after using a lotion produced by the company, Xinhua News Agency reported on Jan 9.
The girl's father sent the lotion to a third-party assessment and evaluation organization in Hangzhou, capital of Zhejiang province. While the instructions that came with the lotion said it was hormone-free and was suitable for babies' daily skin care, the results showed it contained 30 milligrams of clobetasol propionate per kilogram, the news report said.
Clobetasol propionate is often used to treat various skin conditions, including eczema and psoriasis.
Zhuang Ruidan, a pediatrician at Dingxiang Clinics, a medical service run by Diangxiangyuan, a leading online health information provider in China, was quoted by Xinhua as saying that clobetasol propionate is a type of glucocorticoid-a class of steroid hormones-meant for external use. People who use it should follow doctors' guidance, and improper application, such as using it long term or in large doses, could cause side effects, she told Xinhua.
A notice released by Zhangzhou's health commission on Jan 8 said the company had been ordered to suspend production and recall all the products involved in the incident. Samples of the products had also been taken for testing.
In the notice released on Sunday, the commission said a task force consisting of staff members from the city's health, market regulation, and industry and information technology departments went to Jiangsu and Zhejiang, where the lotions were sold, and visited children who had used the lotion to ensure they would be updated about their recovery.
The commission said it had handed evidence about the incident to local public security authorities and that the authorities had summoned people from the company to seek more information.
The commission said that Zhangzhou authorities will punish the company and people involved for any illegal behavior.