Critical supplies for N China's Hebei outbreak arrive from Hubei
Share - WeChat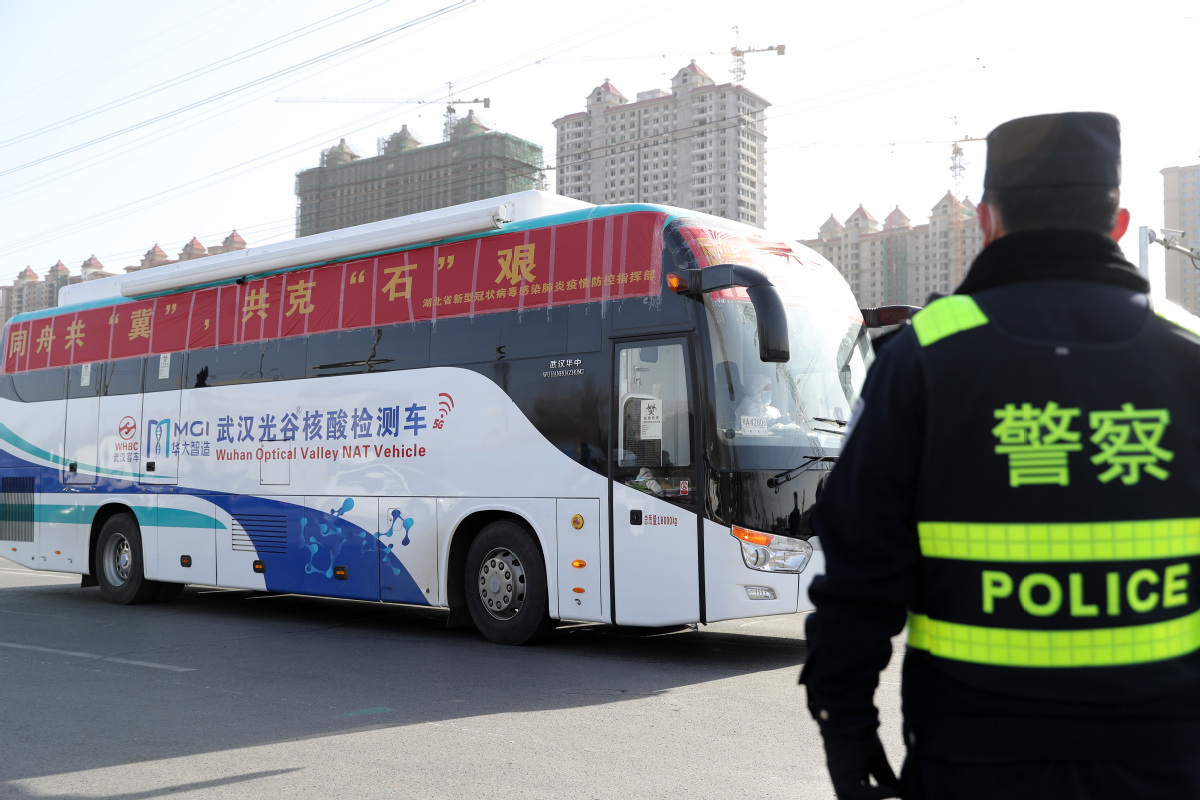 A line of ambulances was waiting when an 18-wheeler pulled into a logistics park in the city of Shijiazhuang in North China's Hebei province – a recent novel coronavirus hot spot – at about 1:30 pm on Sunday.
Laden with surgical masks, thermometer guns and other donations from Central China's Hubei province, the truck was accompanied by a 4.8 million yuan ($740,000) worth of vehicle to be used for nucleic acid testing donated by the Wuhan Bus Manufacturing Co and MGI Tech Co, a biotech firm in Shenzhen, South China's Guangdong province.
The portable lab, which carries machines equipped with software for conducting nucleic acid tests, was custom-designed to help unroll mass testing campaigns and pinpoint COVID-19 infections.
Wu Jiang, a technician with the Wuhan Bus Manufacturing Co, said people in Hubei province, where Wuhan is the capital city, would never forget the generous donations from Hebei when Wuhan was hit hard by the virus.
"We're in the same boat, and we will work together to overcome the difficulties," he said.
Drivers got out of the vehicles and loitered in the yard after driving more than 20 hours almost nonstop from Hubei.
"I feel relieved to finally get the supplies to Shijiazhuang," said Zhu Jinguo, who drove the bus.
Meanwhile, workers from the local Red Cross raced to unload the supplies to the ambulances.
Hao Jianqiang, a senior official with Red Cross Society of China Hebei Branch, said all the virus-related supplies are dispatched to hospitals in need immediately upon arrival.
With the newly-arrived supplies counted, virus-related donations so far are valued at 66 million yuan, which started streaming into the organization in large quantities on Jan 7, he said.
Donors include individuals and businesses, he added.
The ambulances waited to ship the supplies to 13 local hospitals, which are at the forefront of the city's campaign to test its 11 million residents and cure its approximately 700 confirmed patients.
Xu Kehua, deputy head of the Industry and Information Technology Department of Hebei province, thanked Hubei province for the donation, which is worth a total 10 million yuan, with the mobile lab included.
The supplies also included 1,000 thermometer guns, 1 million surgical masks and 300,000 small-size masks for children, he added.
"When we knew about the donation, we worked with the local transportation authorities to ensure they arrived on time," he said.