Rescuers detect signs of life in Shandong mine where 9 are trapped
Share - WeChat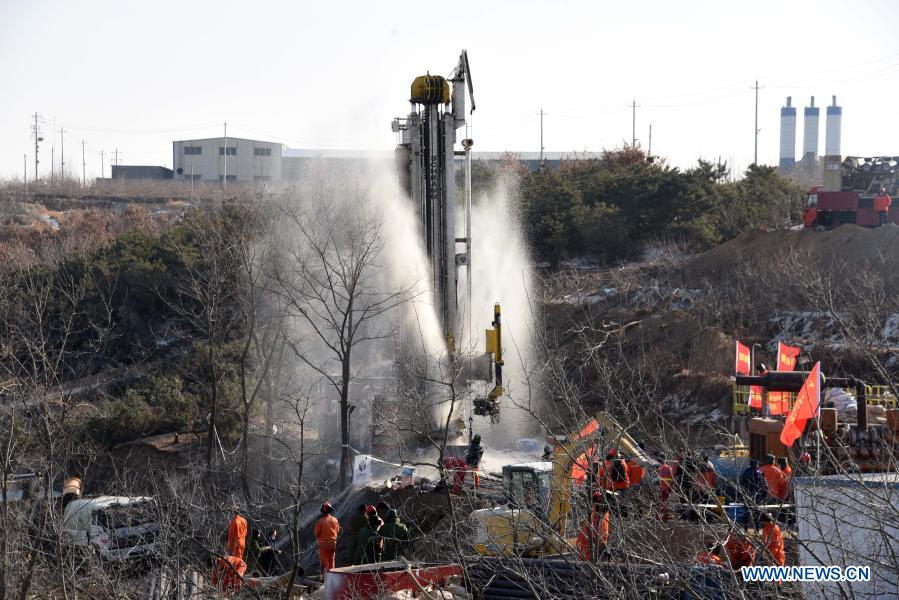 A rescue shaft has reached the point where nine miners are assumed to be trapped following an explosion a week ago at a mine in East China's Shandong province, according to rescue teams.
Rescuers knocked on the drill rod and heard sounds in response on Sunday and are further identifying life signs, according to People's Daily. They also dropped food through the hole.
Machinery is drilling another five shafts, including one 71 centimeters in diameter, in search of alternative routes to the trapped miners.
The explosion occurred at 2 pm on Jan 10 at the Hushan mine in Qixia, under the administration of Yantai city.
A total of 22 workers were trapped at two workfaces more than 600 meters from the mine opening.
Drill work is being slowed by the complicated geological structure, according to the rescue command base.
Rescuers keep adding more rescue forces to save the trapped miners, according to the rescue command base.
A total of 439 people on 14 rescue teams are working around-the-clock in shifts at the site.
Rescuers have dropped some food, including peanuts, through the shaft, which miners used to go down to the workfaces, according to Dazhong Daily, the province's official newspaper.
The shaft has been blocked by debris, including cables, metal and steel wires, creating huge difficulties to clearing the shaft.
"There are some cracks among the debris heaped in the shaft, so we dropped some peanuts," Sun Yingxiang, a rescuer was quoted as saying by Dazhong Daily.
Rescuers have cleared debris in the shaft to a depth of 350 meters by Saturday noon, said Sun.
Li Ganjie, governor of Shandong, came to the rescue site on Saturday to urge rescuers to spare no efforts and seize every minute to save the trapped workers.