Italian government in crisis as ally withdraws from coalition
Share - WeChat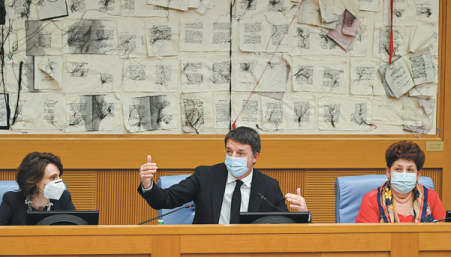 Italy was plunged into political crisis on Wednesday after former prime minister Matteo Renzi withdrew his party from the ruling coalition led by Prime Minister Giuseppe Conte, risking the collapse of the government in the middle of the raging coronavirus pandemic.
Renzi announced at a news conference on Wednesday the resignation of ministers Teresa Bellanova and Elena Bonetti, who have responsibility for agriculture and families, respectively, and the undersecretary for foreign affairs Ivan Scalfarotto.
The decision left the coalition without a majority in the parliament. Renzi's Italia Viva, a small party founded in September 2019, has been a junior partner in a 16-month-old coalition with the Five Star Movement and the Democratic Party.
Renzi, who was prime minister from 2014 to 2016, has been threatening to pull out for a while over differences on Italy's post-pandemic economic recovery plan.
He has complained about Conte's plans over how to spend the money promised by the European Union to relaunch the country's economy.
Italy is expected to be the major beneficiary of the EU's 750-billion-euro ($912 billion) recovery fund, receiving more than 200 billion euros in loans and grants.
Renzi said: "We are experiencing a great crisis, the pandemic, and faced with such a crisis the responsibility is to resolve problems, not to hide them."
After meeting with Italian President Sergio Mattarella earlier on Wednesday, Conte had expressed hope that Renzi's support would remain."Otherwise, a (government) crisis wouldn't be understood by the country," he told reporters.
Under the current situation, one possible scenario would be for the coalition parties to try to renegotiate a new deal with Italia Viva.
If a deal cannot be reached, Mattarella would almost certainly try to put together a government of national unity to deal with the health emergency. If that failed, the only option would be a national election.
Andrea Orlando, deputy secretary of the Democratic Party, described Renzi's move in a tweet on Wednesday as "a serious mistake made by a few that we will all pay for".
'Triggered by Renzi'
"The EU needs a strong Italian government. The Five Star Movement will work to ensure stability and social and economic security to our country struggling with the most serious crisis since the postwar period," said Tiziana Beghin, a member of the European Parliament representing the Five Star Movement.
"Italy will overcome this irresponsible political crisis triggered by Renzi," she said in a tweet on Wednesday.
Italian Health Minister Roberto Speranza on Wednesday said Italy's aim is "too important to sully it with useless polemics that hurt everyone, and in particular the Italians who, with the vaccine, can and must get out of this long nightmare that we are living".
In an Ipsos poll on Tuesday, 73 percent of voters said Renzi was pursuing his own interests, compared with 13 percent who said he was pursuing those of the country.
Agencies contributed to this story.