Beijingers warm to ice skating
Share - WeChat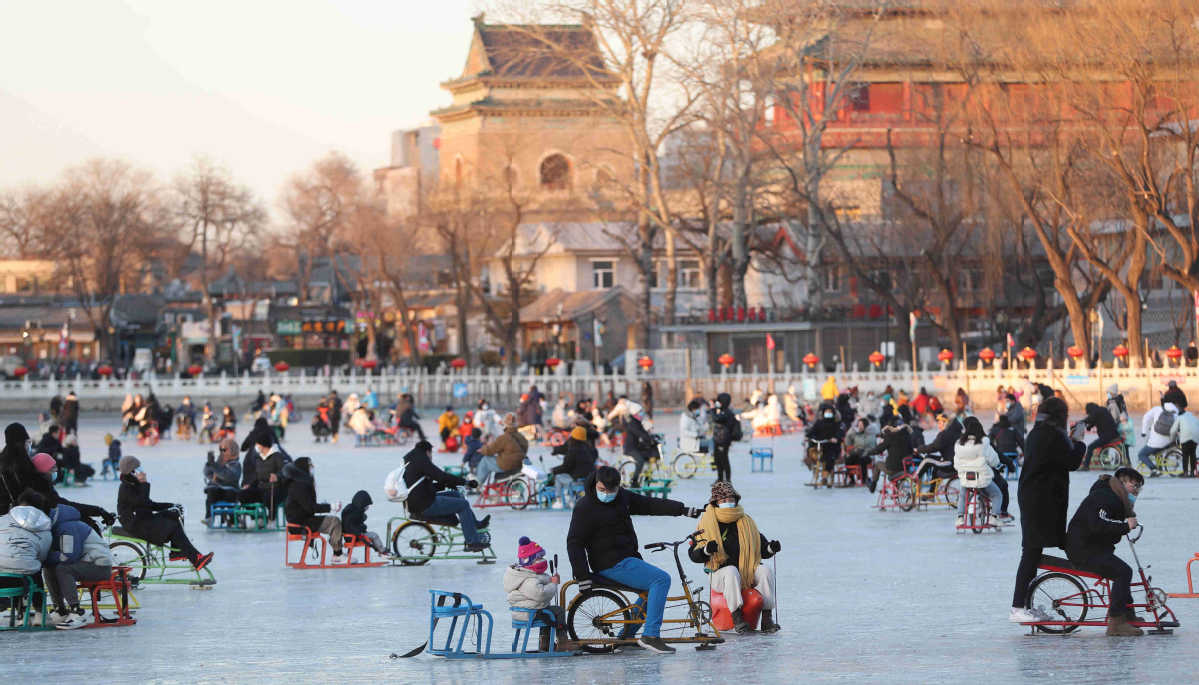 Leaps, spins and turns practiced on capital's lakes
Countless children growing up in Beijing enjoy ice skating in winter, with the sport well established as a seasonal tradition.
It is especially popular in the capital, and despite the challenges posed by the pandemic, it delights participants of all ages who are eager to test their abilities.
On Saturday, ice rinks in the Shichahai area, one of the city's most popular outdoor skating venues, officially opened to the public, attracting many weekend visitors.
Skating rinks have been marked out on two of the three lakes in Shichahai-Qianhai and Houhai-which cover a total of 160,000 square meters.Visitors can rent skates, ice bikes and ice sleds.
The areas around Qianhai Lake and Houhai Lake have daily visitor capacities of 3,000 and 5,000, respectively.
Visitors' temperatures are checked before they enter, and they must wear face masks,according to the Shichahai Tourism Development Co, which manages the rinks in the area.
Beijing native Li Cheng, who took his twin sons to Shichahai on Saturday, said: "These rinks have opened three weeks later than usual this year because of the pandemic. Many people,including myself, have been looking forward to this day."
His 7-year-old sons started to learn ice skating about two years ago after they mastered roller skating. Although the two activities require different skills, the boys learned quickly and greatly enjoy both sports.
Li, 55, fell in love with ice skating when he was 11.
Every winter and summer vacation during his childhood, he visited his parents in Changchun, capital of Jilin province, where they taught at Northeast Normal University.
"I remember the first time I went ice skating on a lake. It was freezing and the sun was so bright that I couldn't open my eyes. My parents bought me a pair of black ice skates, and I was very excited when I set foot on the frozen lake," Li said.
"Some children my age were playing on the lake. Although we didn't know one another, we soon became friends after we started ice skating together. It is a great place to make new friends."
Li enjoyed his first taste of ice skating so much that he forgot the number of times he fell on the lake. As he lay on the icy surface, he gasped and laughed happily before quickly getting back on his feet again.
"I taught myself to stay balanced on the ice, to move in different directions and gain speed. I felt as if I were flying-it's not easy, but I was very excited when I mastered a new skill," he said.
Li skated for about six hours a day for two months. After returning to Beijing, he went in search of ice rinks to practice his spins.
Shichahai is a popular scenic spot, where visitors get a glimpse of old Beijing.
The area boasts tall trees, gray walls, winding hutong (alleyways) and courtyards, where people go about their daily lives. They buy daily supplies at closet-sized stores, build nesting areas for pigeons on their roofs, and visit neighbors while still wearing their pajamas.
Before the Yuan Dynasty (1271-1368), the water area in Shichahai was known as Haizi.
In its heyday, Shichahai, which also comprises Xihai Lake, formed the northern part of the Grand Canal, connecting Beijing with other cities in China. Wooden boats carried goods from the south of the country to the imperial capital, transforming the area into a busy commercial center.
In summer, the area is popular for strolling and boating, with visitors enjoying live music and local food at lakeside bars.
Li said: "The rinks in Shichahai are quite different from those in Changchun, which are much wider, but I love to go ice skating in Beijing every winter. It's such a popular seasonal activity, and was especially so in the 1980s.
"It's just a pity that winter in Beijing is relatively short and outdoor ice rinks are only open to the public for about four or five weeks.
"I'm glad that my sons love ice skating as much as I do and that they will continue the tradition."