UK ramps up vaccine drive as virus rages
Share - WeChat Pharmacies are joining more than 1,000 places now delivering the COVID-19 jab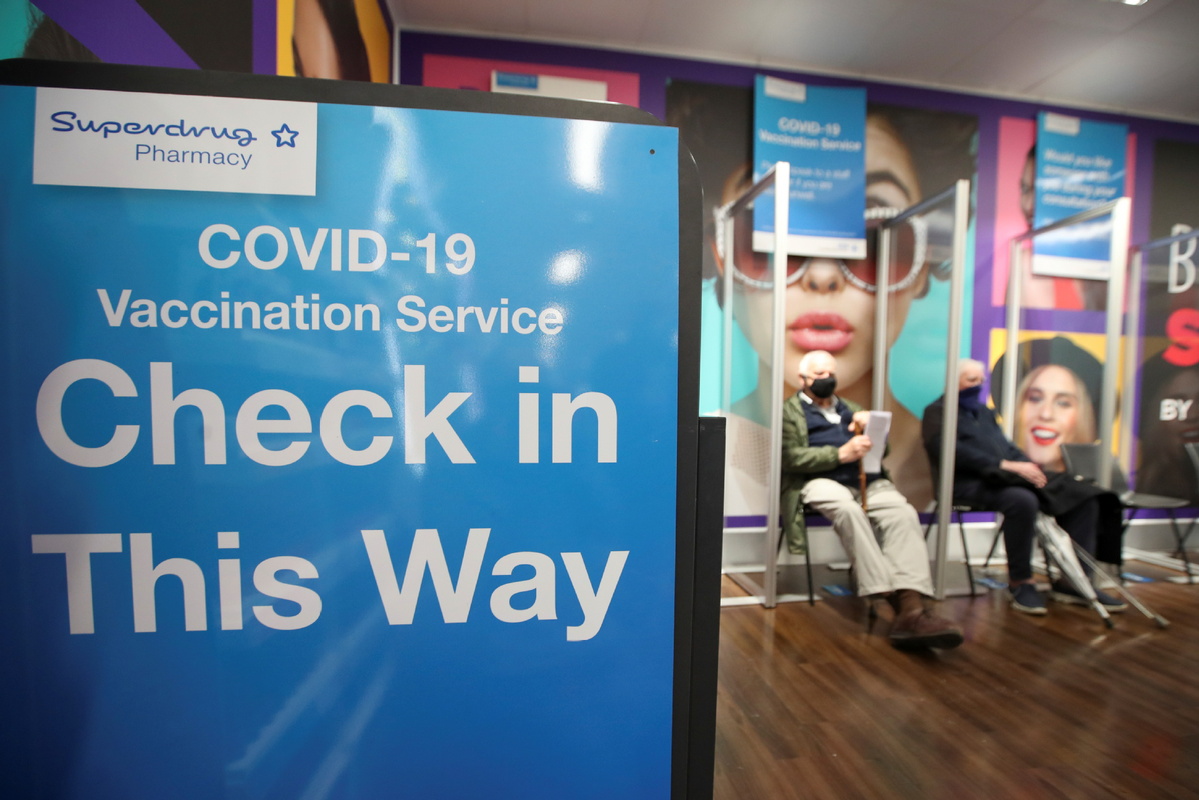 The United Kingdom's race to vaccinate as many people against the COVID-19 disease as possible received a boost on Thursday, as pharmacies joined the list of locations offering inoculations.
Initially, only six pharmacies will offer the injection, but they will be joined by around 200 others in the coming two weeks; bolstering a roster of 200 hospitals, 800 neighborhood doctors' practices, and seven mass vaccination centers.
People getting the jab will have been invited by the National Health Service because they are in priority groups; either because they are care home residents or workers, aged 70 or older, categorized as extremely clinically vulnerable, or NHS employees.
The government hopes to have the 15 million people in those priority groups inoculated by the middle of February and will then roll out the program further.
Around 2.6 million people have had a jab so far developed by either a partnership between the University of Oxford and AstraZeneca, or by Pfizer. A third vaccine has been approved but is not yet available.
It is not possible in the UK to pay money to jump the queue.
Andrew Lane, of the National Pharmacy Association, told the BBC he hopes many more pharmacies will be approved to administer the vaccine in the coming days.
"We're here, we're trained, we will deliver," he said.
Nadhim Zahawi, the UK's vaccines minister, said NHS workers have "pulled out all the stops to help ramp up vaccinations" and Prime Minister Boris Johnson has said the program could be ramped up even further, with jabs potentially offered around the clock, seven days a week.
The ramping-up of the vaccination program comes as the UK is gripped by a fast-spreading variant of the novel coronavirus that contributed to the UK reporting 1,564 deaths on Wednesday, its biggest toll since the start of the pandemic.
Many hospitals are reporting they are close to capacity.
The Royal College of Surgeons said in a new report on Thursday that the virus has had a "calamitous impact" on hospitals, with 4.46 million people now waiting to start treatment for other conditions in England because of delays and cancelations caused by the virus. It is the longest list since records began.
Healthcare bosses believe things could deteriorate further in the coming two weeks, a situation that prompted the devolved government of Scotland to tighten its lockdown on Wednesday. Opposition politicians in England have called on the government there to do likewise.
With the vaccination program being seen by many in the UK as the best way to reduce pressure on the NHS, hospital managers will likely have been relieved to read a report from Public Health England on Thursday that says people who have had COVID-19 are protected from catching it again.
The finding came from a survey of 20,000 UK healthcare workers carried out between June and November that found 6,000 had already contracted the virus and 14,000 had not. Among those with a prior infection, 83 percent did not get infected again. And out of those who were re-infected, 94 percent were asymptomatic, suggesting a prior infection is as effective as a vaccine in preventing future infection.
The Financial Times quoted Susan Hopkins, Public Health England's senior medical adviser, as saying she was "strongly encouraged" by the findings.
"Natural infection looks as good as a vaccine, which is very good news for the population," she said. "It will give a level of immunity in the community that will reduce transmission."
But she said "there is still a risk that you could acquire an infection and transmit to others "so people should still follow social distancing rules.
The Guardian newspaper, meanwhile, reports there is growing evidence that second shots of the vaccine should be delayed, because the jab, which is given in two parts, appears to offer more protection that way.
Currently, jabs are supposed to be given between three weeks and 12 weeks apart.
The paper said Mary Ramsay, Public Health England's head of immunization, told MPs on Wednesday that delaying second doses would mean more people could get a first jab.
"It may well be that the balance of those first doses, getting more first doses to people, is a priority," she told members of the House of Commons science committee.
Meanwhile, the UK's plan to only allow people to enter the country if they have a negative result on a novel coronavirus test is being delayed for a few days.
The requirement, which was to have been in place on Friday, will now start on Monday morning.