House impeaches Trump once more
By AI HEPING in New York and ZHAO HUANXIN in Washington | chinadaily.com.cn | Updated: 2021-01-14 05:39




Share - WeChat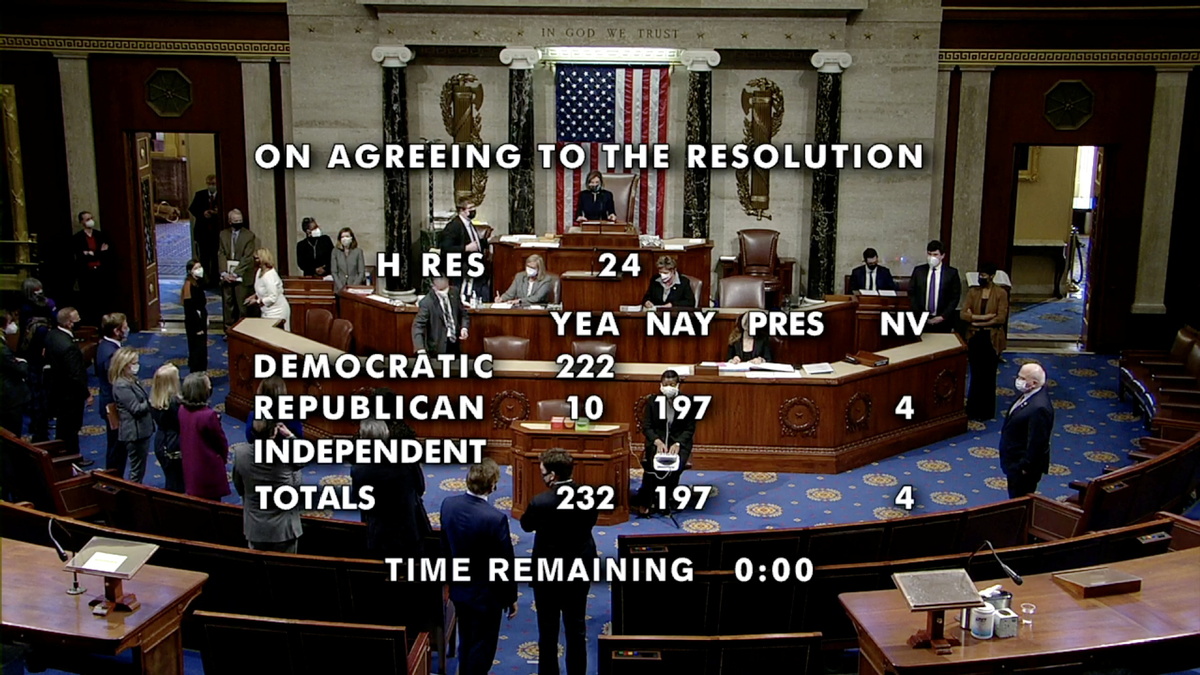 With the US Capitol secured by armed National Guard troops inside and out, the House of Representatives voted Wednesday to impeach President Donald Trump for a historic second time, indicting him for "incitement of insurrection" in the storming of Congress a week ago.
As impeachment heads to the Senate, President-elect Joe Biden said he hoped the Senate can balance a second impeachment trial of Trump with "other urgent business" of the nation, which remains gripped by the raging COVID-19 pandemic.
In a statement released hours after the bipartisan House vote, Biden did not take a position on whether the Senate should convict Trump, but again condemned the violent attack on Capitol Hill.
Trump released a video statement from the Oval Office in the evening in which he didn't mention the impeachment.
"Making America great again has always been about supporting the rule of law," he said in the video. He went on to say that "no true supporter" of his could ever "endorse political violence".
"Today I am calling on all Americans to overcome the passions of the moment, and join together as one American people," he said.
After the House voted to impeach Trump, House Speaker Nancy Pelosi addressed reporters at the Capitol, speaking from behind a lectern that photos last week showed had been carried out of the House chamber by one of the rioters.
In remarks before she signed the article of impeachment, Pelosi said she was doing so "with a heart broken over what this means to our country, of a president who would incite insurrection".
The incoming majority leader of the Senate, Chuck Schumer of New York, said after the vote of 232 to 197, with all Democrats joined by 10 Republicans, that the Senate will hold a trial for Trump even though he would be out of office.
It would take a vote of two-thirds of the Senate to convict Trump. Though no longer president, the Senate could hold a second vote, subject only to a simple majority, to ban Trump from seeking office again.
The Senate will be effectively evenly divided after Biden takes office: There are 50 Republicans, 48 Democrats and two independents, Bernie Sanders of Vermont and Angus King of Maine, who caucus with the Democrats; Democratic Vice-President-elect Kamala Harris will break any ties.
"Make no mistake, there will be an impeachment trial in the United States Senate; there will be a vote on convicting the president for high crimes and misdemeanors; and if the president is convicted, there will be a vote on barring him from running again," Schumer said in a statement.
Schumer issued his statement after current Republican Senate Majority Leader Mitch McConnell made clear he doesn't plan to start a trial before Biden is sworn in on Jan 20.
McConnell didn't rule out himself voting to convict Trump in a trial. In a note to his fellow Republican senators just before the House was to begin voting, he said he is undecided.
In a statement, another longtime Republican senator, Lindsey Graham of South Carolina, said, "to my Republican colleagues who legitimize this process, you are doing great damage not only to the country, the future of the presidency, but also to the party", adding that "the millions who have supported President Trump and his agenda should not be demonized because of the despicable actions of a seditious mob".
It took the House two days to vote the one article of impeachment. It came a week after a pro-Trump mob rampaged through the Capitol. Five people died, including a Capitol Police officer.
The House impeached Trump in December 2019 on two articles of impeachment, charging him with abuse of power and obstruction of Congress. The Senate voted to acquit Trump on Feb 5, 2020.
While Trump's first impeachment brought no Republican votes in the House, the 10 House Republicans who broke with the party to join Democrats this time said Trump violated his oath to protect and defend US democracy.
William Banks, distinguished professor emeritus at the Syracuse University College of Law in New York, said the House vote on impeachment was not surprising.
"It underscores that he is the ONLY President in US history to be impeached two times. It is clearly a stain on his record and should underscore the view that his presidency was an aberration in the US," Banks told China Daily.
Some Republicans joined because Trump lost the election, he can't impact them directly in the future, and in addition, Trump's actions were far more grave and harmful this time around, Banks said.
"I predict no conviction in an eventual Senate trial, and with luck the Senate will relegate the trial to off hours so they can begin working on the Biden agenda," Banks said. "It should have little impact on the Biden administration."
As the impeachment trial in the Senate will not occur until after Biden is inaugurated on Jan 20, Cal Jillson, a political scientist and historian at Southern Methodist University in Dallas, said there might be not enough votes to reach the two-thirds requirement to convict, even though a number of Republicans will join all of the Democrats.
"Still, having some Republicans on board will be important for how this second impeachment is treated historically," Jillson said.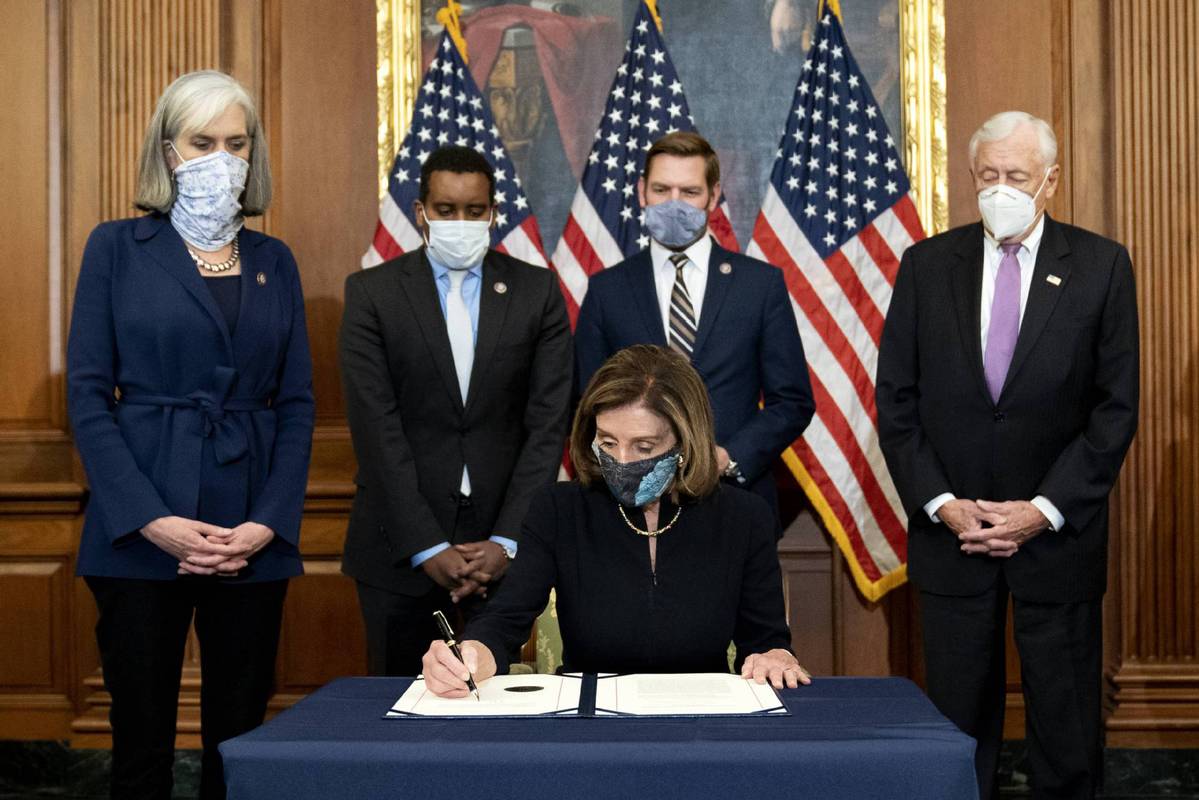 "An impeachment trial will serve to slow the incoming Biden administration, which is unfortunate, because they will have a full plate," he added.
Stanley Renshon, a political scientist at City University of New York, said congressional Democrats and their leaders hate Trump, and his equivocal statements to the Washington marchers followed by a riot on the Capitol Hill provided a "perfect opportunity" to express their feelings and strike another blow against Trump's legacy.
But in having this "warp speed impeachment", they also have struck a blow against their own credibility, Renshon said.
Among the Republicans that joined the Democrats in the vote was Representative Liz Cheney of Wyoming, the third-ranking Republican in the House and the daughter of former vice-president Dick Cheney.
As Wednesday's floor debate on whether to impeach Trump was underway, he issued a statement calling for there to be no violence at any of the protests expected to take place on Inauguration Day.
"In light of reports of more demonstrations, I urge that there must be NO violence, NO lawbreaking and NO vandalism of any kind," Trump said in the video statement.
Trump has repeatedly declined to take any responsibility for last week's riot. But on Wednesday, House Republican Leader Kevin McCarthy said for the first time that Trump does bear responsibility, acknowledging on the House floor before the vote that Biden is the next president and that radical liberal groups weren't responsible for the riots, as some conservatives have claimed.
Still, McCarthy said he opposed impeachment, instead favoring a "fact-finding commission" and censure.