Spain digging out after monstrous snowstorm
Share - WeChat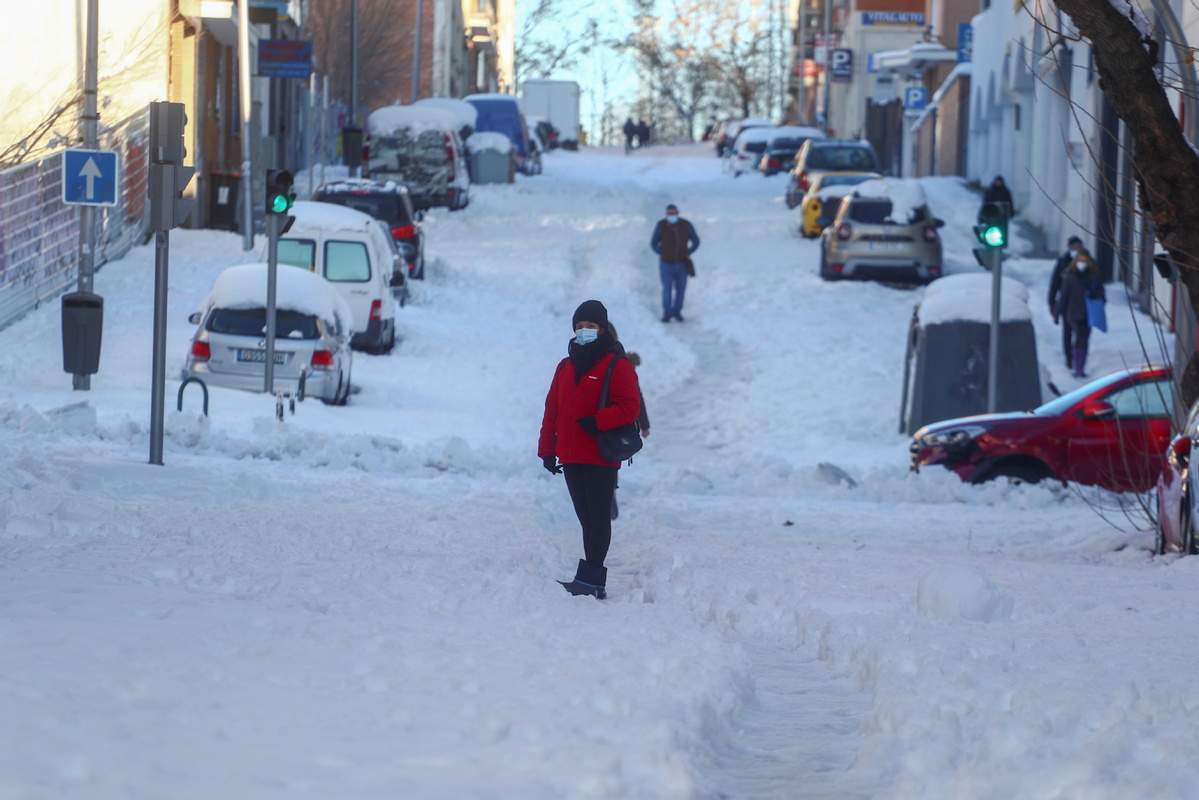 Crews in Spain worked against the clock on Sunday and Monday to dig out after a huge dump of snow on Friday and Saturday, exacerbated by plummeting temperatures, threatened the nation's ability to deliver novel coronavirus vaccines and other supplies.
Around 50 centimeters of the white stuff fell on the capital, Madrid, when Storm Filomena blew in. The authorities said they needed to move fast to shift drifts from major roads and rail lines before a sharp dip in temperatures this week turned the snow into ice, making it much harder to move.
The BBC quoted Transport Minister Jose Luis Abalos as saying police officers would escort consignments of the vaccine, to ensure their safe arrival, and he said the army was pitching in to help clear 700 major roads.
"The commitment is to guarantee the supply of health, vaccines, and food," he said. "Corridors have been opened to deliver the goods."
The El Mundo newspaper said 3,500 tons of salt was slated for delivery in the nation's capital during Monday to support snow removal. Madrid's international airport was closed for a while on the weekend but started to reopen on Sunday afternoon.
Since the snow fell, the temperature has been plunging as low as minus 8C at night in parts of Spain in a bout of unusually severe weather that is expected to last until Thursday and that could see temperatures dip to minus 12C.
So far, at least four people have died because of the weather, and travel has been disrupted for thousands.
The TVE television station said the weather was so severe and abrupt that it caught out around 100 shoppers and employees at a shopping mall in a town north of Madrid, forcing them to spend the night there.
One restaurant worker said: "There are people sleeping on the ground on cardboard."
Spain's meteorological agency, Aemet, said the whiteout was the biggest to hit the capital since 1971.
Spain's health minister, Salvador Illa, tweeted that many doctors and nurses had gone the extra mile to make sure they arrived at work and could continue to care for people during the pandemic.
"The commitment that the entire group of health workers is showing is an example of solidarity and dedication," he said.
The Reuters news agency reported that schools in Madrid were closed on Monday but that many trains and flights had resumed. The Agence France-Presse news agency reported courts and museums were closed throughout central Spain on Monday.
It said 2,500 drivers had been trapped in their vehicles at the peak of the snowstorm.
Reuters said a consignment of novel coronavirus vaccine that was due to arrive at the airport in Madrid on Monday was diverted to Vitoria, in northern Spain, because of the weather but it said many connections were being reestablished.
Interior Minister Fernando Grande-Marlaska said smaller roads remained closed on Monday, but he insisted the situation was improving.