Fugitive who killed three sentenced to death
Share - WeChat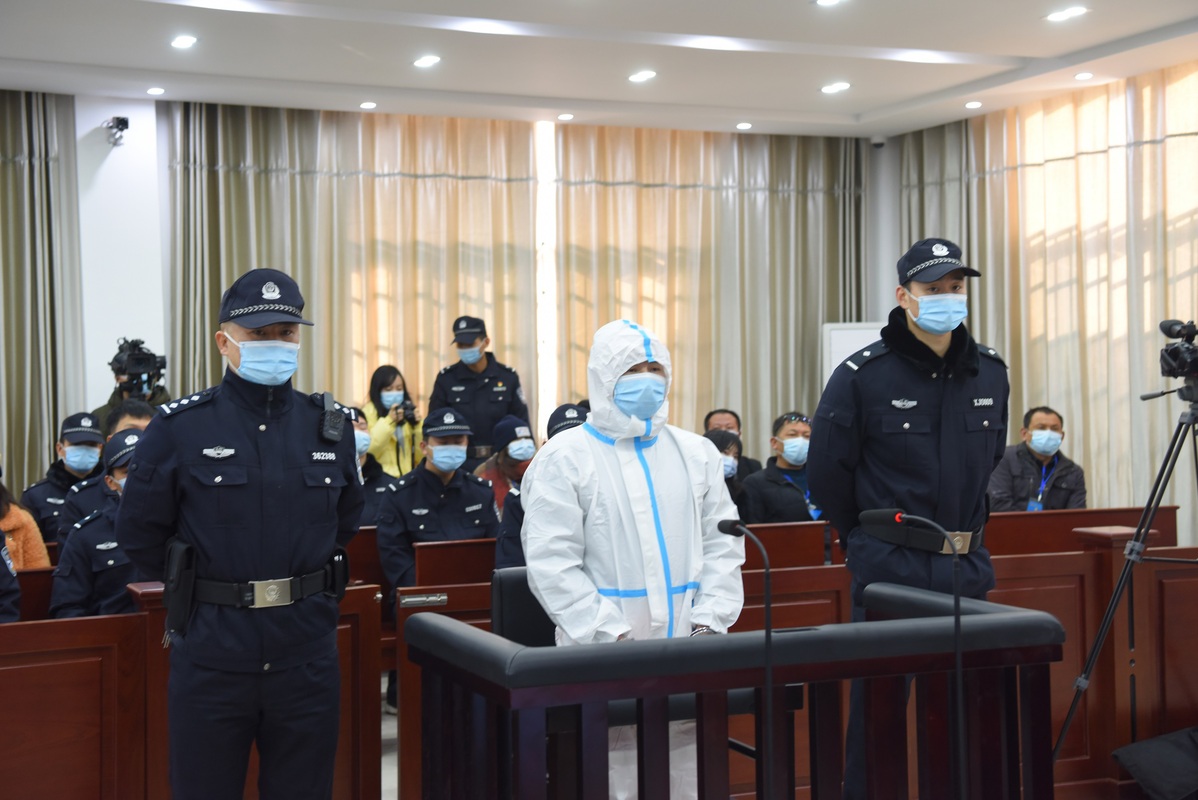 Zeng Chunliang, a man who killed three people within six days last year, was sentenced to death by the Yichun Intermediate People's Court in Jiangxi province on Monday.
Zeng, 44, was also sentenced to 10 years in prison for robbery and two years for burglary, with a fine of 20,000 yuan ($3,100), the court said.
Zeng said he accepted the ruling and would not appeal.
Under the Criminal Procedure Law, a death sentence made by lower courts should be submitted to the Supreme People's Court, China's top court, for review, and can be carried out after the top court's approval.
A native of Jiangxi, Zeng had been imprisoned for theft twice before the latest verdict. He was freed from a prison in Zhejiang province and returned to Le'an county in Jiangxi in May, according to the intermediate court.
After his release, Zeng was compelled to steal again because he had no income, the court said.
On the evening of July 21, Zeng rode a scooter and carried some tools, including a flashlight, gloves and screwdrivers, to a three-story house in Houfang village in the county. He broke into a room but didn't find anything valuable. Then he fell asleep in the room.
The next morning, the resident of the house, surnamed Xiong, discovered Zeng. Zeng threw her to the ground, injuring her. Her son, surnamed Kang, tried to come to her aid, but Zeng injured him using the screwdrivers. Zeng fled and Kang called the police.
Zeng decided to seek revenge against the family after learning that Kang reported him.
On the night of Aug 7, Zeng came to Xiong's house again with a knife and found a hammer in the storeroom. He then hid in the kitchen.
When Xiong entered the kitchen the next morning, Zeng hit her head with the hammer and stabbed her with the knife. He then went to the second floor, hitting her husband, also surnamed Kang, and their grandson with the hammer.
Zeng's actions led to the death of the couple and severely injured the boy. He also stole some watches, silver bracelets and other items in the house before fleeing the scene.
While at large, Zeng also killed a local poverty relief official in the village on Aug 13 because the village committee would not meet his demands for a house to live in and for land to start a stone quarry business.
Zeng was captured by the county's police on Aug 16 after a search lasting more than a week in the countryside, including mountainous areas. He was charged with intentional homicide, robbery and burglary in October.
The intermediate court publicly heard the case on Dec 21 and determined that the worth of the goods stolen by Zeng exceeded 12,000 yuan. During the trial, Zeng said he regretted the killings and was prepared to pay for them with his life.