Lumberjack axes job for green future
Share - WeChat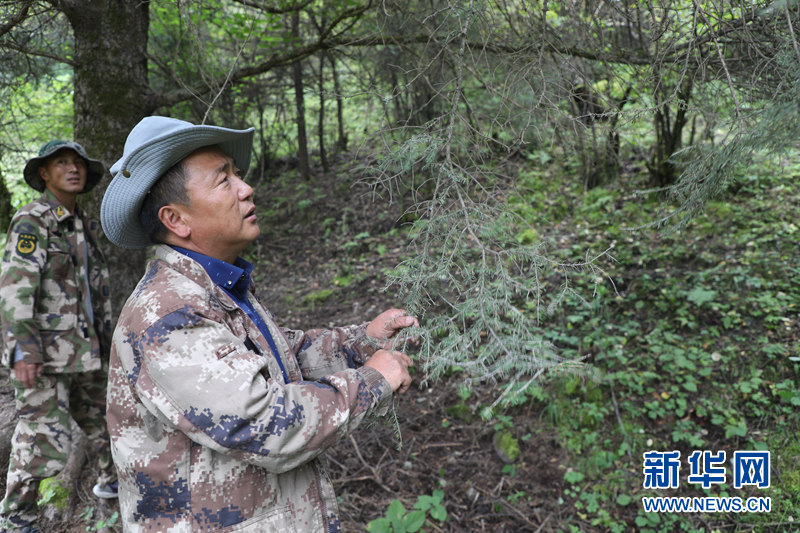 LANZHOU-Yang Ansheng will never forget where he planted his first tree in Gansu province, which is also where he previously worked cutting down trees.
"Thinking of the trees I cut down has troubled me for years, and now I just want to protect the woods and help build a better and greener future for generations to come," he said.
Yang, 47, is a forest ranger at a forest plantation in Tewo county, Gannan Tibetan autonomous prefecture. As a guardian of the forests it is hard to believe he was once a lumberjack.
In 1990, after graduating from high school, Yang landed a job as a logger and cut down trees according to the timber production plan drawn up by the local government.
In Tewo, a wooden house is a symbol of traditional Tibetan culture. To prevent excessive deforestation, local citizens needed to apply for lumber quotas before building houses, and trees would be felled from the local forest during the logging season.
After receiving instructions, loggers like Yang would locate a square area on the map. While they logged, they were required to leave behind rows of trees to protect saplings. "Because we planted saplings in the area, the 'wall' was to prevent the small ones from being blown away," Yang said.
Falling trees can be dangerous, and loggers have to work as a group, Yang said. When chopping down a tree, a logger needs a partner in case of an accident, he said.
However, countless physical wounds don't compare to the mental scars resulting from Yang's work. "With more trees being cut down, the fairy-tale world of my childhood vanished," he said.
Yang said that when he was a child there was a dense forest outside his home, where he had numerous adventures and enjoyed the wildlife and plants.
However, logging took all that away, with the high price of timber also leading to illegal logging and the acceleration of deforestation.
Mountains were stripped bare and sandstorms and soil erosion began striking villages, he said.
In 1998, China initiated a natural forest protection project, aimed at preserving and cultivating forest resources for sustainable development.
The project changed how Yang earned a living. He exchanged his ax for a spade and hoe and devoted himself to planting trees. The plantation where Yang works has more than 60 workers, and plants about 150,000 trees every year.
The dry climate means the survival rate of the saplings is low, but Yang and his colleagues are up to the challenge. He also gets a great a sense of satisfaction from the work. "My green world and animal friends are coming back," he said.
Their efforts have paid off as Tewo county vegetation coverage has reached 87 percent and forest coverage is over 64 percent.
The county epitomizes China's afforestation efforts. Besides government-funded projects, many citizens join in afforestation through planting activities or participating with the help of online platforms like Alibaba's Ant Forest initiative.
China completed afforestation of about 7.07 million hectares in 2019, according to the National Forestry and Grassland Administration.
A study in 2019, using data from NASA satellites, showed that China had contributed to at least 25 percent of the increase in the global green area since the early 2000s, ranking first in the world.
As a forest keeper, Yang patrols the woods every day with his colleagues, not only helping with forest fire prevention but also monitoring growth.
With diverse plants, including spruce, Chinese pine, shrub and fungi, he encounters foxes, sika deer and other creatures on his patrol, listening to birds chirping above.
In his spare time, Yang occasionally goes to see the first tree he planted. "Though the 29-year-old spruce tree is small and short, it's still a sign of hope for a greener world," he said.
Xinhua