Hope jostles with fear in US
Share - WeChat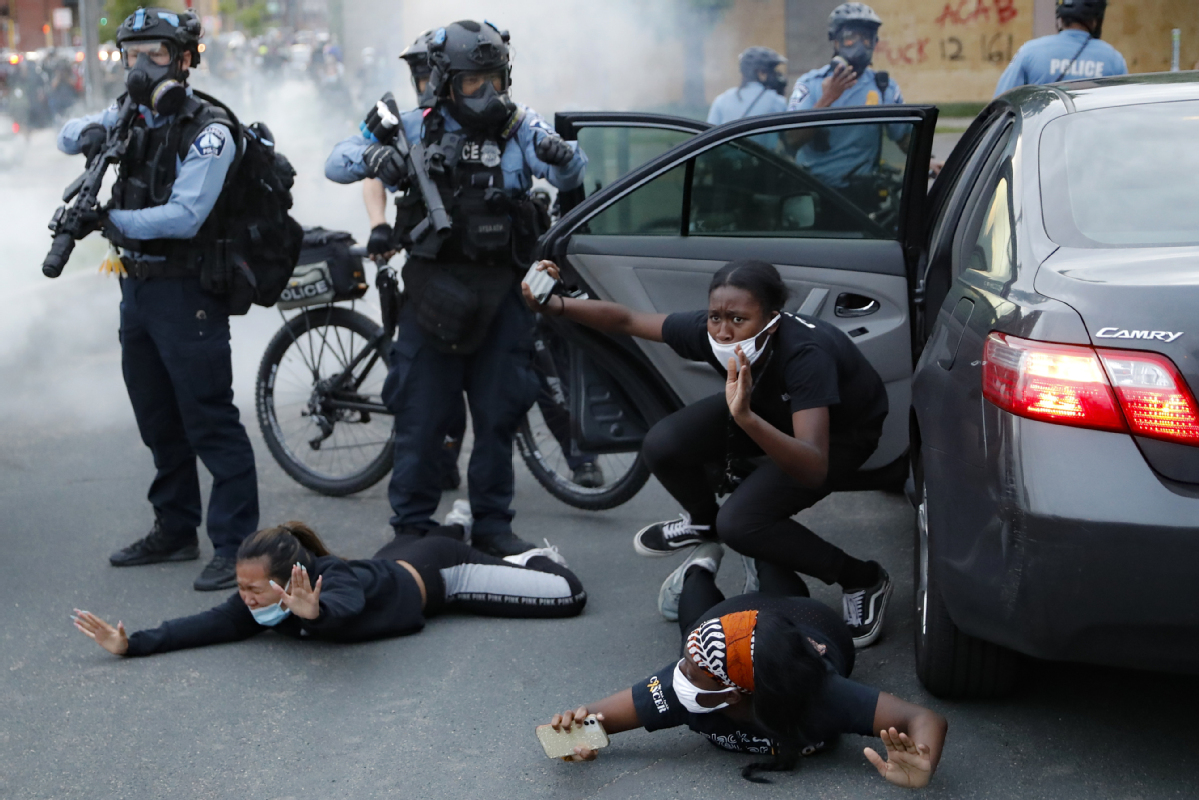 New leader on way, but wounds could take time to heal in polarized nation
The year 2020 has passed into history with a series of cascading events in the United States ranging from racism protests to a traumatic presidential election-all played out against the backdrop of a deadly pandemic.
The past year will make itself felt in 2021 as a more divided country grapples with twin health and economic crises.
The US casualties from the novel coronavirus, which the nation's scientists now believe first infected people there in mid-December 2019, had surged past 351,000 on the first days of 2021. That's roughly one of every 1,000 residents, the most in the world for a single nation.
But the pandemic wasn't the only event that shaped the year.
William Banks, distinguished professor emeritus at Syracuse University College of Law in New York, summed up 2020 in three phrases: COVID-19, racial justice and democracy threatened.
The pandemic will mark 2020 as equivalent to 1918, when a similar pandemic killed huge numbers of people, Banks said.
"The lessons learned hopefully are preparedness, planning, and leadership," he told China Daily. "The US lacked all three this year."
The videotaped killing of African American George Floyd by a police officer in Minneapolis on May 25 sparked an explosion of outrage that demanded an end to police brutality and racial injustice in a country which has already seen the COVID-19 pandemic disproportionately affect black and other communities of color.
Coupled with the protests and the pandemic was what some US media outlets described as "an acrimonious political campaign" marred by "baseless allegations" of fraud and illegal voting, with President Donald Trump refusing to concede to Joe Biden. The Democratic challenger secured 306 Electoral College votes to Trump's 232.
The crises have left "a divided country even more divided", according to Geoff Garin, president of Hart Research Associates, who has decades of experience measuring public attitudes.
The Democratic pollster said that he can't recall a time when there were "fewer points of intersection or overlap" between the two sides of the political divide.
"It's not just that a Trump voter looks very different from a Biden voter, from where they live to what their demographics are," Garin was quoted by The Washington Post as saying. "But their belief systems are so fundamentally different that they're essentially living in two separate realities."
Tens of millions of Trump's followers refuse to believe that Biden was elected legitimately, potentially causing significant damage to Biden's ability to govern, according to the Dec 27 article in the Post.
The 2020 Chicago Council Survey, released in mid-September, found Democrats and Republicans were "sharply divided" on how the US should deal with foreign policy issues, with 80 percent of Democrats preferring an internationalist approach while only 40 percent of Republicans opted for the same approach.
Eric Foner, emeritus professor of history at Columbia University, observes that "everything has become politicized" and though people desire for things to get back to normal after all the crises, one "cannot assume that is always going to happen".
"People's response to the pandemic basically reflects whether they're a Democrat or Republican," Foner said in a TV discussion on Dec 27. "They're taking the lead from the political party that they identify with. Each crisis magnifies the division."
For Cal Jillson, a political scientist and historian at Southern Methodist University in Dallas, 2020 was a long, hard year on economic, social, political and medical fronts, but he said the clouds seem to be lifting.
"2020 will be remembered as a year in which the nation, its institutions, and its sense of self were sorely and surprisingly tested," Jillson told China Daily.
"They survived but dented and bent in ways that will require some pounding out."
Stanley Renshon, a political scientist at City University of New York, described the year 2020 as "tumultuous, unprecedented and revealing".
"It has been one of the worst years of domestic political conflict since the lead up to the American Civil War; no issue, institution, or aspect of personal or political life has been spared," Renshon said.
The year has revealed deeply dysfunctional elements, and sometimes nature, of many major American institutions, including political, cultural and administrative entities, he said.
Time magazine deems 2020 "The Worst Year Ever" in an issue with a cover featuring "2020" crossed out with a large red "X".
The mood was shared by many US citizens.
"Coronavirus, aftermath of general election, inability to acquire simple provisions like toilet paper, racial injustice, Trump and the GOP, Ruth Bader Ginsburg dying and being replaced against her wishes. Families being torn apart. I do not recognize this country anymore," said Maya Schneider, a resident of Fairfax, Virginia.
Schneider, 40, used the word "chaotic" when she was asked by the media to describe 2020 in one word.
"I look forward to Biden reversing many of Trump's harmful policies by executive order," she said.
President-elect Biden, who won the race on the promise to end the chaos in the country, is facing a tremendous task of fixing the division as well as the economy, which remains gripped by a resurgent coronavirus.
He had called on the nation to "turn the page" from divisive election fights and vowed to get the pandemic under control while rebuilding the economy "back to better".