Divvying up plates into portions a new fashion
Share - WeChat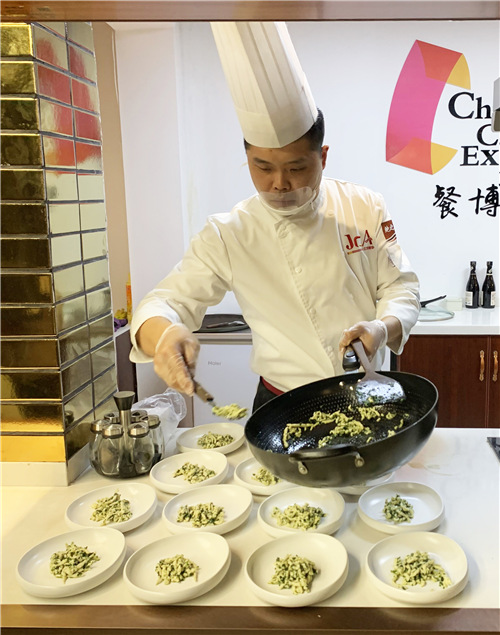 Restaurateurs across the country change way of serving to mitigate risk of spreading virus.
Before a steaming platter of egg-fried rice was brought to customers, chef Gao Xiaosheng at Pudong Shangri-La Hotel in Shanghai divvied up the dish into six portions and placed them separately onto six plates.
Moving fast to keep the food warm was key, he said. Each plate was preheated and more waiters were assigned to serve the divided portions on time.
All the extra hassle was worth it though, according to Gao. Diners today feel more comfortable sharing a table of delicacies with others this way. The COVID-19 pandemic accelerated the practice of individual plating and serving chopsticks as a means to reduce the risk of infection.
At a traditional Chinese dinner, using individual utensils to pick bite-sized pieces from communal dishes has been proper custom for hundreds of years. It is not uncommon to see a host use his or her chopsticks to take the tastiest morsel of fish meat and place it on a guest's plate to convey hospitality.
The novel coronavirus, which primarily spreads through respiratory droplets emitted when people talk, breathe and eat, has put the long-held tradition into question. Public health experts, catering associations and local governments are all calling for a gradual shift to use designated serving utensils and serve separate portions at group meals.
"There is no doubt that the Chinese way of communal dining has brought about heartwarming and lively moments of friendship and family bonding," said Zhao Wenhua, chief nutritionist at the Chinese Center for Disease Control and Prevention.
But countless health risks come with the tradition, she said. Saliva on used chopsticks and spoons come in contact with shared dishes. In that way, the saliva passes from one person to another, creating favorable conditions for a variety of germs and viruses to spread on dinner tables.
"We have been discussing dividing dishes and using communal utensils for a long time, but implementation was inadequate in the past," Zhao said. "The pandemic has again underscored that more concrete action should be taken."
The catering industry, from upscale fine-dining establishments to time-honored eateries, has responded promptly.
Like their global counterparts, restaurants in China took a hard hit from previous closures and lockdowns aimed at containing the spread of the virus.
Most Popular