A year of progressive bilateral relations
Share - WeChat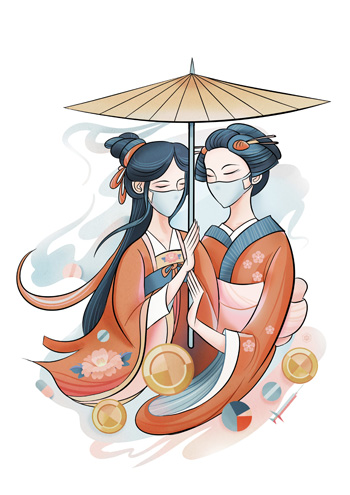 Although 2020 has been a turbulent year because of the COVID-19 pandemic, the volatile world economy and increasing global uncertainties, China and Japan found ways to overcome difficulties and develop a pragmatic, mature and progressive bilateral relationship.
The pandemic has affected the Chinese and Japanese economies, threatening people's health and life around the world in 2020, and thus also poses a challenge to Sino-Chinese relations. Besides, Japan was forced to defer the Tokyo 2020 Olympic Games to 2021 and, therefore, suffer a huge economic loss.
And while the United States' slander campaign has had some impact on China's global image, the incumbent US administration's attempts to force Washington's allies to target China put Japan in an awkward position. Albeit, Japan tried to strike a balance between its ally, the US, and close neighbor and largest trade partner, China.
Fortunately, China and Japan worked together and found ways to improve bilateral relations despite the external pressures. The development of Sino-Japanese relations in 2020 can be divided into three phases. The first phase started in January when China was hit by the pandemic and was short of medical supplies. During that period, Japan's ruling party, local governments, NGOs, enterprises and individuals helped China with medical products.
And when Japan was hit by COVID-19, China sent batches of medical supplies to Japan. While Japanese donations were decorated with traditional verses of friendship, China's supplies carried Chinese verses highlighting amity and close neighborliness, which showcased the close links between Chinese and Japanese cultures.
The second phase began in the middle of the year when China's National Development and Reform Commission approved six demonstration zones for Sino-Japanese cooperation on the local level, making use of various local industries and resources, such as the creative cultural industry of Chengdu, the health industry in Tianjin, the new energy sector in Shanghai, and intelligent manufacturing in Suzhou.
The demonstration areas provided a new opportunity for China and Japan to resume production and other economic activities and strengthen bilateral economic cooperation.
The third phase started with diplomatic communication in late 2020, highlighting the consensus between the two sides to deepen cooperation. Japanese Prime Minister Yoshihide Suga came to power in September and met with visiting State Councilor and Foreign Minister Wang Yi visited Japan in late November.
China and Japan agreed to play active roles in the regional fight against the pandemic and promote regional economic integration. They also agreed to resume the "green business channel" and support each other in hosting the Tokyo Summer Olympics in 2021 and the Beijing Winter Olympic Games in 2022. And they plan to hold economic and trade ministers' meetings in 2021, discuss new ways to fight climate change, and establish maritime and air liaison mechanisms between their defense departments.
China and Japan have been striving for years to improve bilateral ties, and reached a consensus in 2019 to establish "a new era for China-Japan relations". The Sino-Japanese relationship in the new era is based on a five-in-one agreement to build political trust, deepen win-win economic cooperation, manage security disputes, increase people-to-people exchanges to improve mutual understanding, and work together to fulfill global obligations.
New Japanese Ambassador to China Hideo Tarumi said the Japanese government attaches great importance to deepening communication with China. China too attaches special importance to its ties with Japan.
Sino-Japanese relations have reached a new starting point. Two years later, they will observe the 50th anniversary of the establishment of diplomatic relations. So the two sides should first agree they have differences over some issues and will abide by the consensuses they have reached to appropriately address those sensitive issues. They should also strengthen communication at the political, military, economic, media and people-to-people levels, while making greater efforts to avoid misunderstandings.
China on its part should respect and pay more attention to Japan's foreign policy, which no longer is wholly influenced by the US, and encourage Japan to play a bigger role in maintaining the world order. For example, like China, Japan too supports globalization and free trade, and based on their consensus on globalization and free trade, the two sides can deepen cooperation to address regional and global issues, which in turn will help improve bilateral policy coordination.
China and Japan can also jointly provide Eastern wisdom for solving global problems, and promote people-to-people exchanges, in order to cultivate the sense of regional community. And since Beijing and Tokyo have agreed that their mutual interests outweigh their disagreements, they should strive to build a stable relationship by exploring common grounds for mutual development, managing crises and minimizing risks, which will also benefit the regional and international communities.
The author is a senior fellow at the Institute of Japanese Studies, Chinese Academy of Social Sciences.
The views don't necessarily represent those of China Daily.
Most Viewed in 24 Hours
China Views