Soprano ready to sing after quarantine, Covid tests
Share - WeChat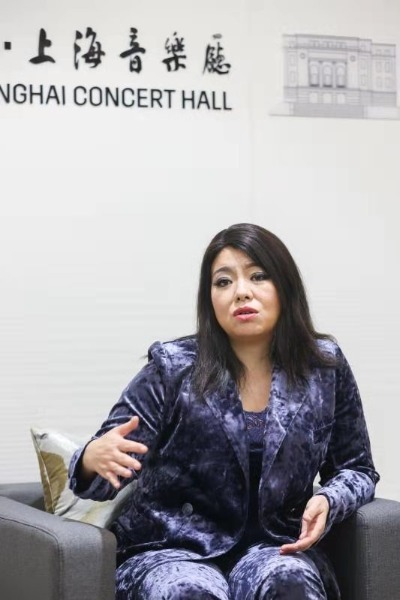 On her way to a concert performance in Spain in November, Chinese soprano He Hui learned in Rome, where she stopped for a flight change, that all theaters were closed in Spain because of the COVID-19 outbreak.
She made a prompt decision and purchased a ticket to China. It was a direct flight from Madrid to Xi'an in Northwest China's Shaanxi province, but she had to wait a whole week before the plane took off. Once she landed in Xi'an, she spent the first two weeks quarantining in a designated hotel, followed by another two weeks' stay in at-home quarantine.
After two tests for COVID-19 and five weeks, "I was ready to sing for my audiences in China," she said. He presented her first proper concert performance on Dec 18 in Zhuhai, South China's Guangdong province. On Christmas Eve, she will make her Shanghai Concert Hall debut show, presenting a recital of opera arias from her most celebrated Verisimo Opera repertoire, such as Madame Butterfly and Tosca.
She also will sing two Chinese art songs, which she chose because they "would show the characteristic of my voice, and express my love and feelings for the motherland," she said.
"I used to have a very busy performing schedule, and I was quite exhausted before the pandemic, and then I got a complete rest," she said.
The lockdown and suspension of live show industries gave her an opportunity to readjust and polish her skills. "I hope to show audiences the result from this special period," she said.
Arguably the most successful Chinese soprano in the world opera scene for more than 20 years, He made her first breakthrough at the Shanghai Grand Theatre in 1998, as the first Chinese soprano to play the title character in Aida. Since 2002, when she made a breakout performance in the title role in Puccini's Tosca at the Teatro Regio in Parma, He has sung at most of the world's leading theaters, including the Metropolitan Opera, Teatro alla Scala in Milan, Opera Bastille in Paris and Arena di Verona.
However at the beginning of the year the pandemic forced all live theater to a sudden stop, and He took an unexpected long vacation of five months, until June 22 when she took the stage for the first time after the lockdown at the Basilica di San Zeno, a landmark cathedral in Verona, Italy. "It was the first live performance in Italy after the pandemic breakout," He recalled. "We put on the show in a church because all theaters were closed at that time, with nobody in, not even a doorkeeper."
At first the lockdown and long vacation made her anxious, until she picked up the brush to paint. She created more than 60 abstract paintings, which she posted on social media, and said that "painting helped my heart to calm down, and I was ready to sing again."
Determined to keep her singing voice at its prime condition, He led a disciplined life at home in Italy, practicing her singing in the morning and painting in the afternoon, at first by herself, and later with the help of an artistic instructor.
She also teamed up with a few other singers, Lu Guoping, a dancer and tenor, baritone Jiang Shangrong and bass Ran Xiaoyu, to give Skype concerts every week. "There was no audience, just us trying to keep our voice at its best."
She managed to learn two difficult operas during the period, Norma by Vencenzo Bellini and Alzira by Giuseppe Verdi. "I hope to premiere two to three new operas every year," she said. "The world of opera is like a vast ocean with no boundaries. Picking up a new opera is like stepping into a new world."
"In my field of work, we used to plan for two or three years ahead, but now nobody knows what will happen tomorrow," she told the media before her recital in Shanghai. "In March I should be rehearsing in Italy a production of Madame Butterfly, but now I don't know if my flight will be able to take off."
Having had a successful career for 23 years on the opera stage, He said she could retire decently anytime, but that's not what she wanted.
"Opera singing is of great importance in my life," she said. "All I can do is to keep practicing, and keep my artistic level, and hope one day when the pandemic is over, the world still needs singers. It is my mission to share my singing voice with more people."