Rediscovering Beijing: A city with long history and modern skyline
Share - WeChat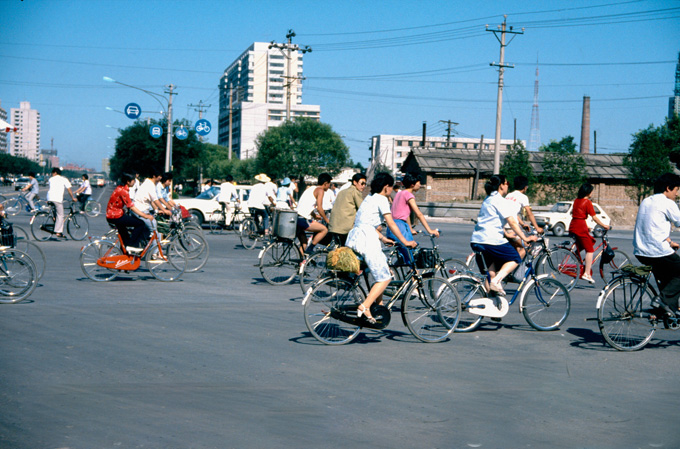 Often a desire to travel far afield can lead us to forget or overlook many attractions and charms that are there on our doorstep.
After living many years in Beijing, it was becoming increasingly obvious to me that I was no longer out and about discovering the city. Beijing had been a major part of my life, writing and photographing its multitude o facets and charms. Radio work over 12 years took me to many of the capital's hidden corners. I felt I knew every alley within the older areas and delighted taking visitors and friends from overseas around such little-known treasures. Recently, I was pursuing a desire to "rediscover China", to reach cities and regions first visited over 25 years ago. To take long, slow train journeys, sitting at the carriage window, allowing the landscape of China to unfold again in front of my eyes. Such were all and still are memorable moments in my overall understanding of this vast country. Then of course, Tianjin, where I have walked and photographed the city, just as I had previously done in Beijing. There remains much of China I still wish to see visit and hope when all the uncertainties of COVID-19 are fully behind us, to fulfill some of those travel dreams.
Yet it was partly due to situations related to the virus that I started thinking again about the impact Beijing had played during my earlier years in China. Between periods of self-isolating in Tianjin and quarantining in Beijing I have been digitally scanning large amounts of my early photography. Sometimes I would look at an image of Beijing, say from the late 1990s, and remember those moments. Reaching many parts of the city would then have involved lengthy travel, often by bus. However, ongoing expansion of the urban metro system has considerably reduced travel times with many locations now conveniently accessible.
Using the public transport, I have started on a rediscovery of Beijing, a journey reigniting my earlier passion for the city, its heritage, its beauty, its charm - and yes, there still are many such areas despite what at first glance may seem an increasingly international, high-rise skyline. The contrasts Beijing presents, are far greater today than I saw over 33 years ago, but such often stark scenes makes for quite "eye-catching" photography.
Presently, I live close to Sanlitun, an area reflecting the fast-moving, cosmopolitan lifestyle, particularly of the younger generations who have little memory or experience of what the city was like when I first came here. They often express surprise when they look at some of my early images. While it is easy to exist within the "comfort-zone" of Sanlitun, there are several bus lines travelling westwards along Gongti Bei Lu, crossing what once had been the former Ming Dynasty walls before heading into the historic core of the city. So much within easy access of my doorstep.
Back in 1987, I spent three days in Beijing, a stopover during a lengthy train journey from Scotland to the south of China. Enough time to visit magnificent landmarks such as the Forbidden City, the Great Wall and so on, but no real contact with the everyday city, However, those initial moments allowed me to briefly look out on a city so different to what I had left behind. It was fascinating to put it into perspective, indeed then it was almost in a "time-warp" (something we cannot say today!). So many bicycles, people seemingly moving in unison, very few medium-tall buildings, yet I found it intriguing, even complex. It proved difficult trying to absorb the information I would be given particularly as at that time, there were few good guide books. Yes, it was certainly fascinating. However, as I continued heading south, particularly seeing Shenzhen, I knew that over the following years China and Beijing, would inevitably change. But by how much? I could never have foreseen what we have today.
It would be seven years later, 1994, before I returned to Beijing. My life had been in the south, in Guangzhou and around the Pearl River Delta. I would stay in a hutong alley near the Lama Temple (Yonghegong). Every day, I would walk, walk and keep walking with my notebook and camera. The Foreign Languages Bookstore on Wangfujing Street had some material in English that assisted with an early understanding. I was increasingly realizing Beijing's uniqueness, its historic urban geography so different to many other world cities. Laid out, partly in a chessboard pattern sitting in harmony along a seven kilometer long north to south axis line. A city not straddling a river but one where an elaborate system of canals and lakes dating back to the 13th century Yuan Dynasty provided essential water and indeed transportation. Isolated then on a dry plain in the north of China, protected from encroachment by desert sands by a narrow belt of mountains a relatively short distance beyond its northern walls. The story of Beijing, fascinating, complex and indeed intriguing. For me, it proved to be a passion unfolding.
Most Viewed in 24 Hours
China Views