Pioneer notes
Share - WeChat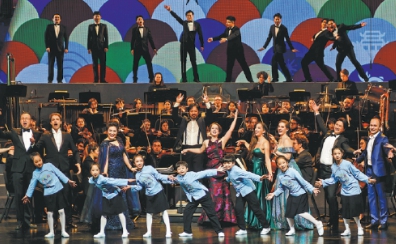 A contest sees musicians compose original pieces to accompany Tang poetry, Chen Nan reports.
In 2010, internationally renowned bass opera singer Tian Haojiang launched program I Sing Beijing to promote an understanding of the contemporary operatic scene in China, as well as give foreign opera singers a chance to sing in Chinese.
In its 10th year, the program, now named iSING! International Young Artists Festival, has launched a competition for young composers from around the world to compose original music to accompany Tang Dynasty (618-907) poems.
Tian has invited musicians and experts to be judges of the competition, including Xu Changjun, president of the Tianjin Conservatory of Music, Hao Weiya, director of the composition department at the Central Conservatory of Music, and Robert Blocker, the Henry and Lucy Moses Dean of Music at Yale University.
On Nov 24, the world premiere of the works took place at the Suzhou Culture and Arts Center with a full orchestra. Nine opera singers from eight countries performed 14 winning commissions with the Suzhou Symphony Orchestra under the baton of conductor Lin Daye.
"We spent seven months on the competition, which featured original music pieces by 101 composers from 18 countries. It is the first time in the world that a concert of traditional Chinese poetry set to original musical compositions was commissioned and produced. We are proud of it," says Tian.
He notes that it's particularly meaningful that the world premiere happened since the COVID-19 pandemic has affected the performing arts market, with concert halls closed and performances canceled.
"The nine singers flew to China from different parts of the world and they had to undergo days of quarantine, which made the program harder than ever before," Tian says.
"As the director of the concert, I was not even sure whether the concert would be held because of the uncertainty we faced."
In the past nine years, 285 singers from over 30 countries have participated in the program, creating a better understanding of Chinese culture and music abroad. Since 2014, the program has a permanent base in Suzhou, Jiangsu province.
Tian wanted to launch a new chapter of the program. During the past few years, he performed in over 10 operatic productions that tell Chinese stories, such as Marco Polo, The Diary of John Rabe and Voyage to the East-A Fearless Buddhist Master's Mission to Japan.
"Opera has gained a fan base in China and found a way to communicate with international audiences. For this festival, one of the best ways to have people learn about Chinese culture is to get them to read traditional Chinese poems," says Tian about picking Tang poems this year.
Old poems are great treasures, with their beautiful language and deep meaning, he says. "They still inspire people."
Russian soprano Yana Safonova says: "I learned about Chinese culture but this project deepened my understanding. It's not just about learning to sing in Chinese but also about understanding how the words connect."
She spent the past three years working and living in Italy. When she joined the project in 2017, she met Chinese tenor Hu Guang. They fell in love and got married in 2018.
Soprano Esther Maureen, 29, who was born in Hong Kong and now lives in the United States, says: "The poems are new to me and, because of the viral outbreak, we received coaching through online meetings, which was a fresh experience.
"It's amazing to perform in China when all my shows were canceled in the US."
Ukrainian baritone Igor Mostovoi, 27, performed songs composed by American composers Evan Mack and Nicholas Bentz, adapted from Sending Off, a poem by Wang Changling, and Hearing the Military Has Taken Henan and Hebei, a poem by Du Fu.
Mostovoi, who received classical music training at age 16, has been interested in Chinese culture since he learned martial arts as a child. He joined the competition in 2016 after meeting Tian at an audition in New York.
"Chinese poems are full of wisdom. I read the translation of the poems over and over again to understand their meaning," he says.
Milica Jovicic, 35, a Serbian soprano, performed a song composed by Spanish composer Fernando Buide del Real, based on the poem Farewell to Prefect Du by Wang Bo.
"It's not very difficult for us to sing in Chinese. Because as opera singers, we naturally learn to sing in a foreign language," she says.
Jovicic performed at iSING! International Young Artists Festival in 2018 and 2019.
"I want to learn more about Chinese poems and to sing Chinese art songs. It's a great move to introduce Chinese poems to foreign audiences," says Jovicic, adding that her favorite Chinese poet is Li Bai.
Tian says that he is traveling with singers in China to hold workshops and other events to further communicate with Chinese music lovers about the project.
"It's very difficult for the singers to gather together in China because of the pandemic, but we want to share the project with more people," he says.
Born in Beijing, Tian, 66, who lives in New York, has sung in over 1,400 performances and played 50 operatic roles worldwide.
As the only Chinese singer who has appeared at the Metropolitan Opera over the past 20 years, starring in 26 operas, he has sung with legendary opera performers such as Luciano Pavarotti, Placido Domingo and Renee Fleming, among others.