Sichuan Airlines pilot tests positive for virus
Share - WeChat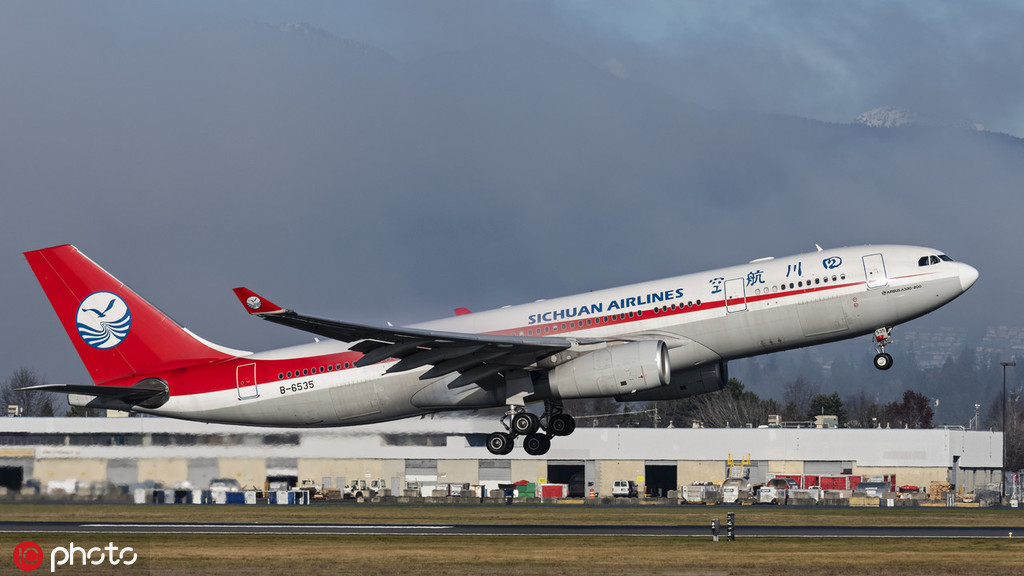 A Sichuan Airlines pilot has tested positive for coronavirus and been diagnosed as a confirmed, imported COVID-19 case.
The 26-year-old pilot, surnamed Gao, was confirmed as an imported case of COVID-19 on Monday night, the Sichuan Provincial Health Commission announced on Tuesday.
The pilot was on a cargo flight from Los Angeles to Chengdu, Sichuan, on Nov 29 and tested negative during quarantine in neighboring Renshou county of Meishan city. Gao flew a round-trip cargo flight from Chengdu to Jinan, Shandong province, on Dec 9 and continued his quarantine in Renshou until Saturday.
On Saturday, Gao drove to attend a 300-person wedding banquet in Jiangyou, Sichuan, and later returned to his home in Chengdu. All those at the banquet have been ordered to get tests.
He sought medical attention at the West China Hospital of Sichuan University on Monday, where he tested positive for coronavirus via nucleic acid testing and was then diagnosed as a confirmed case on Monday night.
The hotel that hosted the banquet has been shut down and its staff members have been quarantined.
Nucleic acid tests were conducted on Gao's close contacts in Jiangyou, Chengdu and Meishan. By 7 pm on Tuesday, more than 7,000 nucleic acid samples had been collected, including those from 104 close contacts, with all so far coming back negative.
According to a Civil Aviation Administration of China guideline, cargo flight crew who complete a thorough personal protection routine and don't stay overnight abroad can be spared from quarantine upon their return and carry on their duties.
Those who stay overnight have to undergo "closed management" during their time overseas and take a nucleic acid test upon their return. If they test negative they can be spared quarantine and are allowed to work, but they need to monitor their health status and report any abnormality in a timely manner.
Chengdu also reported a new confirmed local case on Monday who was an asymptomatic case under quarantine. As of Tuesday, Chengdu has had 12 locally confirmed cases and one asymptomatic case, according to the provincial health commission.
Suifenhe, a border city in Heilongjiang province, also reported two domestically transmitted confirmed cases on Tuesday. They are a 46-year-old saleswoman and a 50-year-old female resident of the port city on the China-Russia border.
They tested positive for coronavirus on Monday during testing of close contacts under centralized quarantine and were then diagnosed as confirmed cases after expert consultation.
As of Tuesday, Heilongjiang had reported 10 local confirmed cases and two local asymptomatic cases since Thursday, according to the provincial health commission.
That prompted Suifenhe to launch a second round of comprehensive measures, including traffic control, to contain the spread of the virus, similar to those taken after imported cluster infections in April and early May.
Regions that experienced the pandemic earlier this year are more likely to see a recurrence in winter, Wu Zunyou, chief epidemiologist at the Chinese Center for Disease Control and Prevention, told China Central Television.
For regions with a chilly winter, he warned that the novel coronavirus could live for weeks to months between-1 C and-10 C.
Along with locking down residential communities where infected people live, Suifenhe has rolled out comprehensive measures including providing online classes to prevent people being exposed to the virus.
Zhao Bing, whose son is in middle school and has recently received online lessons, said, "Teachers arranged the same courses as at school, so there was little difference in studying at home." But she was worried about the effectiveness of learning at home and said her son also missed his friends' companionship.
In Xinjiang, genetic sequencing analysis of four local asymptomatic cases found in Turpan on Saturday showed their type of novel coronavirus belonged to a branch of the European L genotype, Ming Guofu, deputy director of the city's health commission, said on Monday night.
It was different from the strain that spread in Urumqi and Kashgar in the region as well as other parts of China, he said.