From Guangdong to the gridiron, football player on historic run
Share - WeChat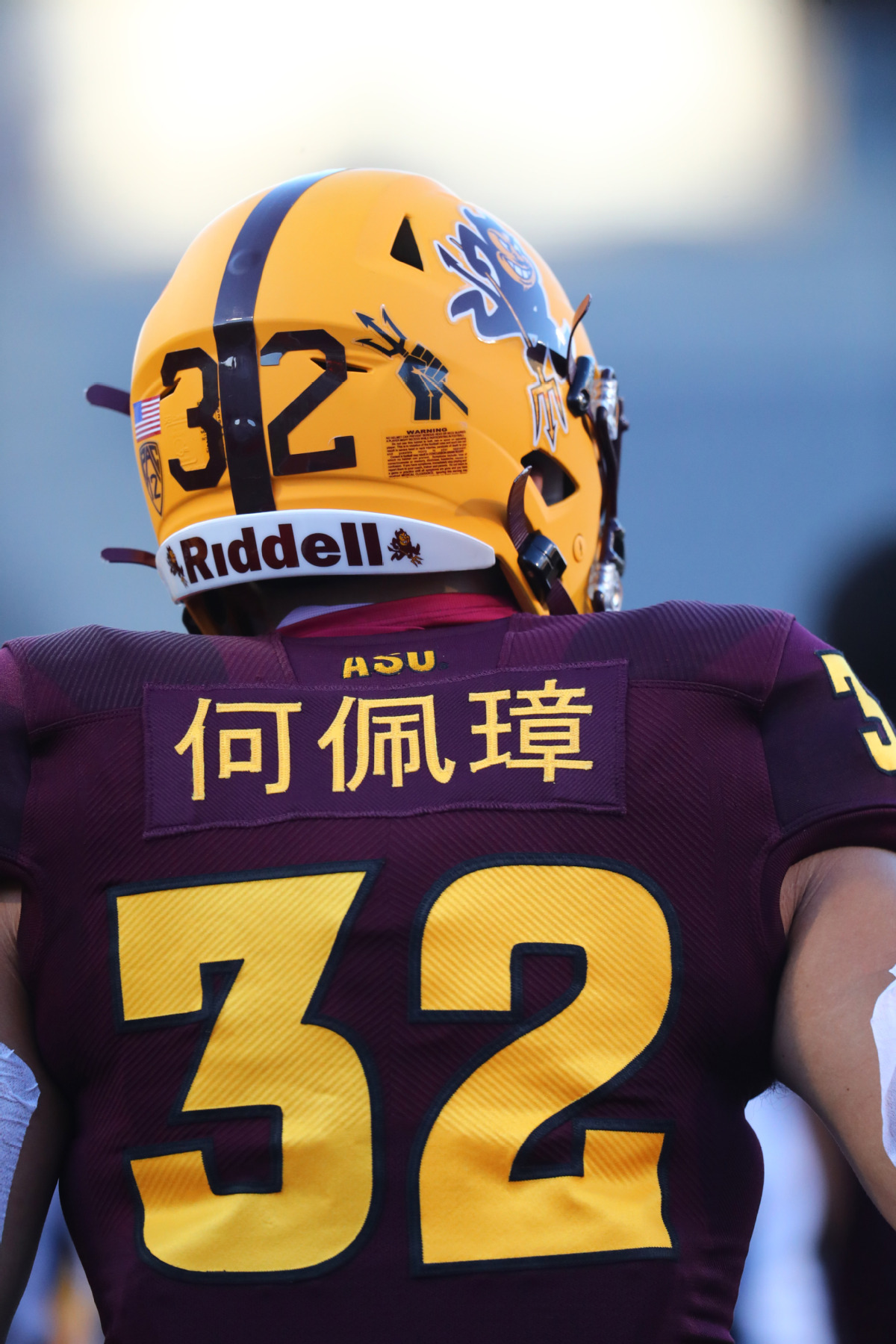 He Peizhang's arduous journey in American football culminated in a storybook moment over the weekend.
He, whose American name is Jackson He, is believed to be the first player born in China to play for a team in the Football Bowl Subdivision, the highest level of intercollegiate football in the United States.
On Friday night, He, a reserve running back for the Arizona State University (ASU) Sun Devils, added another first — the first Chinese-born player to score a touchdown, in ASU's first victory, 70-7, over archrival Arizona in this pandemic-shortened season.
He is a walk-on player, a non-scholarship athlete who is not highly recruited out of high school but nonetheless has a love for the game.
What is perhaps most emblematic of He's long mission is seeing his name in Chinese characters stitched to the back of his football jersey.
He pointed to that nameplate after his touchdown, in which he broke a tackle, bulled his way across the goal line and was then mobbed by his teammates in celebration. It was a scene reminiscent of the legendary 1993 American sports film Rudy, about a determined player who walked on at Notre Dame in the 1970s.
"I've already received a lot of messages," said the sturdily built He (5-9, 220 pounds). "I strongly feel their love for this game and for me. I'm so grateful."
ESPN, a major US sports network, recognized the novelty of the moment and interviewed He after the game.
"It's not me. It's all the linemen in front of me," He said modestly, complimenting his blockers in typical American running back fashion. "I call them 'The Great Wall' because they protect me, and I just got in."
He's Instagram page says "made in China" under his name. Of his uniform displaying Chinese characters, He said after the game: "It's unreal. I'm representing something different. Having this nameplate on my back, I'm thankful for the equipment room. When I first saw it, tears were coming out right now. I'm so excited I can't believe it."
ASU starting running back Rachaad White intentionally went out of bounds on a run near the goal line in the third quarter Friday because he believed Coach Herman Edwards (former head coach of the NFL's New York Jets) was going to put He and other reserves into the lopsided game.
"He's a close friend of mine," White told the Arizona Republic. "I'm happy to see him score and get the opportunity."
"Jackson He was the sideline favorite, and we put him in the game and lo and behold, he was able to score a touchdown, and that's a lot for a kid that is a walk-on and has been here two years," Coach Edwards told reporters.
The ASU website describes He as a "physical and smart athlete that has found a home at the running back position entering his second season with the program".
He "has picked up the game extremely quickly having only started playing football five years ago". The website says he is "one of the nation's only college football players from China, impressing the coaches with his ability to immediately learn the offense and the language".
There have been Chinese Americans who have played football at major US colleges and in the NFL: current Los Angeles Rams safety Taylor Rapp, who starred at the University of Washington and whose mother is from Shanghai; and Ed Wang, whose parents represented China in the 1984 Olympics. Wang played for Virginia Tech and later for the Buffalo Bills in the NFL.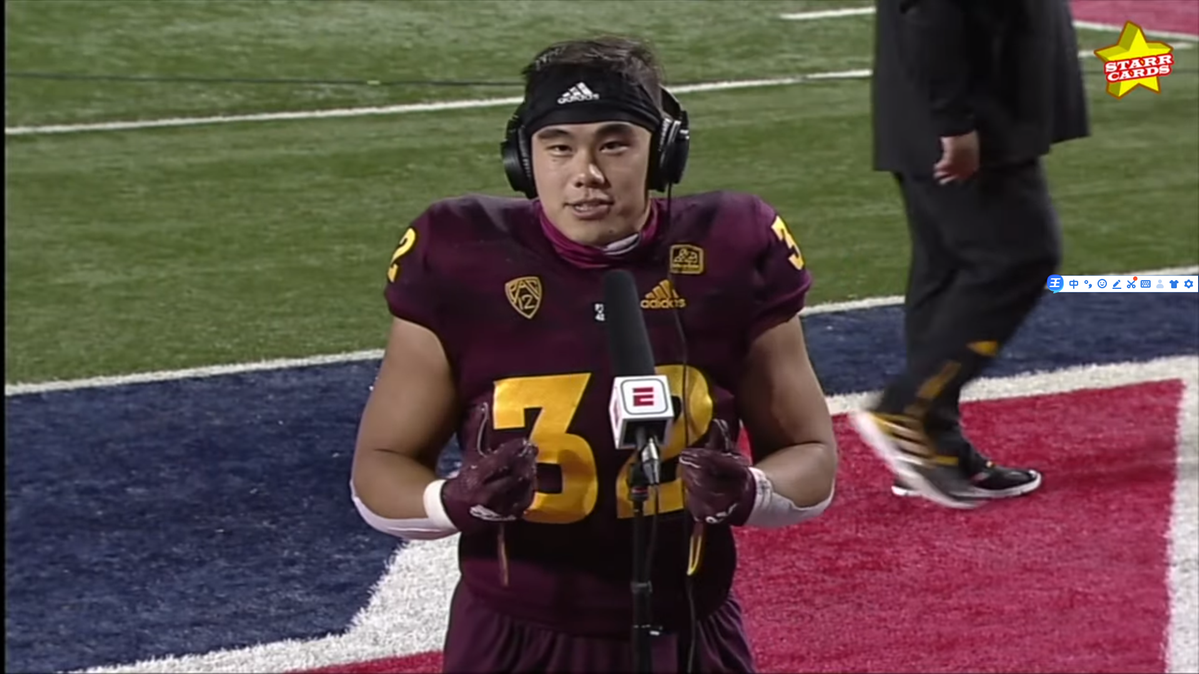 But He is believed to be the first major US college football player born in China — and definitely the first to score a touchdown.
He's American football story began when his parents sent him from Shaoguan, in South China's Guangdong province, at age 17 to attend high school in the San Diego area.
"It took a lot of effort to even tell my parents that I was going to play football," He told azfamily.com. "All they heard about football in China was broken bones and concussions. They didn't want me to play.
"I played first then told them," He said, chuckling.
"He's so funny, and he doesn't even know he's being funny," his high school coach Ron Allen told the website. "He had everybody in stitches all the time."
He then played at a small university in North Dakota, where he wasn't fond of the cold weather, and eventually returned home in 2018, where he played for the Foshan Tigers in the American Football League of China.
But with his passion for US football still burning, He applied to Arizona State and eventually talked the Pac-12 university into letting him join the team as a walk-on.
In a Nov 4 post on Instagram, He wrote: "I am a pioneer leading the way for all of my people back home."
If you're wondering about his English first name, it's a nod to his appreciation of the late American pop superstar Michael Jackson. ("I don't know if my dance moves are that good," He said.)
The playing chances for He and thousands of other college football players have been diminished this season due to the COVID-19 pandemic. ASU (1-2) has played only three games so far and had three others canceled, although in their first contest they gave undefeated and nationally ranked USC a scare in a 28-27 loss.
In a typical season, a college football team will play at least 12 games.
Considering those restrictions, He's run to glory on Friday will never be forgotten.