HK's legal community, civic leaders back Lai's prosecution
Share - WeChat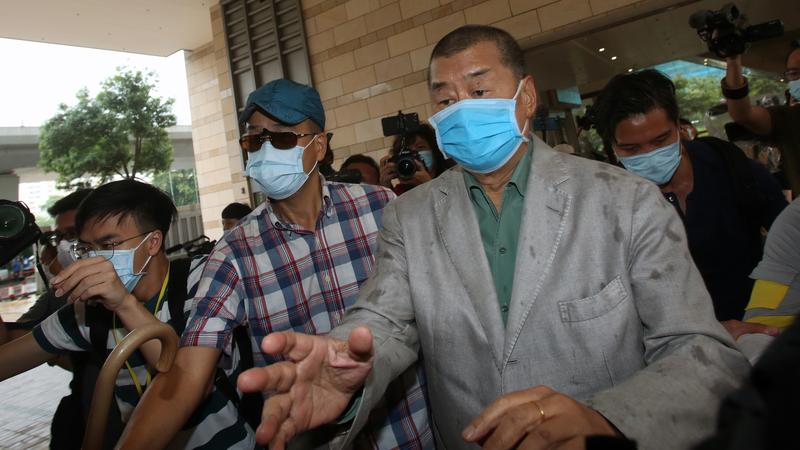 Hong Kong's legal professionals and civic leaders are backing the prosecution and denial of bail for media tycoon Jimmy Lai Chee-ying as legitimate and have criticized foreign politicians' demands for his release as attempts to interfere.
Lai, founder of the city's tabloid-style Apple Daily newspaper, appeared in court on Saturday, charged with colluding with foreign forces or external elements to endanger national security. He is the first in the city to be charged with the offense, under the National Security Law for Hong Kong, which carries a maximum sentence of life in prison.
Chief Magistrate Victor So Waitak of West Kowloon Magistrates' Courts denied bail and adjourned the case to April 16. Lai has been in custody pending a fraud trial since Dec 3, when So refused bail on the grounds that Lai posed a flight risk.
Barrister Kacee Ting Wong said the judge's decision to deny bail was reasonable given the serious nature of the offense and the high risk that Lai may abscond. He believed the judge also took into account the "overwhelming" prima-facie evidence presented by the prosecutor.
Court documents showed that from July 1 to Dec 1 Lai allegedly requested foreign countries, organizations and individuals outside China to impose sanctions on or blockade the Hong Kong Special Administrative Region or China as a whole.
In a statement on Saturday, a spokesman for the Hong Kong Department of Justice reiterated that all prosecutions are carried out in strict accordance with the law and based on an objective assessment of evidence and laws.
The department also said it was "appalled" to find remarks made by foreign politicians, like US Vice-President Mike Pence and Secretary of State Mike Pompeo, calling for withdrawal of the charge and Lai's immediate release.
The spokesman said that such comments not only disrespect the HKSAR's judicial system and undermine the rule of law, but also constitute meddling in Hong Kong's affairs, which are internal affairs of China.
Ting said foreign politicians' rhetoric was irresponsible and purely political. He reminded the public that it is an offense to pervert the course of justice in Hong Kong.
In a series of posts on his social media account over the weekend, Hong Kong former chief executive Leung Chun-ying slammed Western politicians for their untenable defense for Lai. Leung questioned their motives and provided a list of incidents that showed Lai has used his companies to fund local and overseas political parties and figures.
Lai also faces different charges of inciting, organizing and participating in at least four illegal assemblies since last year: on Aug 18, 2019, Aug 31, 2019, Oct 1, 2019, and June 4,2020.