Court orders Dutch collector to return stolen statue
Share - WeChat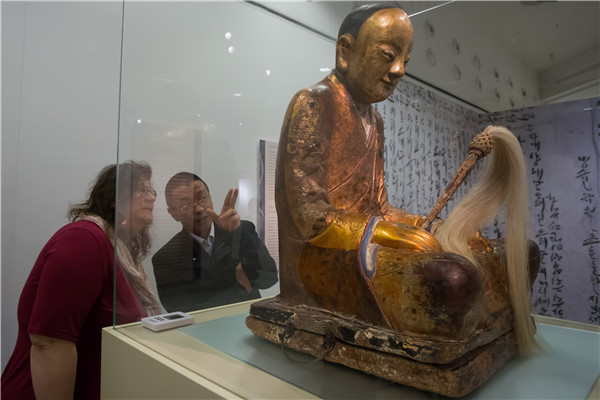 1,000-year-old figure of revered Buddhist monk taken from temple in 1995
A Chinese court has ordered a Dutch collector to return a 1,000-year-old Buddha statue to Fujian province, after it was identified as one stolen from a temple more than two decades ago.
The Sanming Intermediate People's Court on Friday demanded architect Oscar van Overeem return the statue to the plaintiff, the Yangchun and Dongpu village committees, within 30 days of the verdict coming into effect.
Under the Chinese Civil Procedure Law, a litigant not resident in the country has 30 days to appeal a ruling to a higher court. If an appeal is not made within the time limit, the verdict will come into effect.
The statue was housed in Puzhao Temple and worshipped by residents of the two villages, however, in 1995, it went missing.
Its whereabouts were unknown to the villagers for a decade until the statue, which was on display in the Mummy World Exhibition at the Hungarian Natural History Museum in Budapest, gained global attention. In February 2015, a scan revealed it contained the mummified remains of a Buddhist monk.
In March 2015, when the Fujian villagers saw photographs of the mummified statue they saw it resembled the one of Buddha Zhanggong Zushi, or Patriarch Zhanggong, taken from the temple. Zhanggong Zushi became a monk in his 20s and was famous for treating diseases and spreading Buddhist beliefs. When he died at the age of 37 during the Song Dynasty (960-1279), his body was mummified and encased in the statue.
The villages sued van Overeem for the return of the statue, after they failed to reach an agreement with him for its return.
The court filed the case in November 2015 and publicly heard it in July and October of 2018.