Experts say 'fake meat' may not cook up a storm in China
Share - WeChat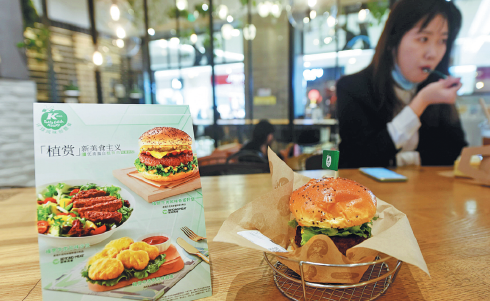 Despite a lukewarm market response so far, manufacturers have high hopes for alternative protein products. Zhang Yangfei reports.

When Hey Tea, one of China's most popular milk tea brands, launched a new burger containing "fake meat" in late May, social media influencers scrambled to try it and make videos and tell their followers how it tasted.
The Future Meat Burger, the tea maker's first plant-based meat substitute, released in partnership with Chinese food tech company Starfield, caused a sensation when it hit the market.
"Is it really meat free? I can't tell at all that it's made from soybeans," said Juzai, a fitness vlogger on Weibo, after filming herself eating two of the burgers. Her video garnered more than 100,000 views.
Hey Tea's meatless burger is just one of a number of candidates in a rapidly heating faux-meat competition that started a few months ago in China.
Though these plant-based meat startups are favored by venture capitalists, they may still face difficulty winning consumer approval in the long run, experts warned.
Artificial protein products debuted in China's food market in the second half of last year, but their presence has mushroomed since April, especially since the arrival of international faux-meat manufacturers.
On April 20, fast-food chain KFC China launched trials of its first plant-based chicken nugget in selected cities, while coffee chain Starbucks added fake beef lasagna and sandwiches to its menu the following day.
Both were supplied by Beyond Meat, a fake-meat producer in the United States that had a successful initial public offering on the Nasdaq last year.