Works of renowned late Chinese lexicographer on show
Share - WeChat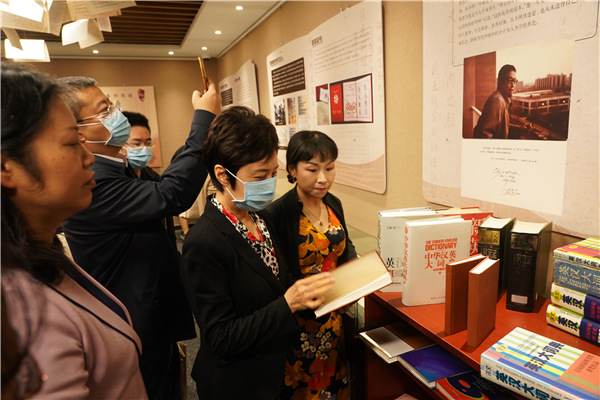 From critical reviews for the theater performance of Othello, to the working pages of the Chinese-English Dictionary and handwritten test papers for undergraduate students, the works of Lu Gusun (1940-2016), one of the most renowned lexicographers in contemporary China, are currently being showcased at an exhibition at the Liberal Arts Library of Fudan University.
Featuring 49 works by the prolific scholar, translator and writer, the exhibition opened on Nov 18 and will run until the end of the year.
Fudan University held the exhibition to commemorate the 80th birthday of the professor, who spent more than 50 years on campus studying, teaching and building his career as a renowned English and Chinese dictionary lexicologist, Shakespearean scholar, translator and essayist.
"Professor Lu won innumerable awards and recognition during his lifetime. However, what he valued the most was being a good teacher for his students," says Jiao Yang, Party secretary of Fudan University.
Lu, who was also the founding director of the College of Foreign Languages and Literature at Fudan University, spent almost 60 years on campus since he enrolled in the university as a student in 1957.
"He stood on the podium of the lecture hall of Fudan for 50 years, nurturing one generation after another of foreign-language scholars," Jiao said at the exhibition opening. "He was such a passionate educator that even in the last few years of his life, he was still giving quality courses to students."
Lu had a hand in compiling the New English Chinese Dictionary in 1970 and thereafter became the leading lexicographer. In 1986, he was officially appointed as the chief editor of the dictionary, which was the first large-scale English-and-Chinese dictionary independently compiled by Chinese scholars. The 15-million-character dictionary published by Shanghai Publishing House won the first National Book Award of China in 1993.
In 2000, he set out to compile the Chinese-English Dictionary, the first half of which was published by Fudan University Press in 2015. Lu died of heart disease in Shanghai on July 28, 2016.
In addition to his continuous work on bilingual dictionaries, Lu was a leading scholar on Shakespearean studies, serving as the former vice-president of the Shakespeare Academy of China. He was also a veteran translator and essayist who had published several collections.
"Lu made such great contributions so that you cannot possibly overestimate his role in China's academic scene and Chinese society's opening-up to the world," says Zhuang Zhixiang of Shanghai International Studies University.