Hope pops up for young migrants stuck at US border
Share - WeChat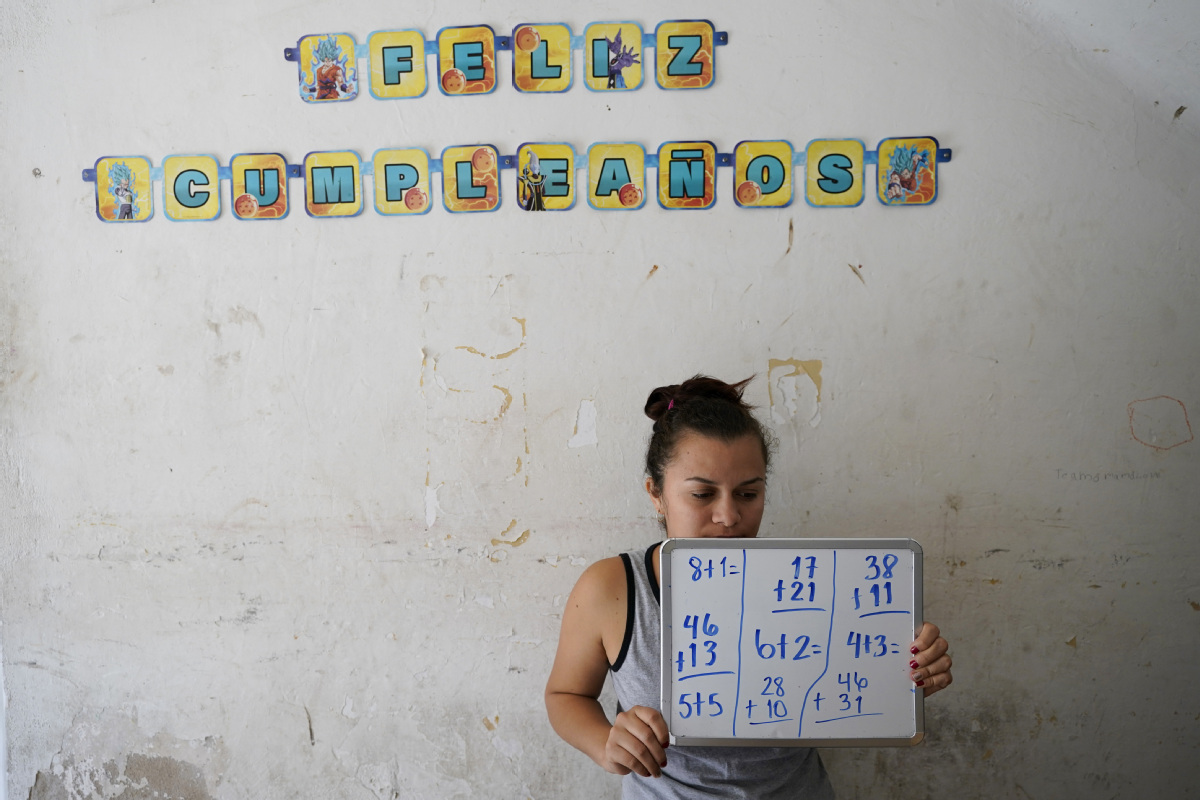 MATAMOROS, Mexico-It started out simply: A pop-up school on a sidewalk to teach reading, writing, math and art to Central American children living in a camp of asylum-seekers stuck at the doorstep of the United States.
Like countless schools, the sidewalk school, as it became known, had to go to virtual because of the coronavirus pandemic. Instead of being hampered by the change, though, it has blossomed. The school in Matamoros has hired 20 teachers-all asylum-seekers-to give classes via the Zoom video platform to the children in not only the camp, but also to those in shelters and other accommodation elsewhere in Mexico.
For the switch to distance learning, the teachers and students were kitted out with more than 200 Amazon tablets by The Sidewalk School for Children Asylum Seekers. The organization was founded by Felicia Rangel-Samponaro, who lives across the border in Brownsville, Texas, and has been crossing to help the asylum-seekers by providing them with food and books.
Rangel-Samponaro, 44, said that to buy the tablets, she used her own money and raised funds, including through a GoFundMe campaign. She said she felt obliged to do something for the asylum-seekers because the US government had upended their lives.
"This is a US problem," she said. "We created this. We're the ones that continue to let this go on."
Mexican shelters
A policy from the administration of US President Donald Trump forced asylum-seekers to wait south of the border as their cases proceed through US courts, leaving thousands of Central American families living in tents or at Mexican shelters.
On a recent Friday morning, Gabriela Fajardo held a Zoom class while sitting on an overturned bucket in a hallway of a small apartment building full of asylum-seekers who have found enough work to be able to afford to move out of the camp in Matamoros. Interacting with her on her screen were several children living in the Mexican border city of Ciudad Juarez, 1,300 kilometers to the west along the Texas border.
"You have to speak in English over there or no one is going to understand you in Spanish except your mother," she said in Spanish to a student named Jeremy, enunciating her words carefully as she leaned into her tablet. "That's why I'm sharing with you the little I know," said the 26-year-old Honduran, who is also stuck in Mexico.
The boy gave an enthusiastic response: "OK, then in English! I have to speak in English," though he was still speaking in Spanish.
Fajardo said: "I was taught in college that the reason to get an education is to be able to educate others. That's what inspires me."
Agencies Via Xinhua