Blueprint sets tone for green development
Share - WeChat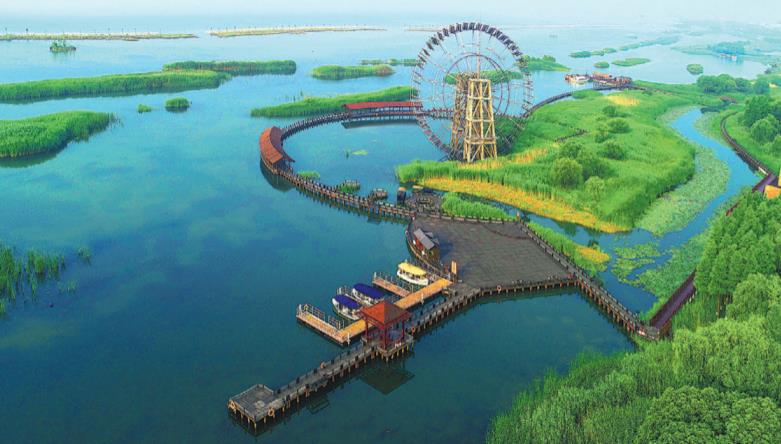 Ambitious vision to offer alternate path for other developing nations, experts say
China's wide-ranging green transformation in the next five years and beyond, something emphasized at a key Party meeting in October, marks a historic turning point in the country's development mode, experts said.
The ambitious vision is also of global significance, they said, because it will offer other developing nations an alternate path to prosperity rather than just following in the footsteps of developed countries.
They cautioned, however, that while China is increasingly prepared for the transformation in terms of its technological and economic strength, the country still faces complicated and arduous tasks in hammering out systematic action plans to fulfill the vision.
To achieve a fundamental improvement in environmental quality by 2035, China will endeavor to make production and lifestyles green throughout all areas of society, according to a proposal unveiled in November after the Fifth Plenary Session of the 19th Central Committee of the Communist Party of China in October.
The country will make efforts to see marked progress in the transformation during the 14th Five-Year Plan (2021-25) period, according to the proposal.
Aside from strengthening law and policy support for green development, for example, it said the country will strive to promote green finance and encourage green technological innovations. Green buildings will also be promoted.
Green development has been an underlying trend since the 18th CPC National Congress in 2012, and the proposal shows that, with stronger governance capabilities, the central authorities have made sustained efforts to further develop Xi Jinping Thought on Ecological Civilization, a concept promoted by Xi that advocates balanced and sustainable development, said Wang Yi, a member of the Standing Committee of the National People's Congress and the NPC's Environmental Protection and Resources Conservation Committee.
Green development is one of President Xi Jinping's top concerns. Via video link in Beijing at the Leaders' Side Event on Safeguarding the Planet of the G20 Riyadh Summit on Nov 22, for example, he said China will pursue clean, low-carbon, safe and efficient use of energy and accelerate the growth of new energy and green industries to promote greener economic and social development in all respects.
Instead of considering GDP as the core focus of development, the central authorities have been tending to prioritize environmental protection in their governance philosophy, or at least emphasizing the need to balance economic development and environmental protection, he said.
Previously, the country mainly resorted to "end-of-pipe solutions"-pollution-control approaches that clean up pollutants at the point where they enter the environment-in its environmental governance. Now it has been shifting to a more systematic approach of reforming the economic development mode by adjusting the structures of industry, energy consumption, transportation and land use, said Wang, who is also vice-president of the Chinese Academy of Sciences' Institutes of Science and Development.
Ren Yong, head of the Environmental Development Center of the Ministry of Ecology and Environment, said the emphasis on "green" in the proposal further enriched and clarified the concept of high-quality development that the central authorities have been promoting to help realize the goal of building China into a great modern socialist country that is prosperous, strong, democratic, culturally advanced, harmonious and beautiful by the middle of the century.
"The sectors that are related to green are so wide-ranging in the proposal that not a single necessary area is neglected," he said.
Ren was a lead author of the Special Policy Study on Green Transition and Sustainable Social Governance released in September by the China Council for International Cooperation on Environment and Development, a high-level international advisory body for the Chinese government.
Strong consensus
He said an increasingly strong consensus has built up in China that the causes of environmental pollution and ecosystem damage are rooted in styles of production and life.
"The fundamental solution to address environmental problems is to make the styles rational and green," Ren said.
As Japan's experience had proved, the contribution "end-of-pipe solutions" can make to environmental management is limited, he said. Research had found that even when Japan's investment in sulfur dioxide disposal facilities peaked in the 1970s, such solutions only contributed to about 30 percent of the reduction in emissions.
Ren said Japan's major achievements in addressing sulfur dioxide pollution had come from making its energy cleaner, enhancing energy efficiency and adjusting the structures of industry and energy consumption.
With generally solid economic and technological foundations for extending its environmental governance efforts from the end of the pipe to the entire production chain, China's central authorities mapped out a general blueprint for a wide-ranging green transformation at the Fifth Plenary Session. The country, however, still needs to work out suitable action plans for different regions and detailed road maps for different industries.
While it may be easier for developed regions in eastern China to adjust their industrial structures and phase out small, polluting factories, Ren said action plans should be drafted in a more detailed manner for central and western regions based on their development levels to facilitate their sustained and phased transformation efforts.
He said the road maps for different industries should cover all production-related procedures, ranging from design to recycling.
"It's a systematic, comprehensive and complicated project," he said, adding that as well as having the necessary technological and financial capabilities, the country also needs to update regulations, roll out incentives and set industrial standards to make the transformation work.
Green lifestyle
Ren said pollution from China's consumption sector is increasing, making the promotion of a green lifestyle a key part of the country's efforts for achieving high-quality development.
Thanks to continuous efforts, the country has made great achievements in reducing the intensity of industrial emissions and enhancing energy efficiency over the past 10 years. But some of that progress had been canceled out by a marked rise in consumption-related emissions as that sector expands, he said.
He said vehicle emissions in Beijing, for example, are now responsible for almost one-third of the PM2.5-tiny particulate matter that is hazardous to health-in the capital's air. The country is also confronted with a grim situation in the disposal of growing piles of construction waste and trash from the booming express delivery industry.
"The goal of fundamentally improving the quality of the environment and building a beautiful China cannot be realized without transformations in both the production and life-related consumption sectors," Ren said.
Wang said China has yet to make major, overall breakthroughs in green technologies despite some progress in a few areas. In addition to ratcheting up technology research and development, he said, wide-ranging green transformation will depend on a series of supporting policies, especially green financing.
"The investment for many green development projects usually pays off in the very long run. The current financing mechanisms need to be reformed to be more investment-friendly for such green projects," he said.
Wang also noted another challenge to the green transformation-motivating people to pay more for green products.
In addition to having sufficient income, which offers the economic foundation, and clear green accreditation criteria for products, people need to develop a strong environmental awareness in order to prefer to buy green products.
"The cultivation of green consumption awareness is a long-term, time-consuming progress, which may need the consistent efforts of one generation or even two," he said.
Erik Solheim, vice-chairman of the China Council for International Cooperation on Environment and Development and former executive director of the UN Environment Programme, said China's green development vision is important for China and the world.
"I think this is a most exciting turning point in human history," he said. "Because what happened in the past was first you pollute and then after years you clean up. Now we are in a complete new situation where there is a belief that we can promote economic development goals and create jobs while at the same time taking care of the environment."
He said China will set an example for developing countries that are looking to the world's second-largest economy for inspiration on how to eradicate poverty. And it can show they can do it without having to harm the environment.